After months of construction, Aging True Community Senior Services celebrated the completion of renovations to the Cathedral Terrace in June. Pictured from left, Shawn Wilson, president of Blue Sky Communities; Latasha Green-Cobb, vice chair of the Jacksonville Housing Authority; Rebecca Berg, Aging True board chair; Gloria Crawford, chief of the city's Senior Services Division; and Teresa Barton, CEO of Aging True Community Senior Services, at the rededication of Cathedral Terrace.
The 241-unit independent senior living facility is Downtown at 701 N. Ocean St. The apartments provide affordable housing and a social environment for independent senior residents. Among the renovations is a complete refurbishment of the living spaces, including new furnishings, windows and flooring. Activity areas, such as the billiards room and fitness center, also were updated. For information about the Cathedral Residences, call (904) 798-5360 or visit cathedralresidences.net.
Jessie Ball duPont Foundation awards $595,935 in grants
The Jessie Ball duPont Fund awarded $200,000 to United Way of Northeast Florida to support its RealSense initiative during 2017-18.
The grant was among six awarded to support Jacksonville-area programs during the trustees' summer meeting.
RealSense provides free financial education and tax preparation services and helps low-income working families save money and build assets. It is the region's primary campaign to encourage eligible working people and families to participate in the Earned Income Tax Credit.
RealSense began in 2003 with support from the Jessie Ball duPont Fund and other donors, including the city of Jacksonville. RealSense and its partners have prepared 175,000 tax returns, resulting in $226 million in total tax refunds and $68 million in Earned Income Tax Credit refunds for an estimated economic impact of $108 million. 
Other grants awarded to support work in Jacksonville include:
• $77,400 to the American Heart Association Greater Southeast Affiliate to support a wellness program for 2,000 residents of Jacksonville's Health Zone 1 in North Jacksonville.
• $64,250 to Jacksonville-based Mental Health America to continue statewide advocacy for improved mental health policy and increased funding in Florida.
• $39,500 to Boys and Girls Clubs of Northeast Florida to assist with transition costs associated with the organization's merger with The Bridge of Northeast Florida.
• $24,500 to Shands Jacksonville Properties to support a coping and self-management class for epilepsy patients at UF Health.
• $15,000 to Big Brothers Big Sisters of Northeast Florida to support a development audit to position the organization for long-term financial health.
Additional grant awards of interest to Northeast Florida:
• $88,750 to the Nemours Foundation to implement the BrightStart! literacy readiness program in three school districts in eastern Virginia.
• $86,535 to Mary Baldwin College in Staunton, Virginia, to integrate the Delores Barr Weaver Policy Center's Girl-Centered Practice Institute curriculum into the college's academic programming and work with community partners to develop girl-centered interventions for at-risk youth.
The Jessie Ball duPont Fund works to expand access and create opportunity by investing in people, organizations and communities that were important to the late philanthropist Jessie Ball duPont. The fund has assets of $285 million and has awarded more than $371 million in grants since 1977.
Florida Blue donates $310,000 for Y swim instruction programs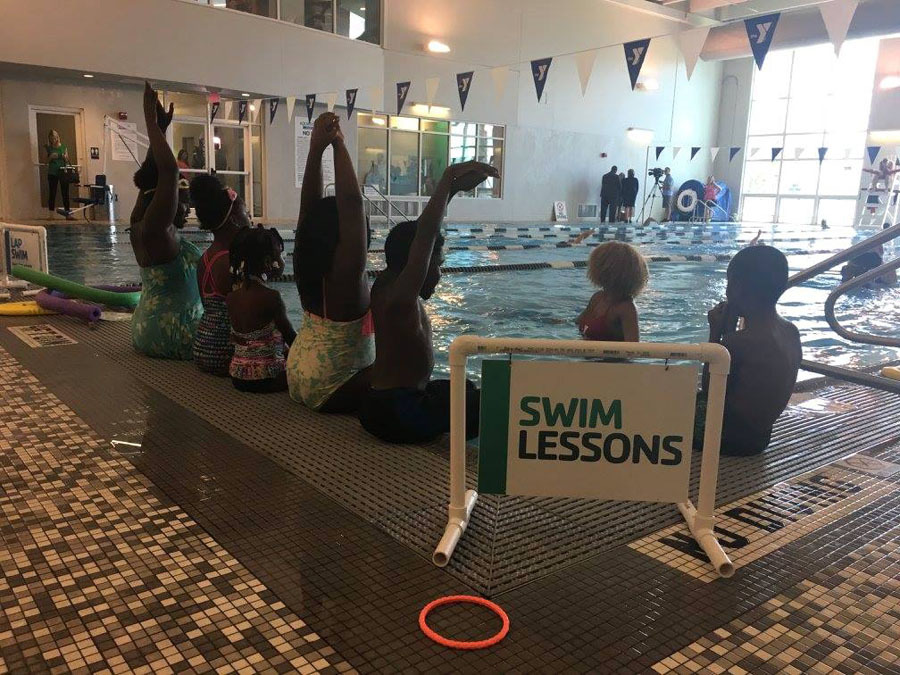 To support the need for swim safety and drowning prevention in Florida, four YMCAs received a combined donation of more than $300,000 from Florida Blue. The support will provide free swim lessons and mobile aquatics programs for more than 5,000 children and families through the Y's Safety Around Water program.
The donation benefits the YMCA of Florida's First Coast in Jacksonville, YMCA of South Palm Beach County and YMCA of South Florida with a $100,000 grant for each. Manatee YMCA will receive a $10,000 donation.
As a leader in water safety and swim instruction, the Y's Safety Around Water program is designed to teach children how to reach the water's surface if submerged, safely reach the edge of a pool, exit any body of water and respond to unexpected water situations. Research shows that participation in formal water safety and swim lessons can reduce the risk of drowning among children ages 1 to 4.
In the past several years, Florida Blue has contributed more than $700,000 to support YMCA initiatives across the state and is involved in improving the overall health and wellness for people of all ages and backgrounds. 
In Jacksonville, the company helped the Y open the Florida Blue Wellness Center at the Winston Family YMCA along with the Healthy Living Center, a resource for local residents to participate in programs that address health concerns.
The YMCA of Florida's First Coast has provided swim lessons to the Jacksonville community since the 1950s. For information about the Safety Around Water program, visit FirstCoastYMCA.org.