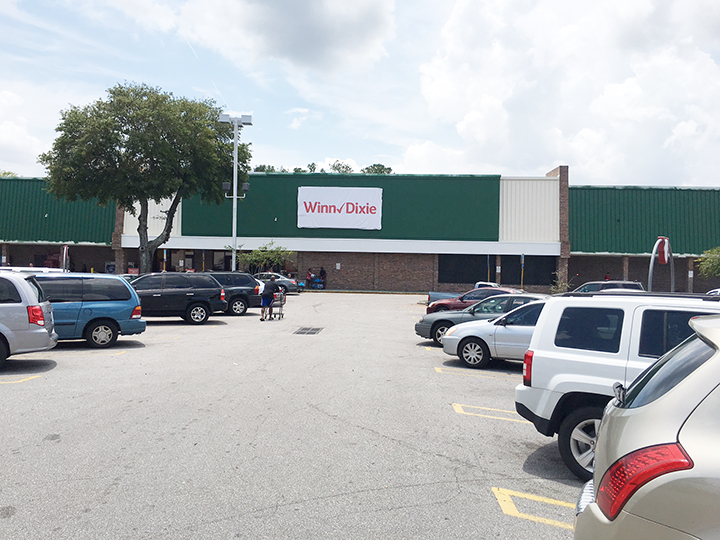 Southeastern Grocers will convert another Winn-Dixie into its eighth Jacksonville Harveys store Wednesday, and it might not be the last.
"When we converted the very first one in Jacksonville we were pleasantly surprised by the success, by how it resonated with the customers," said interim President and CEO Anthony Hucker.
After that one opened in May 2016 along Edgewood Avenue North in Northwest Jacksonville, Southeastern Grocers converted seven more stores in November in Northwest and North Jacksonville, Downtown and along University Boulevard West.
On Wednesday, it will open seven more around the state, including one in Jacksonville at 49 Arlington Road S.
The openings boost the number of Harveys stores to 77 in Florida, Georgia, South Carolina and North Carolina.
Hucker said there will be 18 in Florida. The others to open Tuesday are in Tampa, Orlando, Cocoa, Winter Haven and two in Ocala.
Asked whether more Jacksonville Winn-Dixie stores will be converted into the Harveys format, Hucker said he wanted to see how customers continue to respond to the concept.
In looking at the neighborhoods with a Winn-Dixie, he said the company asks: "Will this fit a Harveys and would that be more powerful to our customers than a Winn-Dixie?"
He said there is no specific number of stores planned to be converted into Harveys.
Southeastern Grocers operates more than 340 Winn-Dixie stores in Florida and about 470 overall.
While the company would not provide the number of Winn-Dixie stores in Jacksonville for competitive reasons, an internet search shows there are at least 25 in the metropolitan area.
"We make sure that we fit the right store with the right community. We put our focus on tailoring each store to the community," Hucker said.
He said Southeastern Grocers uses customer insights gathered from listening and focus groups and even visits people's homes "to see what resonates."
Harveys is Southeastern Grocers' value brand. Hucker said customers can find "a personalized shopping experience" there because it is tailored to its community.
He said customers like the $1 Zone, with more than 1,200 drinks, snacks, canned goods, cleaning products, greeting cards and more at that price; the "Pick 5" items for $19.95 that include fresh packaged and frozen meats; and the more than 725 products priced "Low and Staying Low" and the more than 1,800 "Great Low Price" items.
When Southeastern Grocers converts a grocery store to Harveys, it updates the façade and signage. Customers will see the exterior change from the traditional red Winn-Dixie colors to the Harveys green.
That customer resonation also applies to the Southeastern Grocers' Winn-Dixie prototype, which was launched in February 2016 in the Baymeadows area. It is designed to serve a more affluent customer base.
The company recently opened one in Cocoa Beach that Hucker said was "similar and better." He said more than 600 people waited in line, which was a grand-opening crowd larger than any had seen in 45 of the 50 states in which he has worked.
Hucker assumed the Southeastern Grocers president and CEO positions July 1 after Ian McLeod left those posts June 30 for a job leading Dairy Farm International Holdings Ltd. in Hong Kong.
Hucker joined Southeastern Grocers in February 2016 as chief operating officer. He previously was president and COO of Schnucks, a Midwest grocery chain;  president of Giant Food; and head of Wal-Mart's strategy and business development division. He also spent 10 years as part of the original startup team with Aldi UK.
Hucker said there was no time frame for the company to choose a permanent successor to McLeod.
"There was a succession plan put into place. I am and we are committed to the long-term success" of the company, he said.
Asked if that succession plan included his appointment as permanent CEO, he said it was not his place to comment on his position.
Southeastern Grocers LLC formerly was Bi-Lo Holdings, which was formed in 2012 with the merger of Jacksonville-based Winn-Dixie and Bi-Lo. It bought Harveys in 2013. The corporate name was changed in May 2015.
It operates more than 730 Bi-Lo, Fresco Y Mas, Harveys and Winn-Dixie stores in seven southeastern states.
In South Florida, it started converting some Winn-Dixie stores to Fresco y Mas stores, which are aimed at the Hispanic shopper. That chain has grown to 18 stores.
@MathisKb
(904) 356-2466