Florida State College at Jacksonville expects to open its 20 W. Adams St. café Downtown in early 2018 and the housing above it soon after.
There's no date for either. Both had been expected to open by now.
FSCJ spokeswoman Jill Johnson said Hurricane Irma and other construction delays pushed back completion.
"We are chomping at the bit to get there," she said.
The city issued a building permit Friday for Danis Construction LLC to build-out the 5,072-square-foot café space at a cost of $1 million for property owner Phoenix Adams Rising LLC.
FSCJ will lease the building from the owner.
Johnson said FSCJ hired café manager Richard "Rick" Macdonald, who "has hit the ground running with working on menu options and more."
Informally called 20West, the 90-seat FSCJ Culinary Café is available for naming rights.
Phoenix Adams Rising is renovating the six-floor Lerner Building for the café on the ground floor and for housing for 60 students on the upper floors.
Philanthropist Jim Winston donated $100,000 in support of the café's 12-seat private dining area. The Winston Room will be available for meetings and community groups.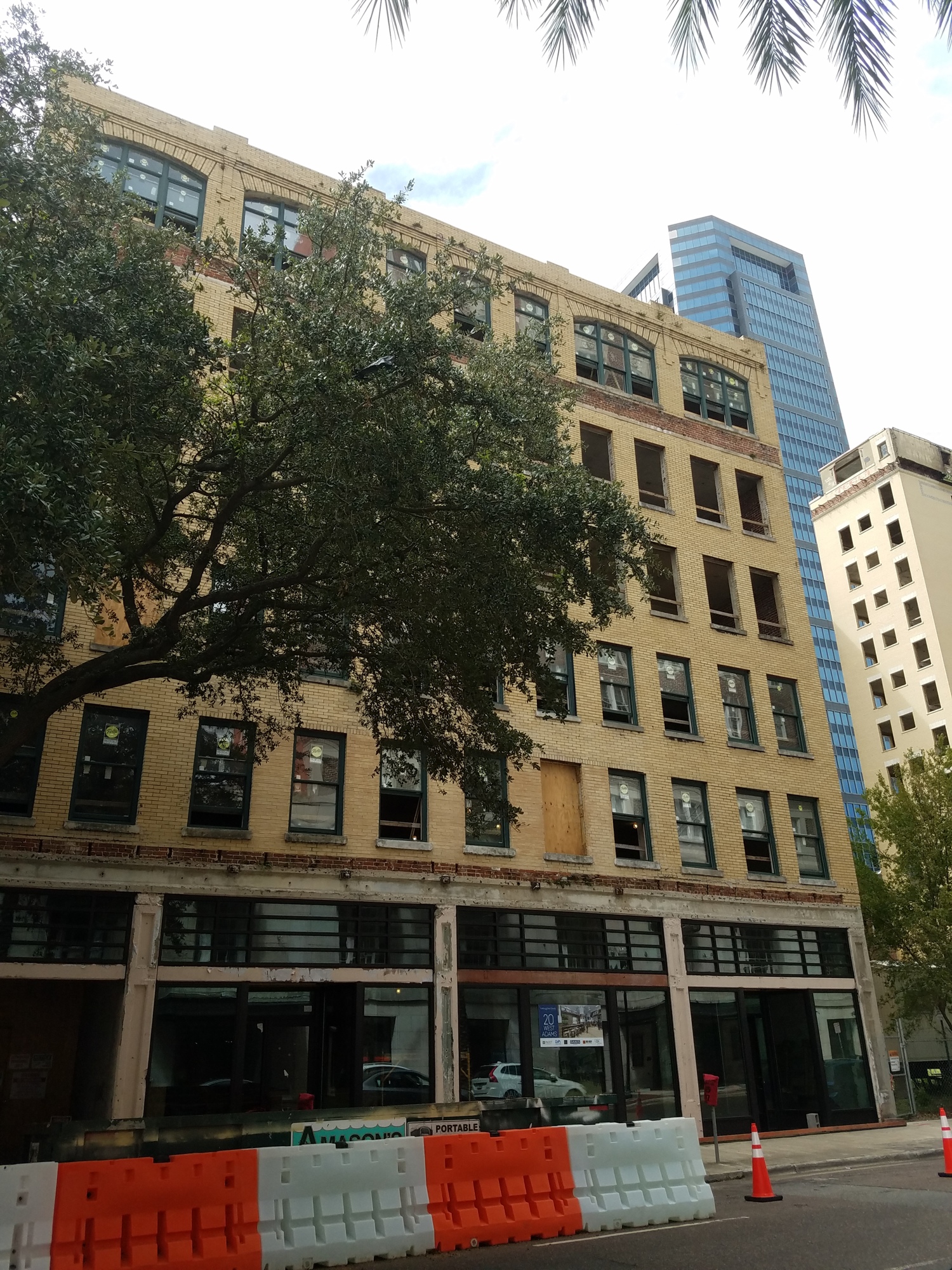 The café will operate under the direction of the FSCJ Culinary Arts & Hospitality program and will be open to the public.
FSCJ said it will operate as a "farm to table" counter-service restaurant for breakfast and lunch five days a week. It will be available at nights and on weekends for private events.
In August, the Local Initiatives Support Corp. nonprofit provided $4.5 million in construction lending and a bridge loan to the building owner to assist with the project.
LISC Executive Director Janet Owens and Chuck Shealy, real estate and lending program officer, said the project was well within the scope of LISC's mission.
LISC says on its website, lisc.org/Jacksonville, that it provides resources to address financial gaps associated with investment in urban-core neighborhoods. Qualified nonprofit partners and for-profit developers can apply for a full range of financial products to cover the various stages of commercial and residential development.
Shealy said the financing included $850,000 for a bridge loan to the developer, who will repay it when federal historic tax credits are distributed through the National Park Service.
The remaining $3.7 million is a construction loan that will convert to a five-year permanent loan after construction is completed.
"It's a good project for Downtown and the city of Jacksonville," Shealy said.
He and Owens said LISC is working in partnership with the Downtown Investment Authority to provide funding on projects that they deem viable for the Downtown core.
The DIA anticipates a $6.2 million private capital investment to restore the building, which Duval County property records show is 106 years old.
Through the DIA, the developer was approved for $600,000 from the Downtown Historic Preservation and Revitalization Trust Fund to restore the exterior and some interior elements.
Also, another $600,000 is available for FSCJ in zero-interest loans over 10 years to cover any shortfall between the school's revenues from student rentals and its financial obligations to the developer.
The city approved a permit in January to convert the building from business to multifamily use at a project cost of $4.8 million.
Bonchon build-out at The Strand
The city is reviewing a tenant build-out permit for the Bonchon restaurant chain at The Strand at Town Center. Bonchon specializes in Korean-style fried chicken.
Fudin Construction LLC is the contractor for the $120,000 build-out of the 2,400-square-foot space. Plans show seating for 67, including 11 at a bar.
Bonchon will lease at 4972 Town Center Parkway next to Hobby Lobby.
In addition to fried chicken, the New York City-based chain serves Asian fusion dishes and Korean specialties as well as American-inspired food such as Bonchon sliders, tacos, wraps and seasoned french fries.
Food notes
Sonny's BBQ at 12719 Atlantic Blvd. is slated for a new facade. A pending permit shows it is a $205,000 project.
Blaze Pizza was issued a Certificate of Use for its 2,800-square-foot Town Center Promenade restaurant at 4488 Town Center Parkway.
Cinnaholic Gourmet Cinnamon Rolls was approved for a $50,000 build-out of 1,351 square feet of space in Gates of Olde Mandarin at 11362 San Jose Blvd.
 Flour and Fig Bakehouse was registered with the state as a fictitious name to do business in Springfield at 1713 N. Main St. Born in the South Inc., owned by Kurt and Allison D'Aurizio, registered the name as the owner.
The Stuffed Beaver is being built-out in Riverside at 2548 Oak St. Crabtree Construction Co. is the contractor for the $141,661 project for a 1,410-square-foot space.