Regency's Miami Grill, which opened Oct. 9, likely is the first of several coming to Northeast Florida.
Robert Haar, vice president of franchise development, toured five sites last week, focusing on existing available fast-food restaurants. He's also open to building new projects.
"It's a question of controlled growth for us," Haar said. The key is the real estate adage: Location, location, location.
Haar looks for a free-standing building with a drive-thru because 50 percent of Miami Grill's business comes through that window, although some in-line locations work in dense areas.
Miami Grill also looks for high traffic centers and area demographics that include a stable median household income of $60,000 to $70,000.
He said he is reviewing sites in the Baymeadows, 103rd Street, Beaches and North Main Street areas, as well as hoping to sell within EverBank Field and at Jacksonville International Airport.
Haar said it was too soon to talk about specific sites he might pursue, although he would like the second location to have a drive-thru.
Miami Grill opened its first Jacksonville restaurant at 9575 Regency Square Blvd. N., a half-mile north of the former Miami Subs that closed in 2003.
"This one is working really great for us because we had a location around the corner," Haar said.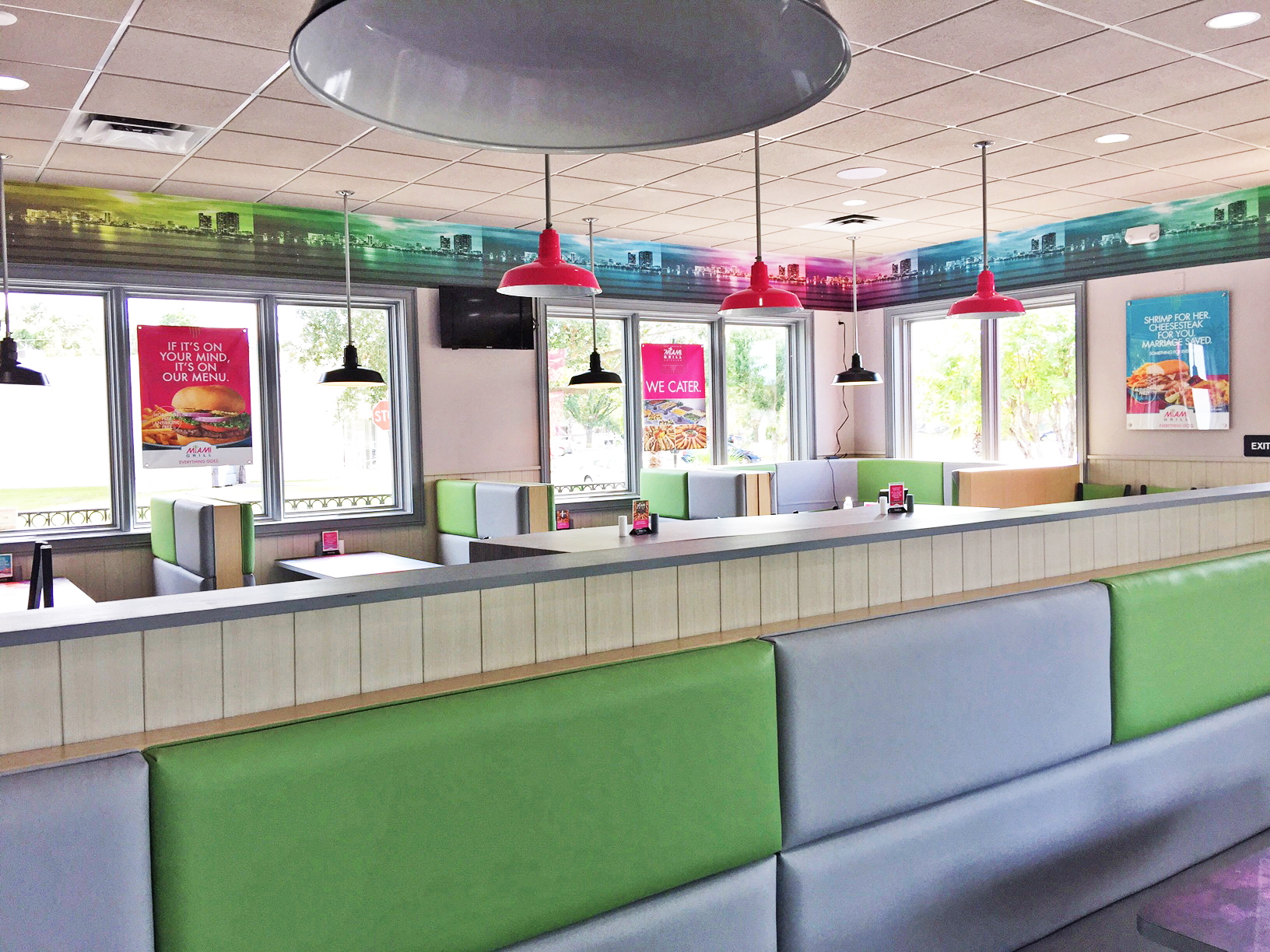 The 3,048-square-foot restaurant maintains the familiar magenta and teal colors and signature foods, such as Philly cheesesteaks, burgers, wings and gyros, while adding new items.
It also offers a Latin menu and beer and wine served in what a news release calls "a South Beach vibe."
Miami Grill opened without advertising or social media promotions, but a crowd appeared.
"I didn't realize how much we were missed," Haar said.
Haar said Miami Grill is working with Keller Williams Realty nationally to find sites.
The franchisee for the Regency location also owns the Gainesville site and could own more in Jacksonville, although Miami Grill seeks additional franchise owners.
Miami Subs left the market, where it had six locations, in the early 2000s and returns with some ownership changes.
The colors, many menu items and the "vibe" return, although some of the neon décor is history.
Recipes of menu favorites remain the same, he said.
The Regency restaurant is a renovated Zaxby's. It seats about 77 and hired 40-50 staff. Hours are posted as 10 a.m. to 11 p.m. daily in the dining room. The drive-thru remains open until midnight Sunday-Thursday and 1 a.m. Friday-Saturday.
For expansion, Haar prefers second-generation sites of 2,400 to 3,000 square feet. "We see phenomenal results when we do renovations," he said.
The average investment in a second-generation site is $250,000 to $500,000, he said, which includes renovations, furniture, fixtures and equipment.
Miami Grill has a realty arm that serves as the landlord, meaning it will buy the property and lease it to the franchisee.
Mymiamigrill.com lists questions and answers about franchises, including that opening a restaurant requires a net worth of $350,000 and $150,000 in liquid assets, defined as anything besides home equity that can be converted to cash within 30 days.
About 40 Miami Grills are operating systemwide, including international locations, Haar said.
He said the company wants to expand in Orlando, Daytona and Gainesville as well as South Texas.
Miami Grill is designed with a fast-casual format, where customers order at the counter and staff serves food to the table. Staff also clears the tables.
Miami Grill serves beer and wine and the dining room features TVs. Online ordering is available along with UberEATS delivery.
Fort Lauderdale-based Miami Grill said in a news release it is growing in North Florida with Miami-based International Food Chains LLC. General contractor Northboro Builders also is working on a Gainesville location to be completed this year.
Colliers International Executive Vice President Jason Ryals represented the buyer for the Regency Miami Grill location. He is working with another franchisee to find a second site.
Ryals said Miami Grill thinks the market can support six to eight locations if suitable options are found.
Miami Grill said in the release it was developed by the same owners as Miami Subs, Miami Subs Capital Partners 1 Inc. and equity partner Armando Christian "Pitbull" Perez.
Owners bought the former Zaxby's restaurant, which was built in 2001, and remodeled it. A new Zaxby's was developed next door.
Miami Grill announced that it continues to post sales growth because of the "aggressive refreshening strategy that has fueled franchise expansion."
It said that Miami Subs "continues to transition to the upscale, hip and sophisticated, fast-casual format of Miami Grill."
It said nearly 70 percent of the chain's restaurants are in stages of remodeling or have converted to the Miami Grill brand.
All new Miami Grills opening in Central and North Florida and South Texas will have the new look, design, and service platform. The remaining Miami Subs restaurants are scheduled to transition to Miami Grill by 2018.
JTB Apartments land permits
The city issued building permits Friday for the 350-unit JTB Apartments on 13 acres at 8876 A.C. Skinner Parkway.
LandSouth Construction LLC is the contractor. Project job costs total more than $35 million.
Presidium Group LLC partnered with Jacksonville firms Killashee Investments, Schmidt Development and Tomo Development in breaking ground last week on the gated luxury apartment community near Southside and Butler boulevards.
The consortium paid $8.35 million for the land. The project comprises four, five-story buildings with elevators and seven carriage buildings with first floor garages.
Units include studio, one-, two- and three-bedroom units among 10 floor plans. Sizes range from 640 square feet to 1,454 square feet with monthly rents from $1,100 for a one-bedroom studio to $1,975 for a three-bedroom, two-bath unit. The average rent is $1,421.
The first building and clubhouse are expected to take 14 months to construct, with the entire project to be completed in 20 months.
Retail notes
Another permit is in review for the Palmetto Moon Southern lifestyle clothing, accessories and gift store at the former Suite restaurant and lounge at 4880 Big Island Drive in The Markets at Town Center. The $150,000 project covers new finishes and fixtures. Previous applications show much of the building will be gutted and renovated. The city is reviewing three permit applications at a cost of $525,000 for exterior renovations, interior demolition and preparation of the 6,400-square-foot space for eventual tenant work. The Angelo Group Inc. is the contractor.
Gandolfo's Deli Avenues is slated for 9799 Old St. Augustine Road, according to a fictitious name filed with the state Division of Corporations.