As part of a $489 million investment since 2015, Jacksonville-based Baptist Health is expanding its Baptist South campus.
The city approved a permit for Baptist Health Properties to add a third medical office building for physician offices and additional outpatient services.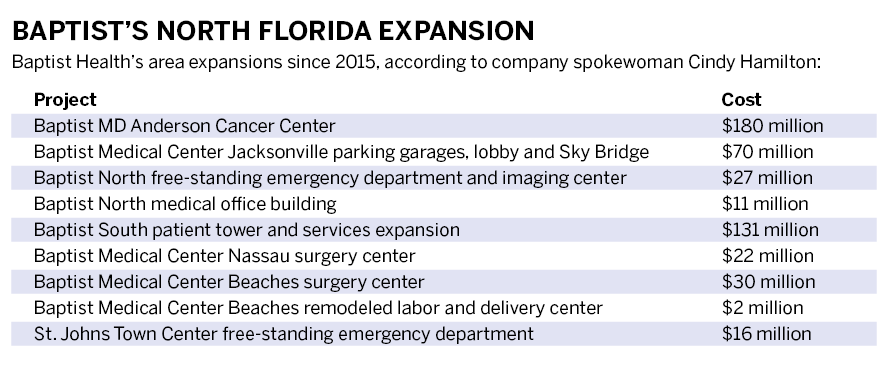 Auld & White Constructors LLC is the contractor for the four-story, almost 98,000-square-foot structure at a cost of almost $9.2 million.
By the end of 2018, the Baptist Medical Center South campus will grow to 1 million square feet of space.
Currently, three hospital towers, two medical office buildings and two parking garages occupy nearly 33 acres at 14534 Old St. Augustine Road.
When construction is completed, Baptist South will have four hospital towers, adding the capacity to grow to 407 beds.
The city also approved a permit for tenant improvements for Baptist MD Anderson at the campus. Auld & White is the contractor for the 8,164-square-foot project at a cost of $536,600.
Spokeswoman Cindy Hamilton said Baptist MD Anderson Cancer Center will offer medical oncology at Baptist South starting in January.
Baptist MD Anderson Cancer Center operates at the Baptist Medical Center Jacksonville campus on the Downtown Southbank.
It is building a nine-story, 332,000-square-foot structure next to the existing center and is expected to open by mid-2018.