More housing, hotel rooms and restaurants could be coming to East Bay Street in Downtown Jacksonville.
Rimrock Devlin DeBartolo Jacksonville LLC submitted plans to the Downtown Investment Authority on Thursday showcasing what the company calls an alternate vision for the former City Hall and Duval County Courthouse sites along the St. Johns River.
"Riverwalk Place" includes a five-story, 347-unit residential complex; a nine-story, 150-room limited-service hotel; 10,000 square feet for multiple restaurants; and a 6 ½-story, 468-space parking garage.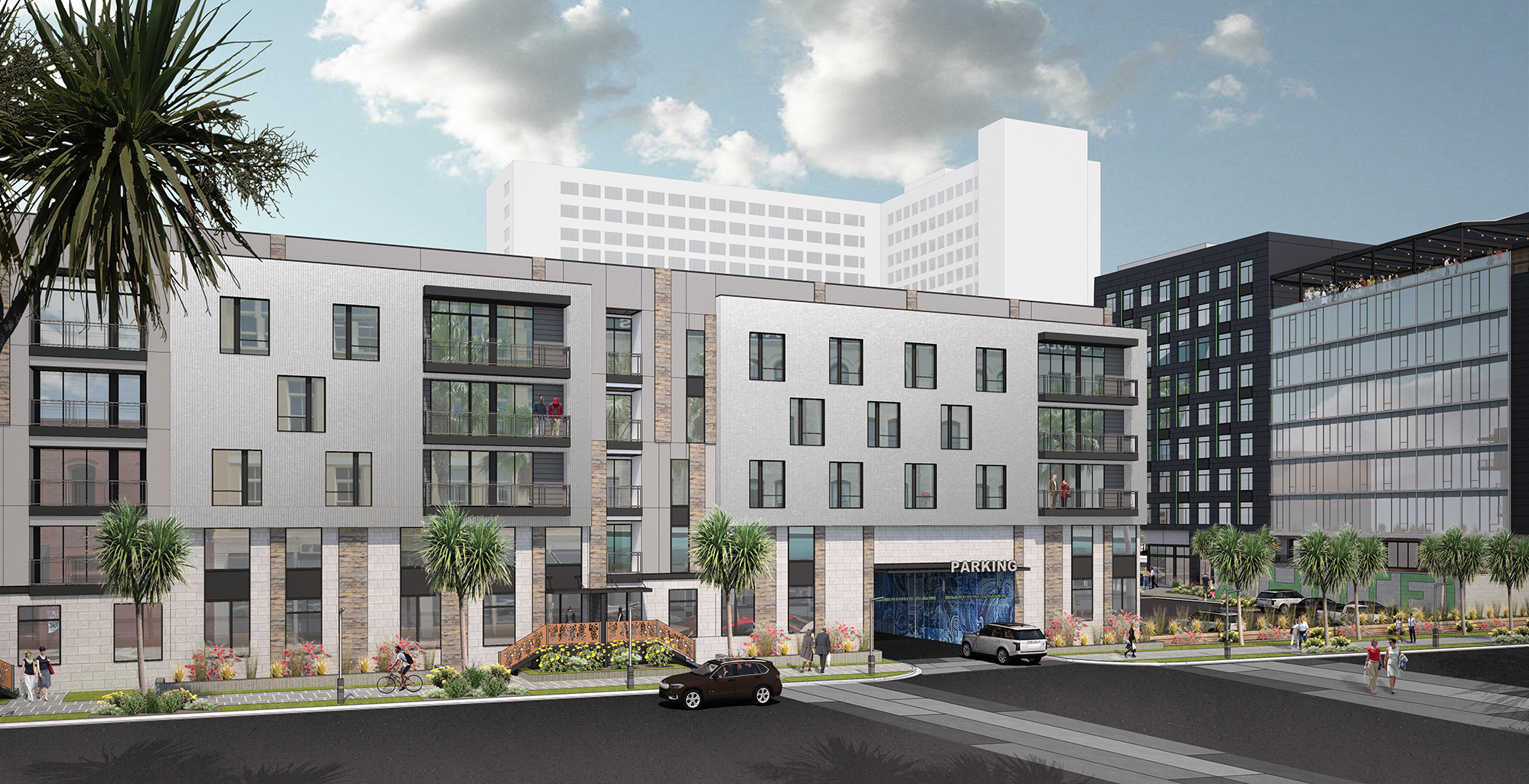 According to the plans, the residential, hotel and parking buildings would be developed along East Bay Street, with the restaurants facing the St. Johns River.
"Riverwalk Place will serve as the impetus for Downtown Jacksonville's riverfront redevelopment, and we envision the community being a true 24/7 live, work, and play destination," said Rimrock Devlin DeBartolo Development Manager Micah Linton in a statement.
"The St. Johns River is a primary component of Downtown's identity, and our vision will engage the river as a focal point, while also creating a mixed-use environment that is convenient and walkable," he said.
The plan is separate from the company's response to an April request for proposals solicited by the DIA. That RFP asked companies to provide plans for a convention center and hotel complex at the East Bay Street property.
RDD submitted a response Aug. 1 along with two Dallas-based firms.
The development group is a partnership between Jacksonville-based Rimrock Devlin Development LLC and Tampa-based DeBartolo Development LLC.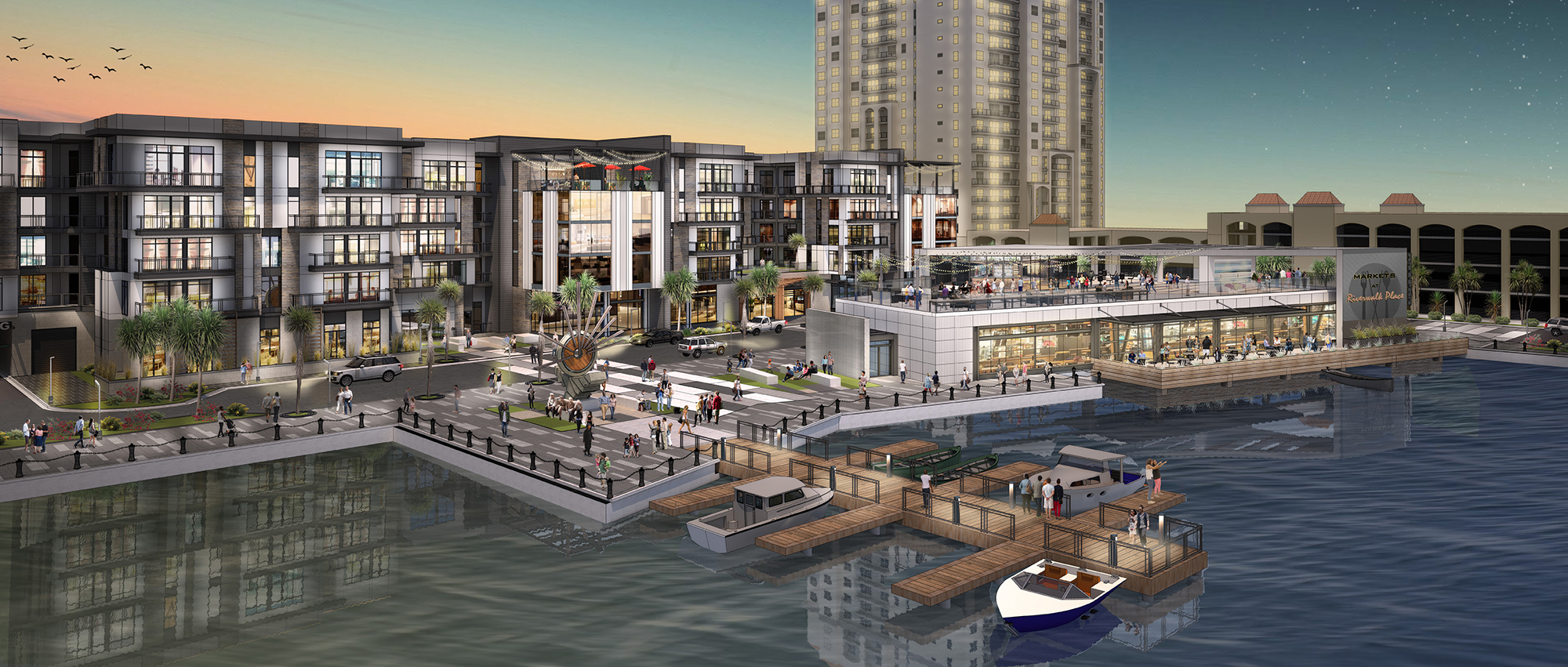 Along with Jacksonville Jaguars owner Shad Khan, the group submitted another convention center and hotel complex plan for what is now Metropolitan Park near TIAA Bank Field, about a mile away from the Bay Street property.
RDD and Khan's Iguana Investments Florida LLC submitted a 73-page package to the DIA detailing plans for a 490,000-square-foot convention center building with 200,000 square feet of exhibition space, 45 breakout rooms and a 40,000-square-foot ballroom with space for expansion.
A 350-room, full-service hotel with 44,000 square feet of meeting and ballroom space, ground-floor retail and restaurants is planned for the space next to the convention center.
The hotel includes a 462-space parking garage, which would be in addition to a separate parking structure for convention-goers on what is parking Lot J outside of TIAA Bank Field. 
"We believe the Shipyards is the optimal location for the Convention Center and hotel because of its riverfront location, ability to expand if needed, and synergies gained from its proximity to the existing sports venues and other development activities planned in the immediate area," said Edward Kobel, DeBartolo president and chief operating officer.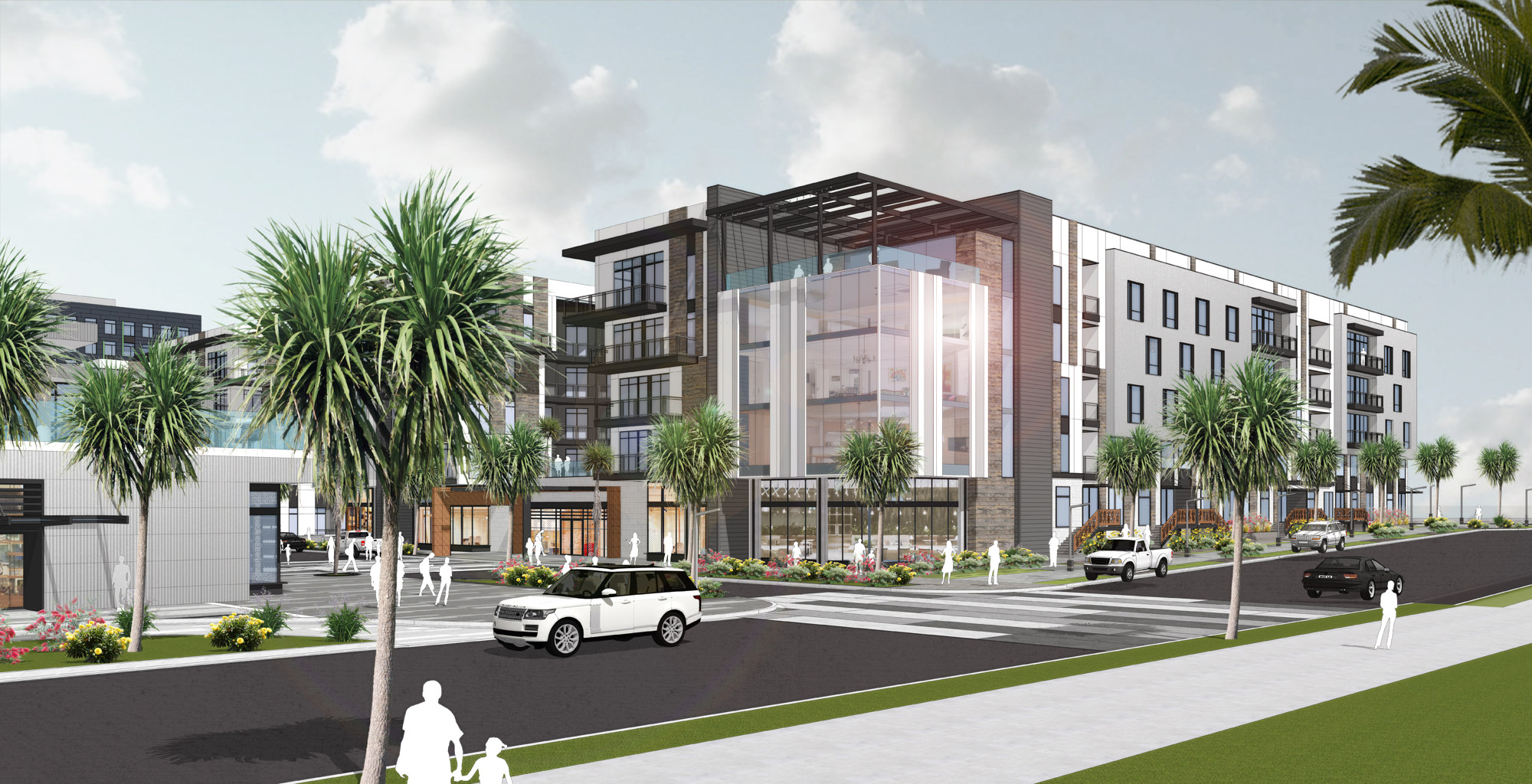 He said the alternate vision for the former courthouse property "will serve as a perfect complement and will provide Downtown with much-needed uses and facilities that will help strengthen the connectivity between the downtown core and the sports complex area."
Aundra Wallace, DIA CEO, said Wednesday that his team will evaluate the three convention center proposals accepted Aug. 1, scoring each through a three-person committee.
Following that exercise, Wallace said it will be up to the DIA's nine-member board to decide how it wants to proceed, considering the alternate plans presented by RDD and Iguana.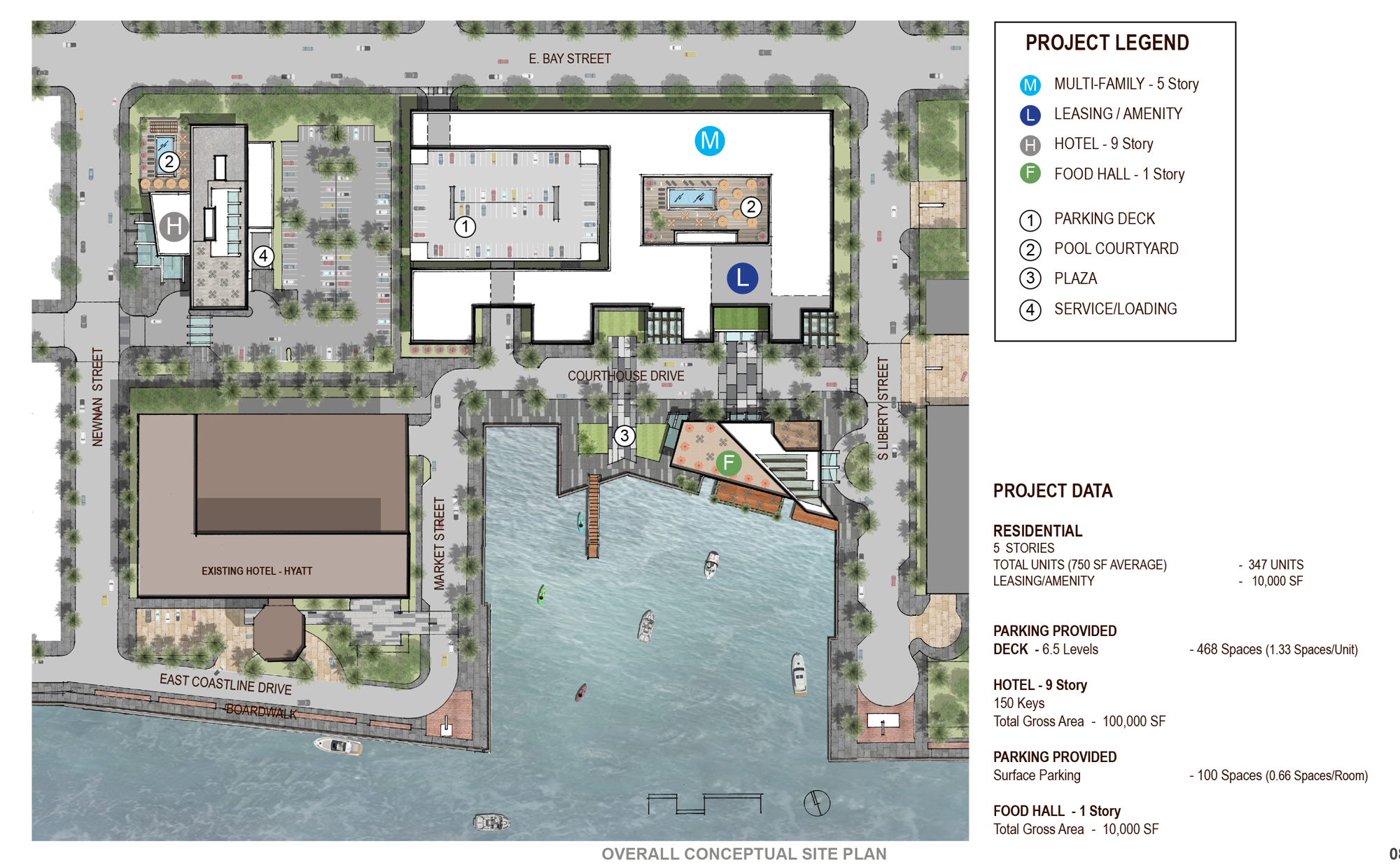 Environmental Holdings Group LLC submitted the low bid of $7,985,000 to demolish the former Jacksonville City Hall and Duval County Courthouse and is preparing the structures for removal.
The city also is demolishing the floating parking deck that collapsed in 2015 along Liberty Street and Coastline Drive behind the former courthouse, with an estimated completion in early 2019.
The city moved most of the legislative and executive branch departments from the former City Hall structure in 1997 to the St. James Building at 117 W. Duval St., although some departments and the State Attorney's Office used the space for several more years.
Courthouse operations relocated in 2012 to the new Duval County Courthouse at 501 W. Adams St.