Cantina Louie is preparing to build in Arlington.
The city calculated a mobility fee of $83,719 for development of a 10,810-square-foot restaurant and retail building on 1.89 acres along Hospitality Lane.
The 194-seat Cantina Louie is designed along Monument Road at Interstate 295, next to a Ruby Tuesday restaurant and Gate gas station and convenience store and in front of the Hampton Inn.
Jacksonville-based Cantina Louie plans to develop a structure to comprise a 5,100-square-foot restaurant and 5,710 square feet of retail space.
The property is owned by ZT Holdings #06 LLC of Jacksonville Beach.
Benjamin Porter, a partner in the Cantina Louie restaurants, said a contractor has not been selected.
Porter said construction should start late this year and he expects to complete the roughly $3 million project in a year. The retail space could accommodate from one to four tenants, he said.
ZT Holdings #06 LLC, led by Porter and Luis Cuevas, bought the property from Gate Petroleum Co. in January for $1.1 million.
The partners opened the first Cantina Louie in 2014 in St. Augustine, then Atlantic Beach, Fernandina Beach, Tinseltown and this week, the fifth in The Shoppes of St. Johns along U.S. 1 near County Road 210 and Race Track Road in St. Johns County.
Cantina Louie Mexican Street Food describes itself as a "fun, affordable Mexican Cantina serving authentic Mexican street food," such as tacos, sope, tostadas and tortas. It serves lunch and dinner.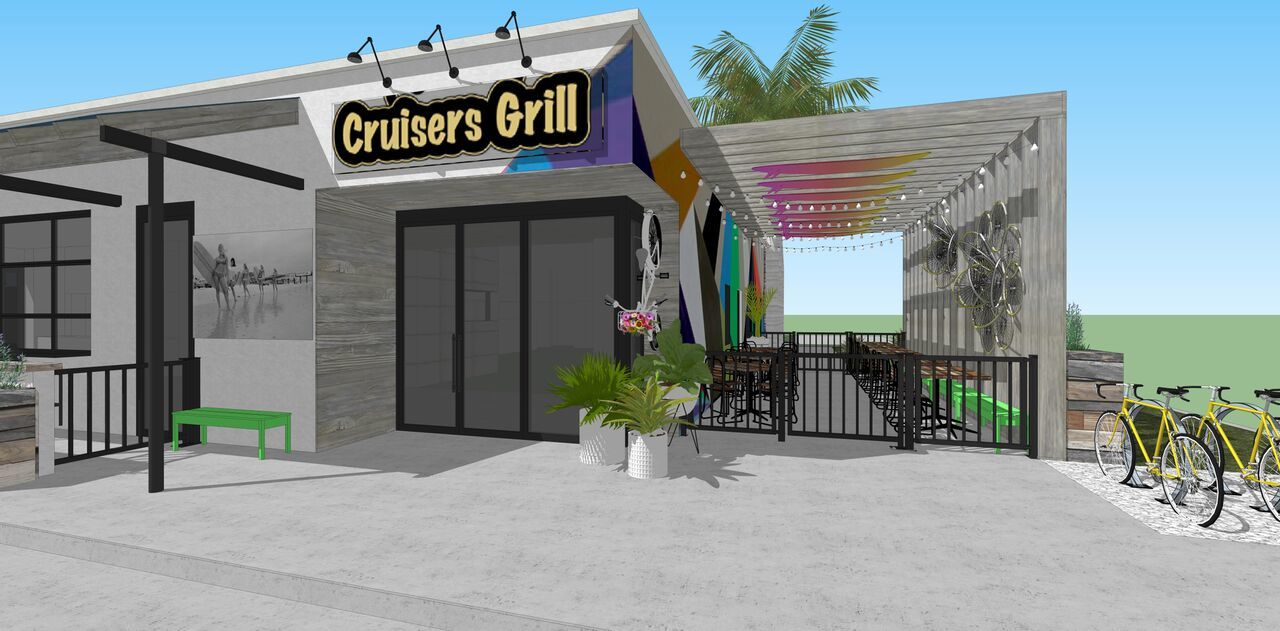 Cruisers Grill renovating
Cruisers Grill in Jacksonville Beach announced a $1.4 million renovation will begin in late September and be completed in the first quarter of 2019. 
Cruisers will close Sept. 17 for the project. It's the first significant update to the building, at 319 23rd Ave. S., since the restaurant opened in 1996.
Cruisers Grill said enhancements will include refacing the building, adding a full bar, expanding the outdoor patio, adding 40 seats, providing new finishes throughout the building and upgrading to a new full-service open kitchen. The restaurant will reopen with an expanded menu. 
Design Cooperative designed the exterior of the building and Doherty Sommers Architects Engineers will serve as the project architect. 
Escape Restaurant & Bar seeks approvals to open
Escape Restaurant & Bar LLC wants to open at the closed Cozy Tea spot in Five Points at 1023 Park St.
The group seeks a zoning waiver and exception for the outside sale and service of spirits.
The property is owned by Three by Five Retail Associates. Escape Restaurant & Bar is led by Houssam Farres.
The application says the previous restaurant did not offer sales and service of alcohol but that there are several liquor license locations in the immediate vicinity.
Food notes
• Burger King wants to build a restaurant at New Kings Road and Edgewood Avenue North. The 2,726-square-foot store, with a drive-thru, will be on 0.95 acres at 6014 New Kings Road. The city calculated a mobility fee of $94,749 for the traffic impact.
• Barbara and Timothy Tharp announced that their Wicked Batter Café will open at 997 Blanding Blvd. in Orange Park. The couple, founders of restaurant consultants CHI Consulting LLC, said Wicked Batter will operate 8 a.m.-10 p.m. and serve breakfast, lunch, dinner and nostalgic treats along with coffee, drinks, wine and craft and domestic beer. Visit wickedbatter.com for the menu and other information. The restaurant could open by mid-September.