Harbour Retail Partners bought land last week for development of Tamaya Market, to be anchored by Sprouts Farmers Market, and intends to start site work in January and construction in April for the roughly 75,000-square-foot shopping center.
Randy Kelley, Harbour Retail Partners manager and developer, said Monday the more than $20 million project could be completed near the end of 2019. Phoenix-based Sprouts wants to open in the first half of 2020, which is driving the timing of the project. 
Kelley said Harbour Retail Partners paid about $6 million for 11.2 acres at northwest Beach and Tamaya boulevards, east of Kernan Boulevard. The deed was not recorded as of Monday afternoon.
Harbour Retail Partners, based in Wilmington, North Carolina, bought the land from the ICI Homes group, the Tamaya developer.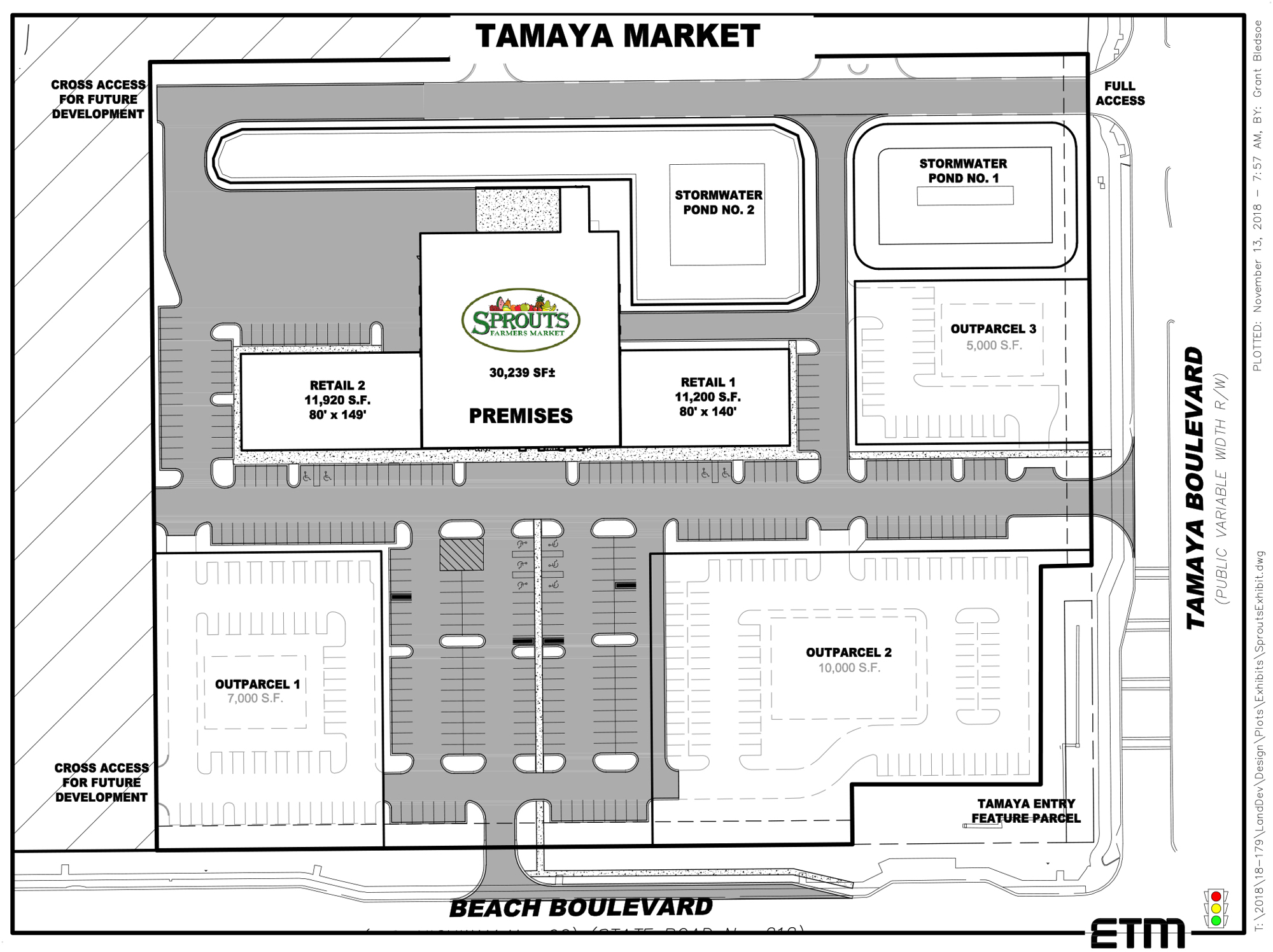 The shopping center will be anchored by the roughly 30,000-square-foot Sprouts, which is new to the market. Another 23,000 to 24,000 square feet of space will be developed among the inline retail shops on either side of the grocery store and 22,000 to 25,000 square feet will be developed among the three outparcels, Kelley said.
Kelley said there are no plans to sell the outparcels. They will be offered for build-to-suit or ground-lease.
While the site plan could be revised, Kelley expects the base design will stay the same. He said the group will be taking bids from contractors to build the project.
He said the uses would be retail, not mixed-use. There won't be a gas station because Kelley said that was not allowed by Tamaya's approved planned unit development.
Kelley said he is talking to multiple tenants and expects most of the space will be leased over the next four to six months.
Kelley said the location at Beach and Kernan boulevards "has a lot of appeal, great traffic counts and lots of visibility." He said Tamaya is planned for 2,000 homes and 1,000 are built. 
"We see the opportunity to serve those 2,000 homes over the next five years as they continue to build out and develop," he said, as well as to serve the rest of the area.
Kelley said the trade area was 365 degrees and a 10- to 15-minute drive. 
"There are customers in every direction," he said. "We are not blocked by the ocean or a psychographic barrier," which is a perceived border that customers might resist crossing.
Colliers International will handle leasing, led by Nancy Sumner and Katy Figg, vice presidents of retail services.