Following resistance from Mayor Lenny Curry in November, the Downtown Investment Authority is expected to halt plans to build a new convention center on East Bay Street.
A meeting of the DIA's strategic implementation committee met Thursday and agreed it was too soon to proceed with what could be one of the city's most expensive public/private partnerships.
The posture builds on the conclusion reached from a convention center feasibility study done by Strategic Advisory Group in 2017 that indicated Jacksonville isn't ready to build a new convention center. 
The report, which consulted convention planners and other industry professionals, states the city doesn't have enough restaurants, retail and other amenities to support a convention center and attendees.
The study also questioned the feasibility of placing one along East Bay Street where the former Duval County Courthouse and City Hall Annex buildings now stand.
The vacant structures are being demolished to prepare the site for development by spring of next year.
City requested plan for East Bay Street
Despite that report, the city spent much of 2018 exploring ideas and issued a request for proposals seeking bids from firms that could perform the work.
Bids received over the summer from three firms indicated a new convention center and hotel complex could cost more than $900 million.
The DIA will take up a resolution at its monthly board meeting  Wednesday that would terminate negotiations with Jacobs Engineering Group, which received the highest scores among the three proposals.
The DIA Strategic Implementation Committee comprises Craig Gibbs, Braxton Gillam, Ron Moody and Marc Padgett. 
All agreed it was time to table the discussion. "I think it's probably wise to wait," Padgett said.
Gillam said he thought the board moved too quickly over the summer by issuing a request for proposals and allowing firms to present their visions.
He said the East Bay Street location isn't the best fit.
"I never thought the proposed location was a good one for a convention center," said Gillam. He said the 8.4-acre property restricted the possible scope of a convention center.
"I'm certainly in favor of passing on the current opportunity and looking at some of the other things in front of us," he said.
Brian Hughes, who is acting as the DIA's temporary chief executive while the city finds a permanent one, said the property will be ready for other development next spring and that it will be up to the DIA board to decide what steps to take next.
Hughes also is Curry's chief of staff.
In his November letter to DIA Chairman Jim Bailey, Curry said in part that "the timeline for development and the substantial investment of public dollars would represent a dramatic shift in our capacity to participate in other pending public/private partnerships."
City Council President Aaron Bowman said Thursday he agrees.
"I have a study on my desk that we did that asked if we needed a convention center and those consultants said we weren't ready," said Bowman. "I'd say we were a little premature."
He said the study was correct in saying that Jacksonville needs larger proposed developments like The District and others moving before building a new facility.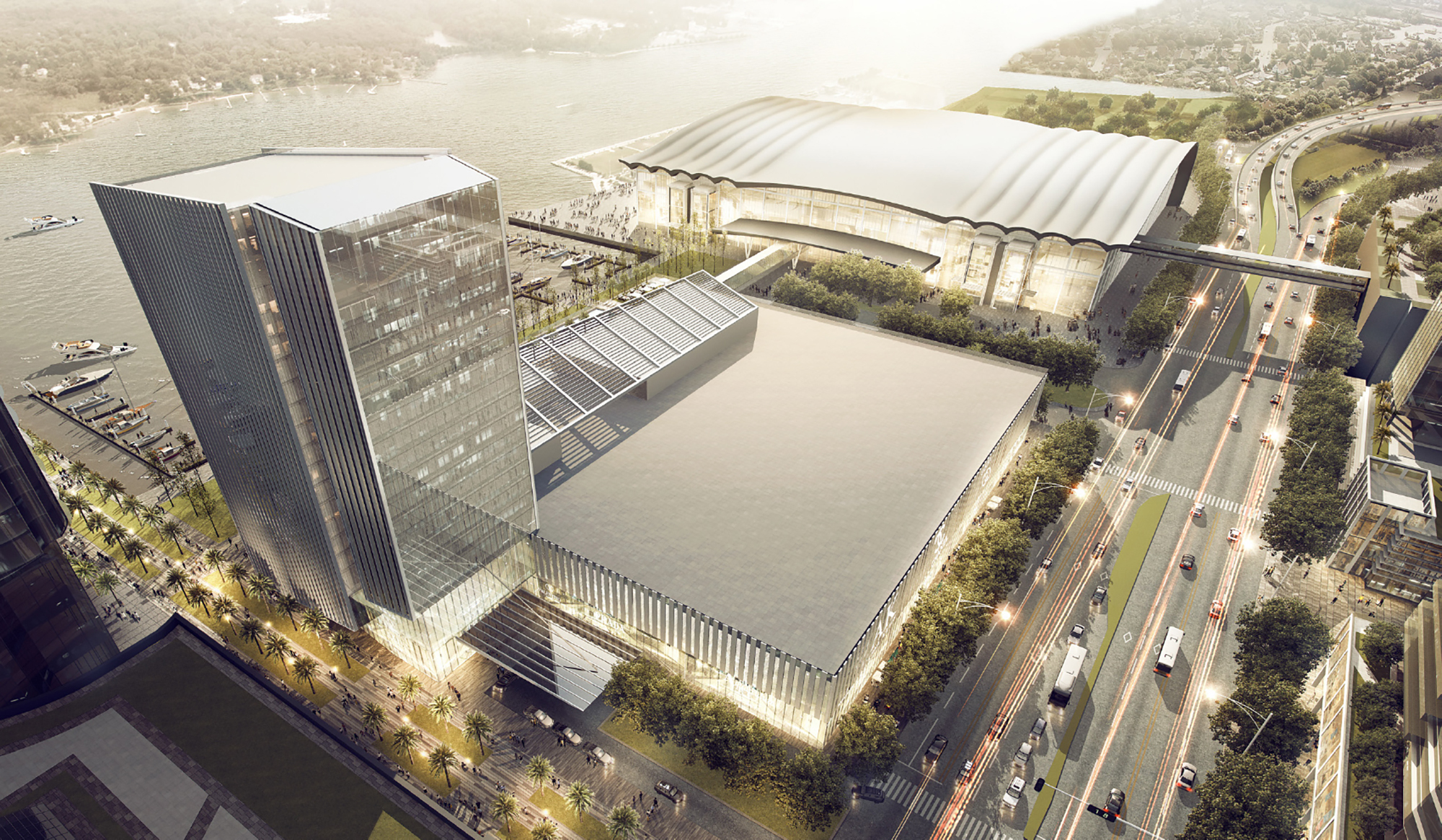 Khan has convention center plans
"Let's get those projects behind us and make it more feasible before we rush into something," he said. "I think we'll revisit it in the next five years or so."
The DIA's decision to table the development doesn't mean the city won't pursue one during the next decade.
Jacksonville Jaguars owner Shad Khan wants to build a facility along the St. Johns River at Metropolitan Park, but has indicated it would be a few years before he could start.
Khan said that project would not proceed unless a half-mile stretch of the Hart Bridge Expressway is torn down and reconfigured to street level. The elevated highway separates the sports complex and the riverfront.
U.S. Sen. Marco Rubio and Curry announced Thursday the city will receive federal transportation funds to remove the structures.
The $37.5 million project has $12.5 million allocated from the city with matching funds from the state. That $25 million will be used to begin the project.
The $12.5 million in federal grant money will go toward the second phase, which widens parts of Bay Street and Gator Bowl Boulevard.
Timeline for Khan's vision
Even with funding secured, the city isn't going to begin construction on the ramps until late 2019, after it has completed the design, issued a request for qualifications seeking contractors and negotiated with those firms to complete the work.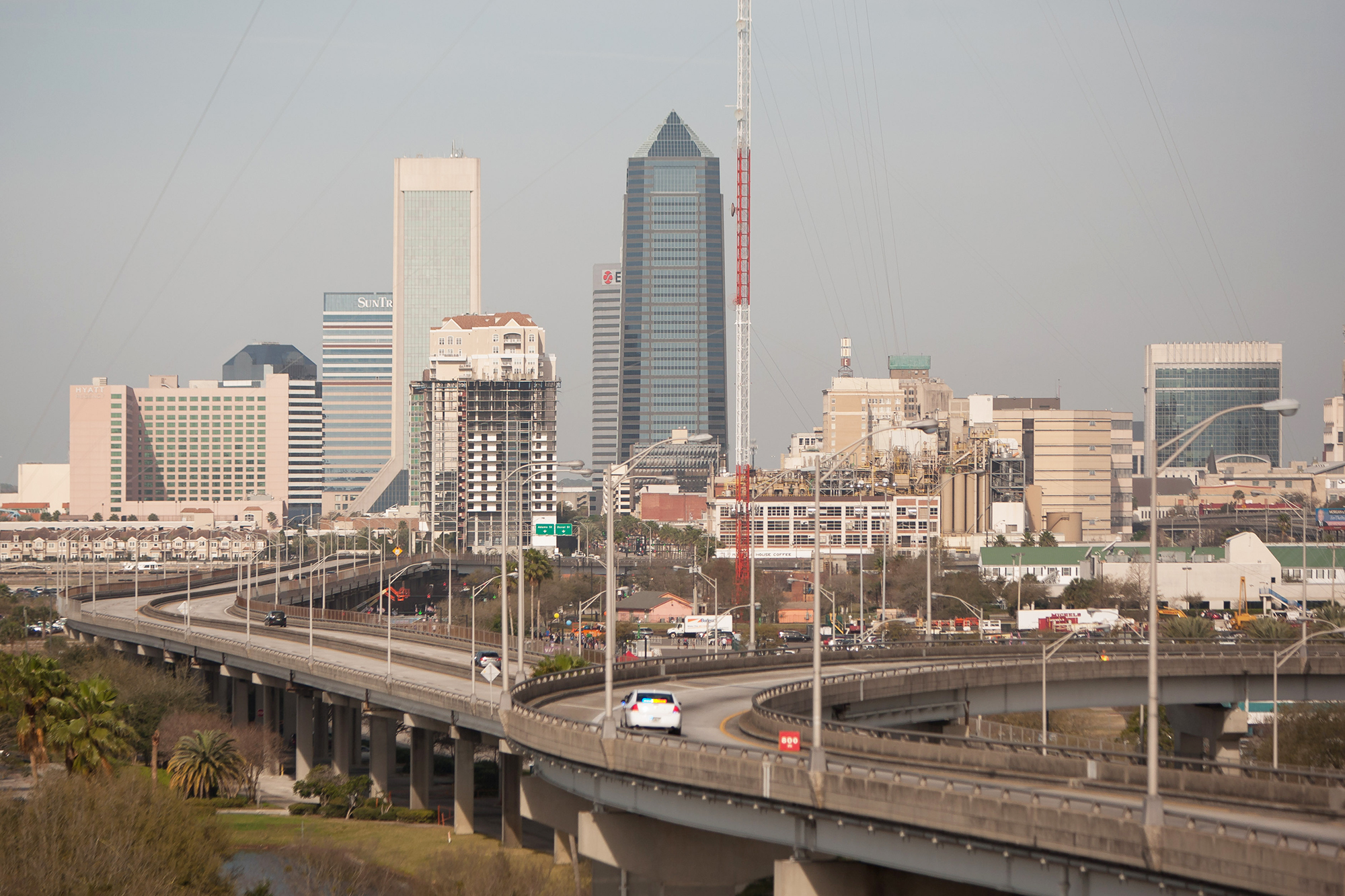 Construction will take 18 to 24 months, according to city Chief Administrative Officer Sam Mousa.
Khan and Jaguars President Mark Lamping are focused on beginning Khan's $2.5 billion vision for the sports and entertainment complex in the parking lots west of TIAA Bank Field, primarily Lot J.
That phase could include an office tower, a hotel, parking garage, retail, restaurants and another entertainment venue.
A convention center is further down Khan's timeline.
In a statement released Thursday, Lamping said the team was pleased the funding had been secured.
"This development represents a critical first step in delivering our vision for the rebirth of downtown Jacksonville. Removing the ramps creates obvious synergies between the Shipyards and mixed-use development planned for Lot J and establishes a new route for visitors to access the Downtown Sports Complex," Lamping said.
"Senator Rubio, Mayor Curry, Congressman Rutherford, Congressman Lawson and the Department of Transportation were instrumental in securing these additional funds, and we look forward to continuing our collaborative efforts with them and others in the revitalization of downtown Jacksonville," he said.