Jacksonville Transportation Authority CEO Nathaniel Ford Jr. cut the ribbon Monday on another project under his watch, the latest phase of the First Coast Flyer bus service. 
The 18.5-mile, $33.9 million Red Line runs from Rosa Parks Station at Union and State streets Downtown to Third Street in Jacksonville Beach. 
It is the longest expansion to the First Coast Flyer system, and another example of how Ford is changing public transportation in Jacksonville. 
"This is by far the largest BRT (bus rapid transit) line we've implemented," Ford said. "It literally doubles our system with 60 stops."
Because it was raining, Ford, JTA board members, elected officials and the acting administrator of the Federal Transit Administration, K. Jane Williams, moved inside Jacksonville Beach City Hall to talk about the project. 
The Federal Transit Administration is part of the Department of Transportation. It provides financial and technical assistance to local public transportation systems like JTA. 
Williams, appointed by President Donald Trump in August 2016, said the service is the largest in the Southeast.
Williams rose from the local authority side of transportation. Before joining the administration, Williams was the director of the Washington Area Transit Office in the Maryland Department of Transportation where she worked with the Maryland Transit Administration and the Washington Metropolitan Area Transit Authority. 
One of Ford's hallmarks since joining JTA in 2012 is securing federal funding. For the Red Line, the transit administration invested $16.9 million into the project through a capital investment grant program. 
"I think we're going to see more investment," Williams said. 
She said the DOT has pledged $63.9 billion for infrastructure investments across the country, including in Jacksonville. 
Williams said the Jacksonville area presents a different challenge for Ford, who previously worked in cities like San Francisco and Atlanta where public transit is more centrally located. 
"With highways and transit, he has a whole transportation network under his authority," she said. 
Williams called Ford innovative and said he has looked at "opportunities to right-size the system here."
She said one of those opportunities was JTA's decision in 2017 to shutter the Beaches Trolley services that ran between Atlantic Beach, Neptune Beach and Jacksonville Beach in exchange for something much smaller – golf carts sponsored by JTA. 
"We had a struggling Beaches shuttle for literally decades and we finally made a choice to move away from a 40-foot bus to using a golf cart operation," Ford said. "One size doesn't fit all." 
"Beachside Buggies" is a free, on-demand services that riders can request through a mobile app. 
Unlike the trolley, which ran on JTA's fixed bus routes, the Beachside Buggies riders can be picked up and dropped off at regular or destination stops.
Williams said Ford's abilities continue to impress federal transportation officials and his local transit authority counterparts in other cities. 
"He's got a national profile and you're lucky to have him in Jacksonville," Williams said. 
Ford was selected in 2017 to chair the American Public Transportation Association. The group comprises local and regional transportation executives and lobbies federal officials on transportation policy. 
"I'm enjoying being here in Jacksonville," Ford said. "Having the opportunity to build a project that could have national implications, something that's not really available to myself and a lot of my peers, is special." 
Ford said he hasn't been offered and is not considering other roles, such as at DOT or the Federal Transit Administration.
"USDOT is a great opportunity if that ever came about but right now my heart is sold on Jacksonville and the good work we're doing here at JTA," he said.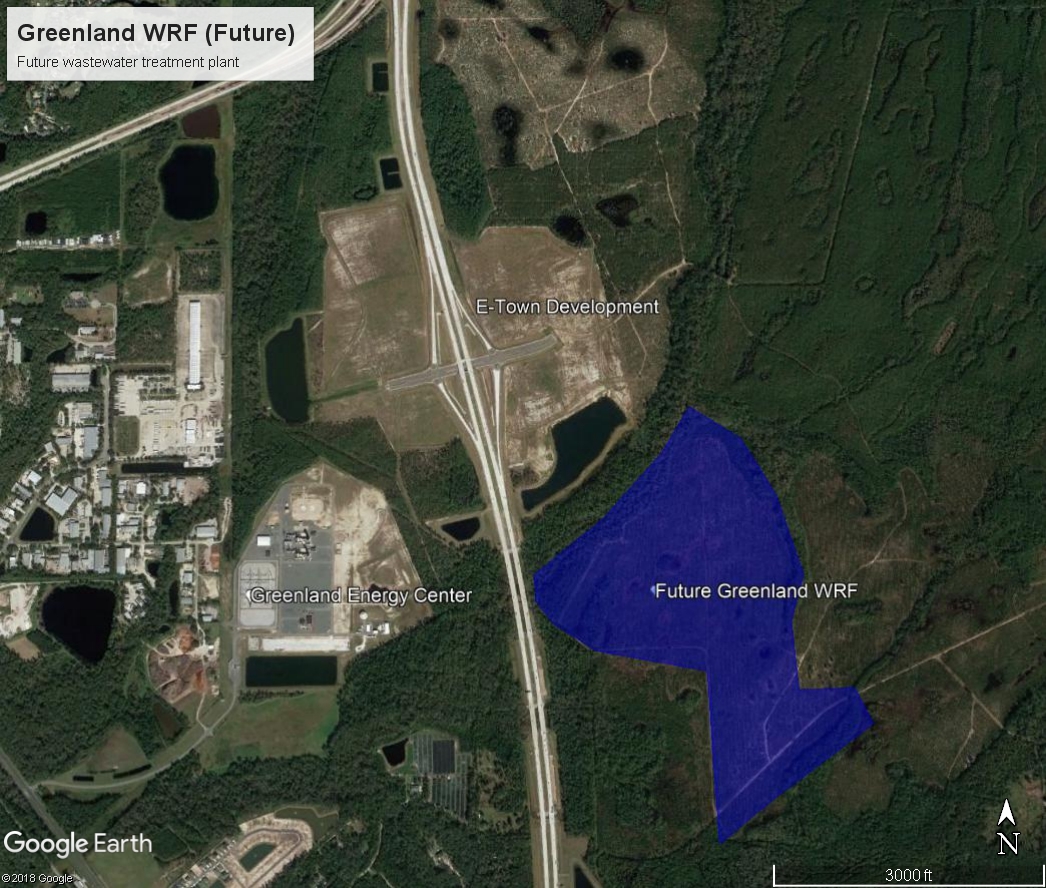 JEA spends $16M for land to build a wastewater station
JEA paid $16 million to buy 167 acres in South Jacksonville as it begins planning a wastewater treatment and reclaimed water facility. 
According to the deed, JEA bought the land Nov. 20 from Estuary LLC.
The property is south of the eTown development near Interstate 295 and Florida 9B. The property includes about 120 acres of wetlands. 
Project manager Tom Hawk said JEA hopes to have the Greenland Water Reclamation facility operational by 2022.
Hawk said the facility will produce around 6 million gallons of reclaimed water a day through 2040. 
"We've got a lot of demand for reclaimed water in that area," Hawk said. "That's primarily used for irrigation and industrial uses."
JEA began its reclaimed water efforts in 1999. Last year the system produced around 19 million gallons per day. 
Like others in JEA's network, the Greenland facility is positioned to serve a growing area east of the St. Johns River. 
"It keeps us from using all the potable water from the Florida aquifer," Hawk said.  "In the case of JEA, it also helps us avoid using surface water." 
Hawk said JEA will hire a design-builder for the project and hopes to break ground in 2019.