The inventory of apartments is growing, vacancy rates are shrinking and rents are rising, all indications of a continuing robust residential rental market in Northeast Florida, according to the Multifamily Research and Forecast Report issued by the Jacksonville office of global real estate services company Colliers International.
Job growth in the region has continued to draw new residents.
"Annual job growth gains continue to drive the economic prosperity of the region as the MSA added approximately 23,000 new jobs in the past 12 months and has seen its unemployment rate drop to a low 3.6 percent," wrote Bradley Coe, director of Colliers International Northeast Florida, in the report.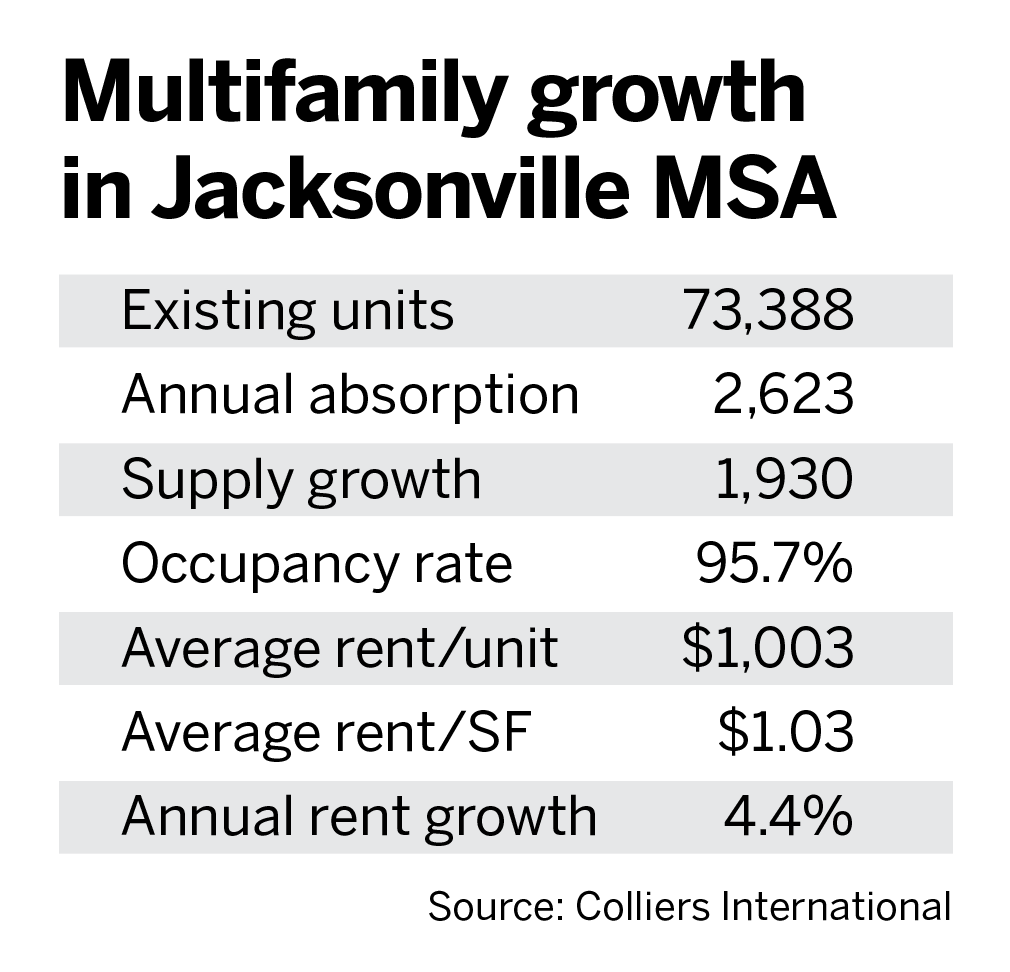 According to Colliers, strong demand for multifamily has resulted in a 4.3 percent vacancy while rents have increased an average of 4.4 percent.
The average per-square-foot rate has increased to $1.03, up from $1.01 in July 2017. The average monthly unit rent surpassed the $1,000 benchmark in 2017 and currently is $1,003. 
All this while the MSA has added 1,500 new construction unit starts since June 2017. In all, there are 18 projects in various stages of development in the MSA, representing 4,066 units.
An additional 3,317 units are proposed among 16 multifamily projects.
That's 34 new apartment communities comprising 7,383 units either planned or in development. 
More than half of the projects under construction are in the Baymeadows and Southeast submarkets, according to Colliers.
Population and job growth plus diminishing vacancy rates indicate continued ability for multifamily housing to maintain high occupancy rates.
"Strong absorption levels of new unit deliveries, decreasing vacancy rates, ongoing rental rate growth, robust demand for multifamily product and continuing economic gains were characteristics of the Jacksonville multifamily sector in 2017," Coe wrote.
The highest rents are in the Central submarket, which includes areas north and west of the St. Johns River, east of Interstate 295 and south of the Trout River. 
Of the 11 submarkets, the top performing are Central at $1.39 per square foot, Beaches at $1.23, Southeast at $1.13 and Baymeadows at $1.11, The bottom four are West at 86 cents, Arlington at 92 cents, North at 94 cents and Orange Park at 95 cents. 
Year-over-year vacancy rates have steadily decreased since 2010, when 12 percent of multifamily units in the Jacksonville MSA were empty. The largest single-year increase came between 2013 and 2014, when vacancy rates dropped from 9.1 percent to 6.9 percent. The 4.3 percent 2017 vacancy rate was nearly 1 percentage point lower than in 2016, which stood at 5.1 percent.
These statistics also have resulted in a more robust apartment community transaction market, which saw 63 complexes acquired in 2017 at a combined $1.65 billion in value.