Fields Auto Group is creating a side-by-side presence along Atlantic Boulevard for two of its dealerships.
Fields intends to build a Jaguar Land Rover Jacksonville dealership to the east of its existing location at 11211 Atlantic Blvd. and then redevelop the original location for Porsche.
Its Porsche dealership, in turn, will relocate from 10100 Atlantic Blvd. No decision has been made about the next use for that building.
Garry Redig, vice president of operations, said Jaguar Land Rover requires Fields to build a new facility, which is common in the auto industry.
"We are thinking it's easier to move next door," he said. Fields owns the land and is rezoning it.
Ordinance 2017-836 calls for 12.1 acres to be rezoned from one Planned Unit Development to another for the expansion.
The developer is Fields PAG Inc.; the architect is The JRB Group Architects; and the civil engineer is Prosser Inc.
The Jacksonville Planning Commission will review it at 1 p.m. Jan. 18 followed by 5 p.m. public hearings Jan. 23 at City Council; Feb. 6 at the council Land Use and Zoning Committee; and again at the full council Feb. 13.
All the meetings are at City Hall.
Once Jaguar Land Rover Jacksonville moves to the new dealership, Fields will demolish the existing structure and build the new one for Porsche, he said.
Porsche will move from its site 2 miles west along Atlantic Boulevard.
Redig said Land Rover is requiring Fields to build the new "Arch" design.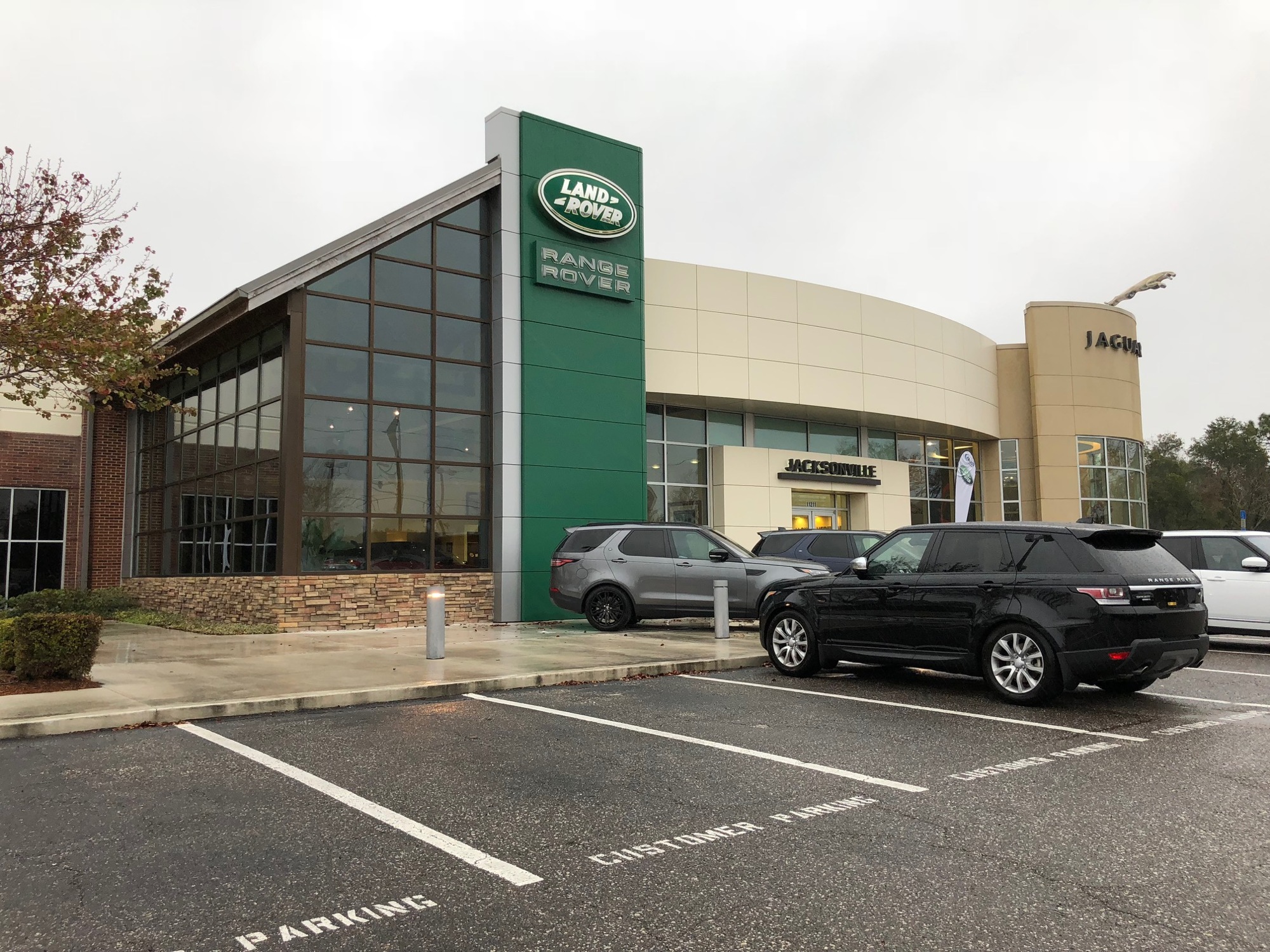 Autonews.com reported in April 2016 that Jaguar Land Rover was rolling out a dealership standard designed to feature both brands in "dualed" stores.
It quoted the CEO of Jaguar Land Rover North America to say the new global and mandatory identity program would take five to seven years.
CEO Joe Eberhardt said he expected the average investment to range from $100 to $220 per square foot, depending on whether the project is a renovation or new construction.
The new exterior color is "sunshine grey" for both brands —shedding the flying cat statues at some Jaguar stores and the white-and-green exteriors of Land Rover dealerships, Autonews.com said.  Eberhardt described the conjoined buildings as jewel boxes.
The two franchises are connected at an entryway with glass doors. Eberhardt said the company would stay with the design for at least 10 years.
Autonews.com said Jaguar Land Rover was pushing dealers to operate combined stores in the belief that having both brands makes a dealership more competitive with other luxury brands that have cars, SUVs and crossovers.
"Every seven to 10 years, the manufacturers have a new facility design and we are coming to that point to redo the Porsche facility as well," Redig said.
Redig said Fields has time to consider what to do with the existing Porsche site.
He said site work could start in February for the new Jaguar Land Rover dealership for completion by November.
The Porsche redevelopment is expected to be completed in October 2019, he said.
Each dealership should be about 33,000 square feet, he said.
Redig said the investment has not been determined, but "these will not be inexpensive projects."
At Eberhardt's estimate, the cost of the new dealership could reach more than $7 million.
Fields bought the Jaguar Land Rover Jacksonville dealership from the Matheny family in 2014.
The almost 20,000-square-foot sales, showroom and garage were developed in 2000 and Redig said it was remodeled in 2008.
In April 2016, Fields Auto bought Mercedes-Benz, Lexus and Porsche dealerships and a collision center from locally owned Brumos Automotive.
It also owns Fields Cadillac in Jacksonville and St. Augustine.
Chicago-based Fields Auto Group is privately owned with more than 30 dealerships in Florida, Illinois, North Carolina and Wisconsin.
In Northeast Florida, it owns Fields Cadillac St. Augustine and Orange Park; Jaguar Land Rover Jacksonville; Lexus of Jacksonville and Orange Park; Mercedes-Benz of Jacksonville and Orange Park; Porsche Jacksonville; and the collision center.