Ron Chamblin's next chapter Downtown is developing the building at 225 N. Laura St., next to his bookstore, into apartments and a restaurant.
"It's going to be another building that will be occupied and renovated and used," said Chamblin.
Chamblin proposes to convert the three-story, 6,500-square-foot building into four apartments on the upper two floors and a restaurant on the first floor.
He bought the building in 2012. It housed the Gus and Co. shoe and luggage repair shop until that business moved to 228 W. Adams St., near the Duval County Courthouse. For some time, it contained several small apartments.
Chamblin gutted it and plans to create four apartments, with the Laura Street units on the second and third floors to include balconies.
Rents will range from $900 to $1,995 a month.
The buildings are just east of Hemming Park.
Chamblin said the units facing Laura Street will rent monthly for $1.75 a square foot and those facing the back will be $1.25 a square foot.
The approximate monthly rents and sizes:
• Facing Laura Street: Third floor, $1,995; 1,141 square feet; second floor, $1,660; 945 square feet
• Facing the rear: Third floor, $900, 722 square feet; second floor, $1,076; 861 square feet
Chamblin said the largest unit is three bedrooms and the others are two-bedroom.
The street-level restaurant would provide breakfast and lunch and also feature evening events. It would serve beer and wine.
"The entrance is going to be neat," Chamblin said. It will feature a patio-type entry with tables and chairs.
Chamblin said he is talking with Jim Webb, special events coordinator at the Friends of Hemming Park and former owner of Fuel Coffeehouse in Five Points, to operate the restaurant.
Chamblin expects it will create six to seven jobs.
No changes are anticipated at the coffee shop and vegetarian restaurant at the bookstore.
The city is reviewing a permit application for the $900,000 project. Fred I. Podris is the architect. Chamblin said Breaking Ground Contracting is the general contractor.
Chamblin expects construction to start "in earnest" in August and be completed in about nine months, about May.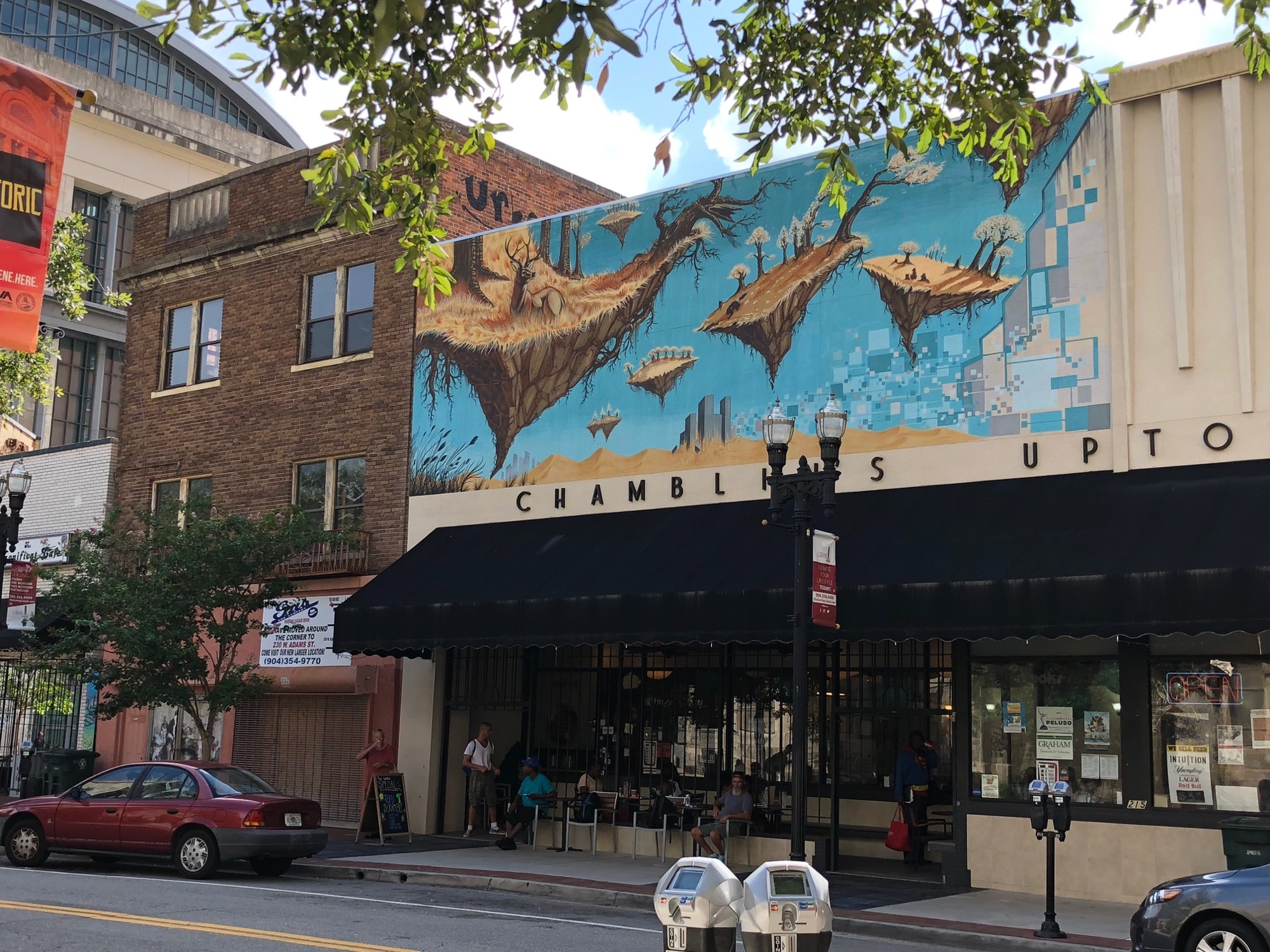 He said the cost might be lower after competitive bidding for subcontractors.
Tenants are in contact. "I've never advertised and I've got eight names," he said.
It's adjacent to Chamblin's Uptown at 215 N. Laura St.  He said he bought that building for $930,000 in 2006, invested $630,000 into renovations and opened the bookstore in 2008.
Both structures were built in 1904, property records show. The two-story bookstore building comprises 12,300 square feet.
He said the 225 N. Laura St. building sat vacant for years.
"It was quite deteriorated but we gutted everything. I'm just not intimidated about that kind of thing," said Chamblin.
"I bought it for $300,000 in 2012 because I felt like somebody ought to do something with it. So I'm doing it," he said.
Chamblin said he awaits a $37,000 Retail Enhancement Grant from the Downtown Investment Authority for upgrades to the first-floor façade. The grant won't be paid until the project is completed.
Chamblin started in the bookstore business with a small bookstore on Herschel Street and in1991 bought the building along Roosevelt Boulevard in West Jacksonville that became Chamblin Bookmine.
He opened the Downtown store during the recession and credited the fact he owned the property, rather than paid rent, for his survival. Better cash flow meant more inventory.
In 2016, he celebrated his 40th anniversary in the business.
Adding four more living units Downtown isn't a lot, but it's a step toward city goals to offer more housing in the urban core.
Downtown Vision Inc. will report soon that there are almost 3,000 existing housing units Downtown with 4,450 residents, about half of the 10,000 residents considered necessary to be a critical mass for retail and services development.
Those units are within the Downtown Development Authority's boundaries, which stretch well beyond the urban core and include the Southbank.
Counting the number of units proposed and under construction, DVI says 6,330 units are possible Downtown.
"People want to live Downtown," said DVI Executive Director Jake Gordon on Thursday, particularly younger people and empty nesters.
He said there is little residential vacancy Downtown, with some projects experiencing waiting lists.
"It shows there is a demand for Downtown living and so to Ron and to me, it looks like those will be great units.
"That should be prime real estate for someone that is working Downtown or interested in Downtown living," he said.
DVI is a not-for-profit organization that administers a 90-block improvement district to provide services above those provided by the city. Commercial property owners pay for the efforts through assessments.