Walmart Inc. is further preparing at least 10 Walmart Supercenters and Neighborhood Markets in Jacksonville for online pickup of groceries and possibly merchandise.
The retailer has been updating its services as it competes with Amazon.com Inc. and other competitors that offer consumer conveniences.
The city approved or is reviewing renovation work that includes pickup services at Walmart Supercenters at 8808 Beach Blvd., 13490 Beach Blvd., 9890 Hutchinson Park Drive, 10991 San Jose Blvd., 7075 Collins Road and 10251 Shops Lane.
It also is reviewing work for pickup at Neighborhood Markets at 6855 Wilson Blvd. and at 1650 San Pablo Road.
In addition, the Walmart website shows two more Supercenters also are providing pickup services. 
Some Supercenter renovations include overall remodeling throughout the stores.
Walmart media contacts did not respond to an email or phone message to discuss the plans.
The Walmart website shows that grocery pickup already is available at five Supercenters, comprising 8808 Beach Blvd. and the stores at Hutchinson Park Drive and Shops Lane as well as 6830 Normandy Blvd. and 12100 Lem Turner Road.
For the pickup work, Walmart wants to renovate the space for pickup stall striping outside, grocery and merchandise storage, checkout and building signage.
Plans show that for online grocery orders, customers would pull up to the designated parking stalls after their orders are placed.
Walmart associates will be notified when the customer arrives and deliver the order to the customer at the car. Customers won't need to leave their vehicles.
Plans show that stores that offer general merchandise pickup will arrange for that to take place inside the store. Customers will check in and be notified their online merchandise — nongrocery — items are available for pickup.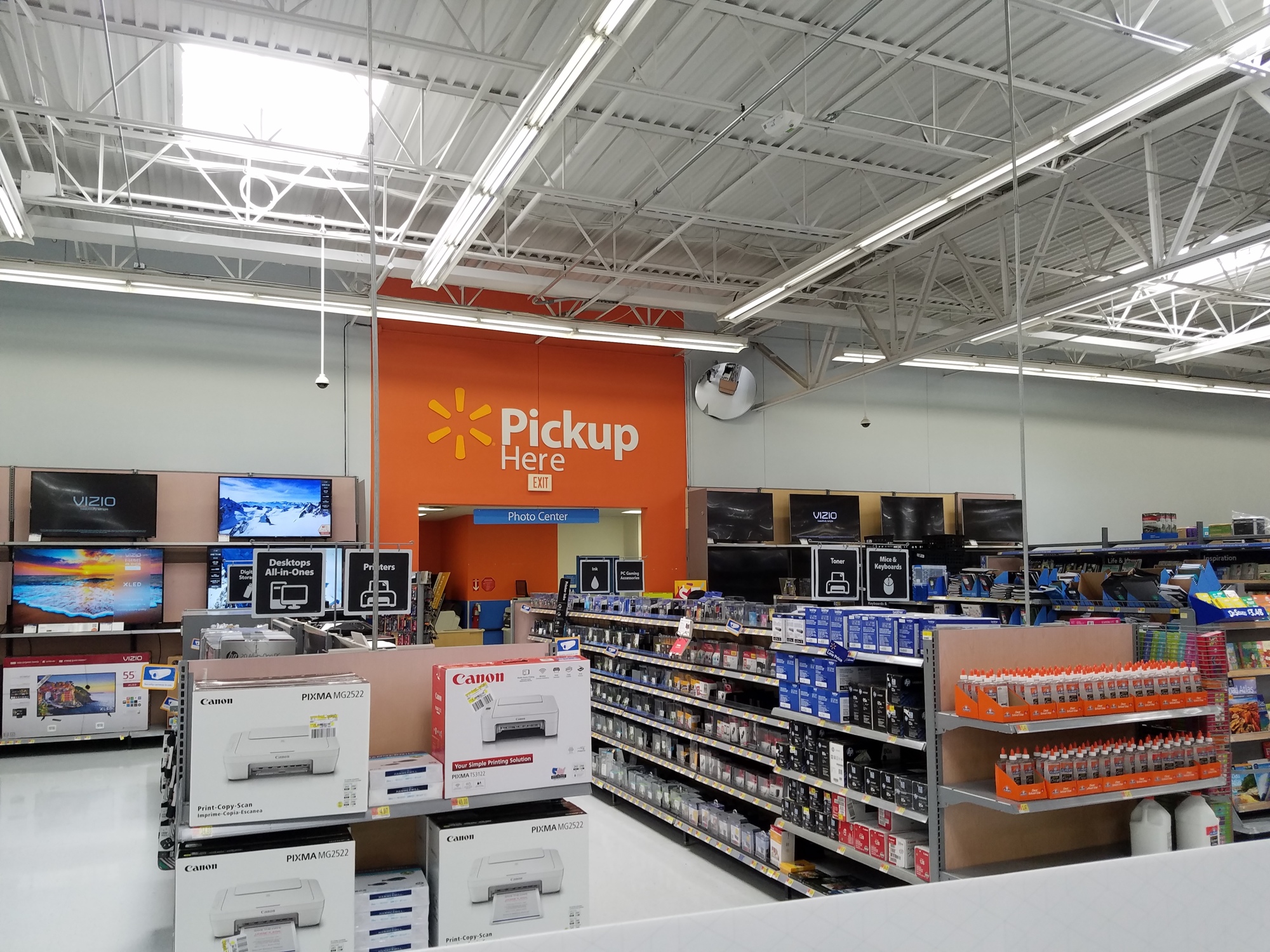 The website shows that in Jacksonville, the 12 Supercenters and all four Neighborhood Markets offer pickup services for merchandise ordered online.
The total Jacksonville store renovations, including the more extensive interior work at some stores, add up to more than $2 million.
Walmart.com explains that to order for grocery pickup, customers visit Walmart.com/grocery and enter their ZIP code, shop the assortment online and choose the designated store and time frame for pickup. 
Prices are the same as those in the store, but there is a $30 minimum purchase for Walmart grocery orders. There is no extra charge for pickup.
Customers will be called to let them know the order is ready and the pickup location at the store – usually in front or at the side.
A customer would call a designated number to let an associate know of his or her arrival and an associate will bring it out.
The site says same-day pickup is available pending the time of the order. Pickups can be scheduled up to three weeks in advance.
For merchandise pickups, customers choose the store when they place their order and are emailed when it's ready. Some items can be retrieved the same day with no fee.
Items available for free pickup that aren't available the same day will be shipped to the store and typically are ready within three to five days of the order. Heavy or larger items might take longer.
Once the order is placed, a customer cannot change the pickup store. Product assembly is not included.
Pickup options include Supercenters, Neighborhood Markets and FedEx Offices, although those aren't available in all areas.