Developer Eugene Profit said Wednesday a boutique hotel proposed for Downtown Jacksonville will proceed without the help of historic tax credits.
Profit owns the former Life of the South building at 100 W. Bay St. and plans to convert the 79,000-square-foot space into a Hotel Indigo. 
He provided an update to the SMPS North Florida meeting at the Epping Forest Yacht & Country Club.
The Society for Marketing Professionals invited Profit and other development professionals to discuss revitalization and hospitality efforts in Downtown. 
Profit won design approvals from the Downtown Development Review Board in May to convert the seven-story building into 89 hotel rooms, a ground-floor restaurant and bar and some retail space. The project includes a rooftop restaurant, bar and terrace.
Profit bought the 55-year-old building through 100 West Bay Street 1 LLC in 2013 for $3 million with the intent to create office space.
He said that changed when he noticed there wasn't a boutique hotel Downtown. 
"When I used to come to Downtown Jacksonville I really didn't even know where a cleaners was or where to get a doughnut or a muffin or breakfast," Profit said. 
Since May, he said his development team has been working to push the project forward. 
"We are fully entitled and our design docs are at about 80 percent completion," he said. 
"All we need now is finish our capital stack to get construction underway so we hope to be online toward the end of 2019."
Profit is a former NFL player whose investment business is based in Bethesda, Maryland. He is not seeking incentives from the Downtown Investment Authority or the city of Jacksonville for the hotel. 
Profit also announced he was not pursuing federal historic tax credits because he plans to modify the building layout to increase occupancy. Historic credits discourage design changes to old buildings.
The building shares an alley with the SunTrust Tower along North Laura Street and another alley with a parking garage behind both buildings.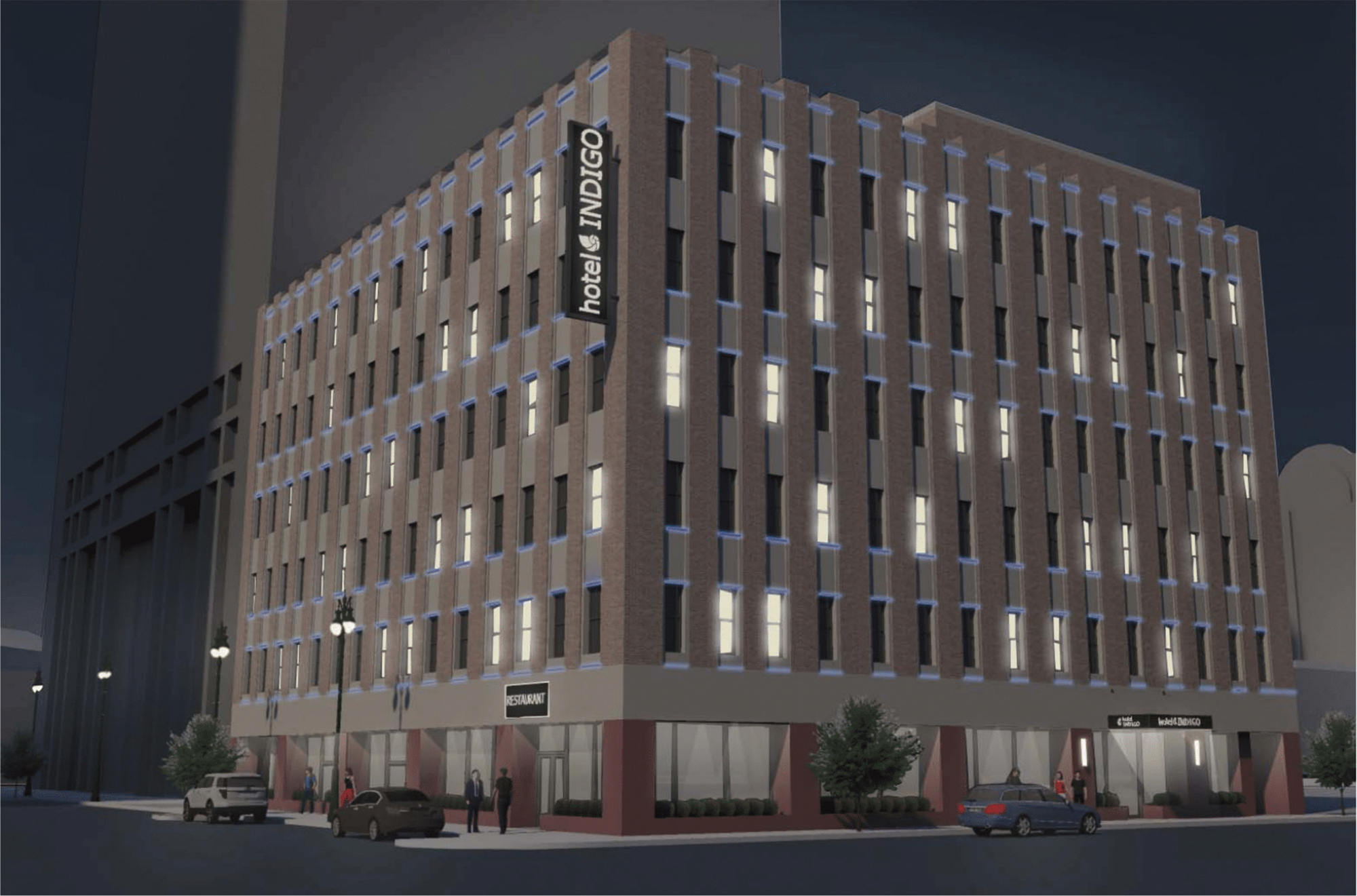 On the side facing the parking garage, there is a windowless strip running the length of the building that covers an interior hallway. Profit said the layout reduces the hotel's potential occupancy to 79 rooms. 
"We actually are cutting windows into the side of the building to get out to a higher room count," Profit explained. 
Profit said he was informed by the Jacksonville Historic Preservation Commission that the tax credits would not be approved if he added windows or modified the exterior of the building. 
The trade-off, he said, is the need for more private financing. 
"We started our calculations saying, 'Well, I think we need to have more rooms, not to do historic, and then we'll talk to someone about the fact that we're bringing in more hospitality taxes,' and kind of try to fill the hole that way," he said.
Profit said he probably could fit 89 rooms into the existing layout, but they would be smaller than what he and Hotel Indigo representatives want. 
"We could have had more rooms in this hotel but I decided that we really want to have a nice boutique with nice-sized rooms, because it just didn't exist in Jacksonville," said Profit. 
He expects construction to start and be completed in 2019. 
This is the second project for the developer in Downtown Jacksonville.  
Through Phoenix Adams Rising LLC, Profit redeveloped the Lerner Building at 20 W. Adams St. into dormitories and a cafe for Florida State College at Jacksonville.