Jacksonville Area Legal Aid's 19th annual Robert J. Beckham Equal Justice Awards Celebration was Sept. 20 to recognize outstanding pro bono contributions made by attorneys in the 4th Judicial Circuit. 
Holland & Knight partner George E. "Buddy" Schulz Jr. received the Equal Justice Award.
In addition, eight attorneys and the Canan Law and Driver, McAfee, Hawthorne & Diebenow law firms were recognized for their extraordinary service. 
Circuit Judge Hugh Carithers, chair of the 4th Circuit Pro Bono Committee, also presented awards: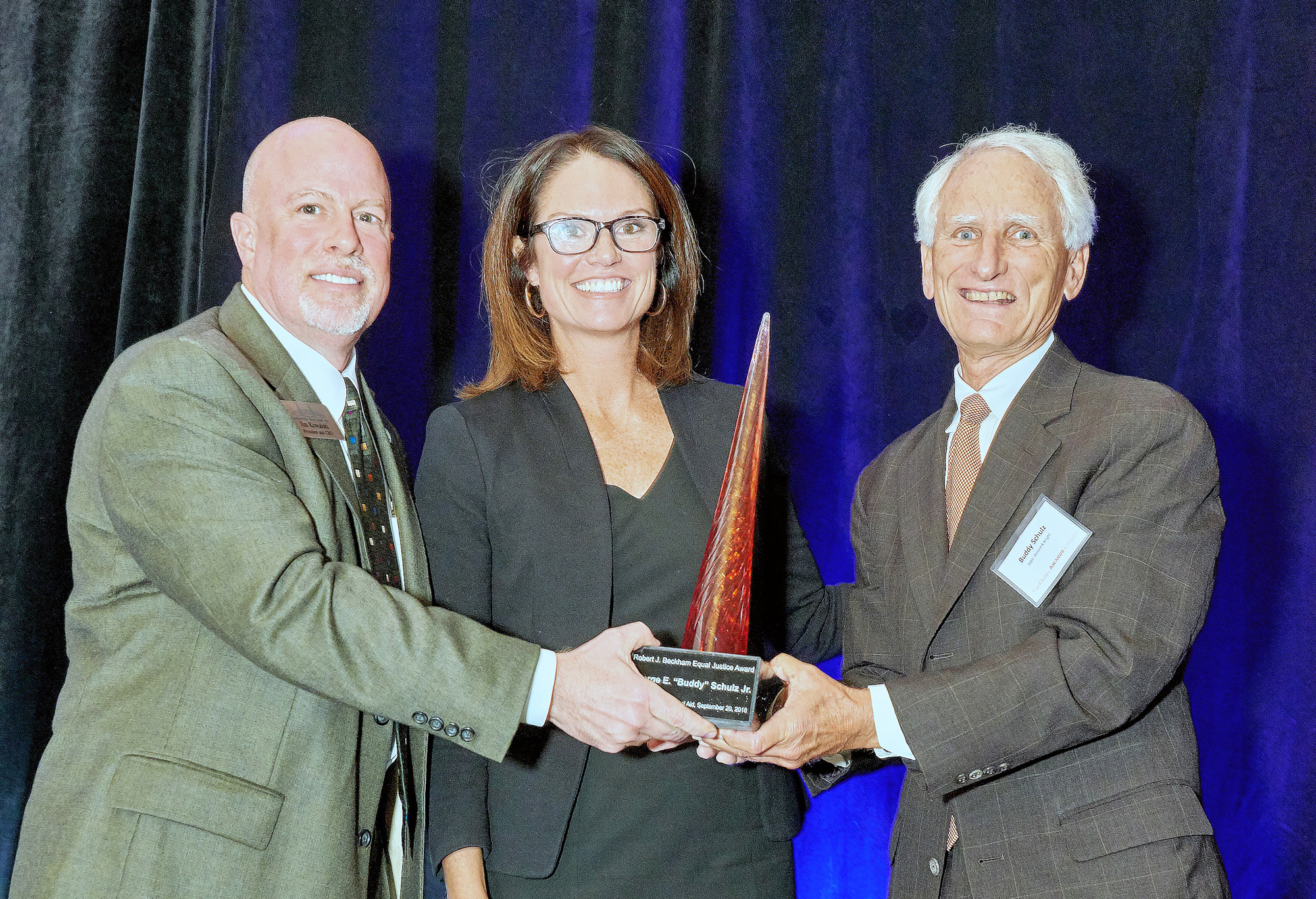 Debbie Lee Clark, Champion for Low-income Seniors
Clark offers presentations at HUD residential facilities, senior centers and in public libraries and has assisted participants with probate, will creation and advance directives matters.
James Russell Collins, Positive Impact Beyond St. Johns
Collins has earned a pro bono service award from St. Johns County Legal Aid for 10 years in a row. He volunteers hundreds of hours of service each year to those in need. 
Lisa Anne DiFranza, Standing with Vulnerable Adults
DiFranza helped establish a guardianship and guardian advocacy pro bono project and is a regular presenter in the Lawyers in Libraries project.
Crystal Freed, An Advocate for Survivors
Freed is a nationally recognized leader in the fight against human trafficking and has represented survivors of forced labor and sex trafficking in civil matters, wage claims and establishing immigration documentation. 
John Wilson Humes Jr., At Mary Singleton, the Lawyer is In
On Tuesday mornings, Joe Meux Sr., who received this award in 2013, and Humes visit the Mary Singleton Center and assist seniors in matters including advance directives, will creation, contracts, collections and housing.
Doug Milne, A "Go To" Advocate for Decades
Milne has been on the frontline of civil legal assistance for low-income residents for the duration of his career. He has served on the JALA board of directors and on the board of the JALA Foundation and volunteers to assist clients with probate, trusts and foreclosure matters.
Jeanine Beard Sasser, General Practitioner for Some Most in Need
From family law to Social Security appeals to wills and advance directives, Sasser has provided pro bono services to families for decades. She participates in estate planning intake at JALA and at the City Rescue Mission.  
Tania Schmidt-Alpers, Advocacy When Time is of the Essence
Tania Schmidt-Alpers has been a champion of domestic violence victims since she started practicing in 1996. She volunteers at shelters and accepts many deserving family law matters, totaling hundreds of hours of pro bono service every year.
More awards: The law firms Canan Law and Driver, McAfee, Hawthorne & Diebenow were recognized for the pro bono contributions made by their partners and associates.
Cases awaiting a volunteer lawyer can be reviewed at floridaprobonomatters.org. Type the county into the search bar and request information on an available case. Contact [email protected] to learn more about pro bono opportunities.