The St. Johns Builders Council invited the public to its 2018 Parade of Homes display of homes from the area's builders and designers.
The results were a large turnout of potential buyers, the just-browsing for future reference folks and a smattering of people who admitted to being curious. Whatever their motive, visitors were not disappointed.
The event included the Showcase Home: the Iris by Mattamy Homes in RiverTown; the Pick of the Parade: the Coastal Bliss by Poseidon Builders in Madeira; and 40 more homes designed and built by members of the council. This year's parade was Sept. 1-16 and was sponsored by the St. Augustine Record and The Florida Times-Union.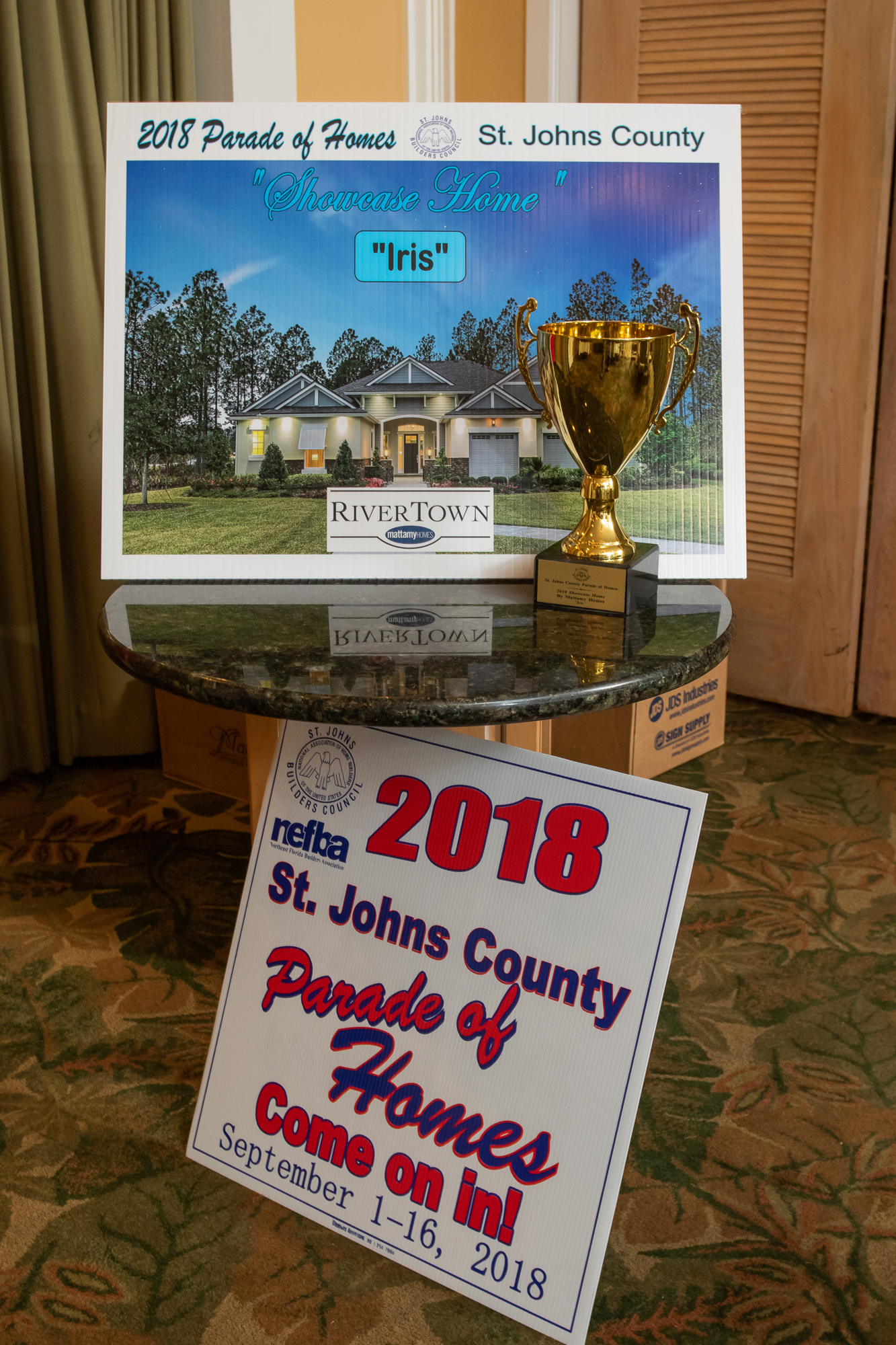 For the purposes of judging, homes were divided into price ranges, with 14 price categories ranging from $200,000 to $800,000 for single family detached homes, and from $250,000 to more than $1 million in townhomes/condominiums.
"Naturally, we talk a lot about the winners and that's appropriate," said Mike Davis, SJBC chair. "From the standpoint of the members and the SJBC, all the entries were winners. Each home reflected the attention to detail and workmanship area homebuyers have come to expect through their dealings with homes built by our members throughout the county. I offer my congratulations to every entry. And thank you for a job well done."
For more photos from the parade and information about the SJBC builders, visit stjohnsbuilderscouncil.com.
Townhome/Condominium Gold
Category 1: $251,000 - $275,000 
Homes by Deltona: Sophie 
Category 2: $400,000 - $425,000 
Homes by Deltona: Pinehurst 
Category 3: $500,000 - $525,000 
Homes by Deltona Pebble Beach 
Category 4: More than $1 million 
Americrest Luxury Homes: Sea Breeze 
Gold and silver awards: 
Category 1: $201,000 - $225,000
D.R. Horton: Oakley 
Category 2: $275,000 - $300,000
D.R. Horton: Clifton (gold);
KB Home: The Sullivan (silver)
Category 3: $351,000 - $375,000
Providence Homes: Juniper (gold); MasterCraft Builder: Gr Vilano w/Bonus (silver)
Category 4: $376,000 - $400,000
D.R. Horton: Destin (gold); Dream Finders Homes: Mableton (silver)
Category 5: $401,000 - $425,000
Providence Homes: Hernando 
Category 6: $426,000 - $450,000
Providence Homes: Ellaville (gold); Dream Finders Homes: Willow (silver)
Category 7: $451,000 - $475,000
Mattamy Homes: Beauclair (gold); Drees Homes: Flagler B (silver)
Category 8: $476,000 - $500,000
Poseidon Builders: Coastal Bliss (gold); Riverside Homes: Wheaton (silver)
Category 9: $501,000- $525,000
Richmond American: Yorktown (gold); Mattamy Homes: Oren (silver)
Category 10: $526,000 - $550,000
Dream Finders Homes: Boca II (gold); AV Homes: Olivia (silver)
Category 11: $551,000 - $600,000
Mattamy Homes: Cannon II (gold); Providence Homes: Ellaville (silver)
Category 12: $601,000 - $625,000
Drees Homes: Westgate F 
Category 13: $651,000 - $700,000
AV Homes: Seton (gold); Providence Homes: Madison (silver)
Category 14: $701,000 - $800,000
Dream Finders Homes: Fernandina