Jacksonville, with 30 Krystal stores, is a top-five market for the 86-year-old hamburger brand.
Now it also will be one of the first Florida markets to sport the new prototype.
In a $2 million project, The Krystal Co. intends to start its first two "scrape and builds" in Jacksonville to demolish the old and build anew.
Those will be followed by three or four more over the next few years.
The first area Krystal to be rebuilt with a new prototype will be in South Jacksonville.
Each scrape-and-build is a $1 million project and uses local contractors, the company said. It takes about 120 days.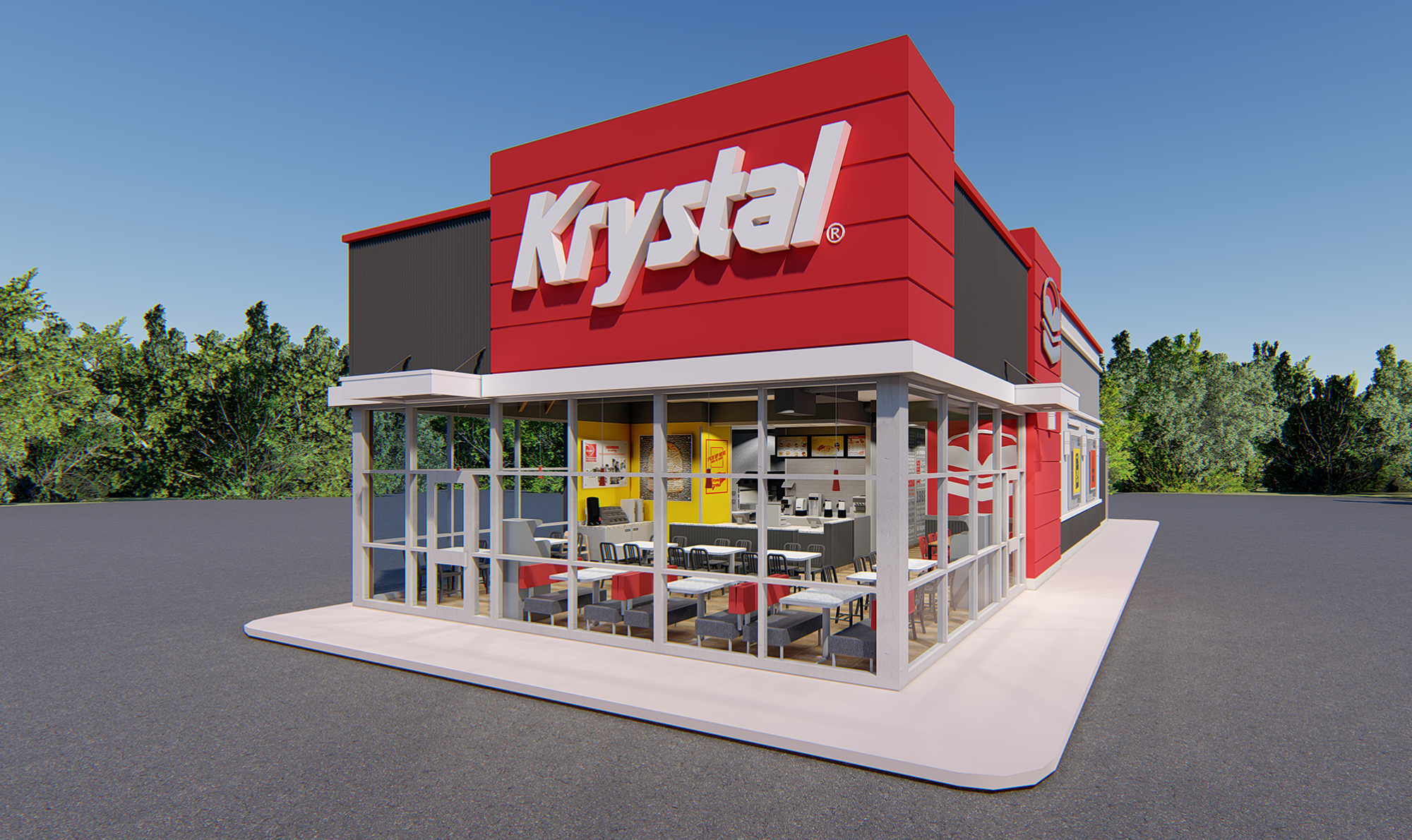 Krystal intends to demolish its restaurant and drive-thru at 5707 University Blvd. W. and build a replacement that spokeswoman Laura Mansfield said will be among the first of its kind in the state.
The city is reviewing applications for demolition of the existing store and construction of a 2,030-square-foot Krystal.
The existing 2,221-square-foot building was developed on about a half-acre in 1970 at University Boulevard West and Barnes Road, according to Duval County property records.
Mansfield said the second will be the 2023 N. Main St. location. That 2,640-square-foot location was built on 1.2 acres in 1990.
She anticipates the stores will close in the second quarter of 2019 and reopen in the third quarter.
Krystal operates 350 quick-service hamburger locations among 11 states. The company said it will redesign 75-100 restaurants over the next five years, representing about 40 percent of its corporate portfolio.
In Jacksonville, 19 of the stores are company owned and of those, five or six will be rebuilt, Mansfield said.
Mansfield said sales are up by more than 50 percent at the redesigned stores in Jackson, Mississippi, and Tuscaloosa, Alabama.
She said Krystal expects a 30 percent increase from the Jacksonville redesign.
The company relocates employees to other Krystal locations during renovations. The new stores add staff for the increased business, she said.
"The redesign is part of a companywide initiative to improve the dining experience for our guests and adapt to changes in consumer behavior," said Krystal CEO Paul Macaluso in a statement.
He said the company is seeing more drive-thru business, especially late at night and at breakfast.
Macaluso said the drive-thru design is built for speed and serviceability with a single window, expanded work zone and double drive-thru lane.
Krystal, based in Dunwoody, Georgia, was founded in Chattanooga, Tennessee, in 1932.
Krystal is controlled by Atlanta-based Argonne Capital Group, which said in May it completed a transaction with blue-chip institutional investors that put about $530 million in six companies controlled by Argonne.
QSR Magazine reported in June that when Macaluso, the former president of McAlister's Deli, joined Krystal as CEO in April, one of his first targets was to reinvigorate "the relevance of the brand."
According to QSR, Macaluso said Krystal was in danger of becoming "wallpaper" to once-loyal customers and being overlooked by new ones.
His goal, according to the magazine, was to get people talking again about the brand.
Sales dropped more than 6 percent in the previous two years.
His answer: "Breakthrough creative that gets people's attention."
QSR reported that Krystal partnered with The Tombras Group for its social media work and MoonPie, which spars with Wendy's on Twitter, to launch an unconventional advertising campaign "that invigorates the venerable burger brand with an appeal to millennials and a nod to pop culture."
In September, Krystal announced the reopening of a Tifton, Georgia, restaurant, the first scrape-and-build in the state.
Krystal said the prototype was made with three primary building materials – wood, metal and stucco – for ease of construction.
The kitchen and facilities layout maximizes efficiency and employee awareness, it said.
It said design elements "include a vibrant color package highlighting the Krystal name in red, a heritage color for the brand."
Architecturally, the building is both contemporary and nostalgic, it said, with a full-glass front and a wood-framed open ceiling in the dining room.
The building is square like Krystal's burgers.
Krystal said 40 percent of its restaurants are more than 40 years old.