The Downtown Development Review Board approved two projects Thursday that will bring more hotel rooms and apartments to Jacksonville.
The board approved a Hyatt Place along Independent Drive next to the Jacksonville Landing on the Downtown Northbank and a redesigned residential project for the Southbank. 
The DDRB unanimously approved both projects.
Hyatt Place
A nine-story, 128-room Hyatt Place is planned on a quarter-acre at Water and Hogan streets near the Jacksonville Landing. 
Mainstreet Capital Partners, through Mainstreet CV 76 S Laura St. LLC, is developing the limited-service hotel. It will include a pool area, fitness center and other amenities.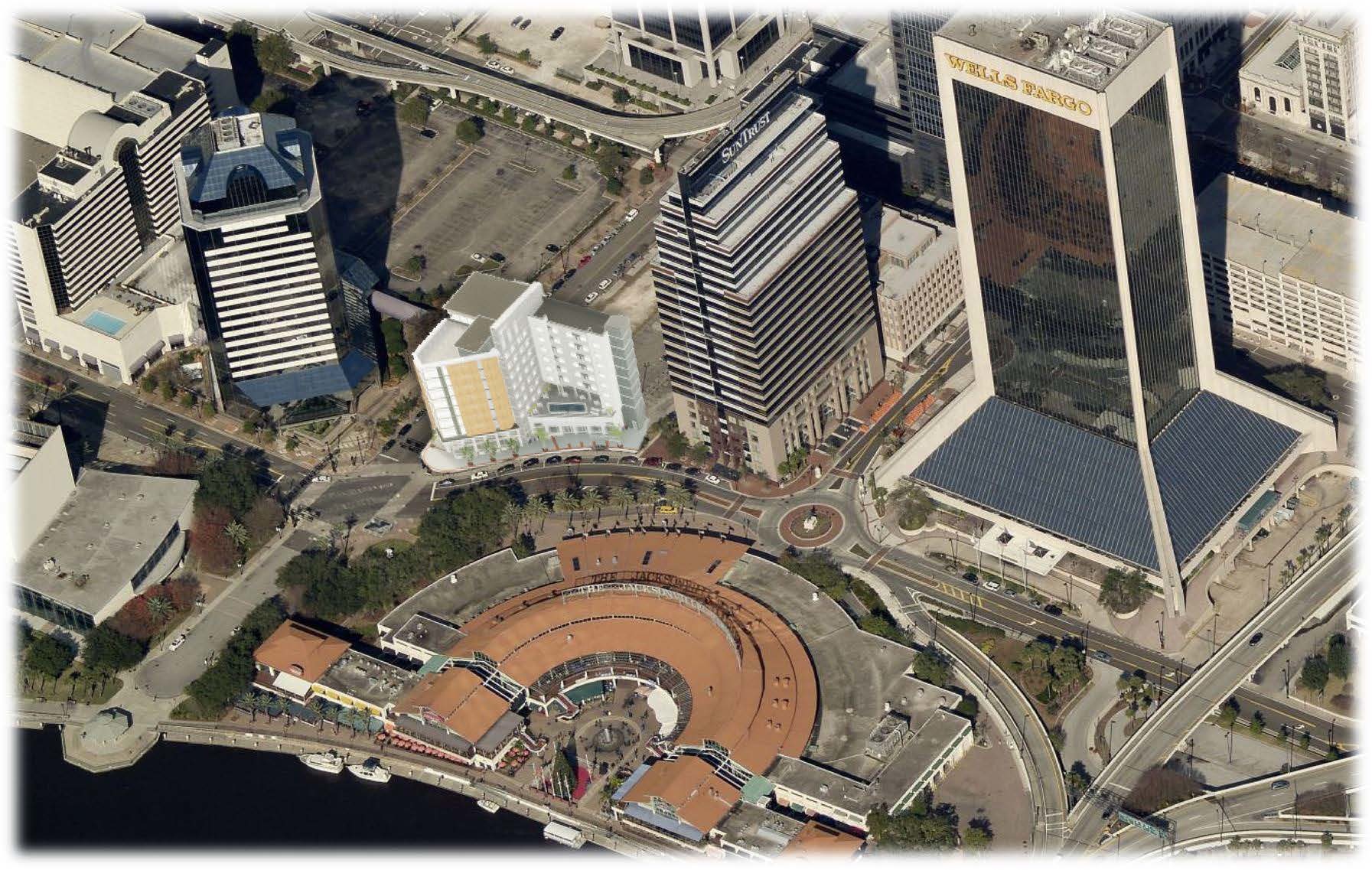 The group bought the land from Parador Partners LLC in April, assuming a 2011 economic development agreement between Parador and the Downtown Investment Authority.
Parador built the 612-space parking garage behind the hotel site. 
Mainstreet asked for one deviation from the DDRB design guidelines to reduce the amount of off-street parking. The hotel mitigates that minimum parking through an agreement to use 132 parking spots in the garage. 
Along with CarVal Investors LLC, Mainstreet sold the neighboring 23-story tower and garage to VyStar Credit Union for $59 million at the end of July. 
Paul Kilgallon with Mainstreet Capital Partners said the group expects to begin permitting in the first quarter of 2019. 
Ventures proceeding
Jacksonville-based Ventures Development Group LLC's "Ventures Residential Development" secured DDRB approval for a 185-unit apartment building on 2.9 acres along Prudential Drive, between the Eight Forty One building and the Acosta Bridge.
The group was forced to reduce the scope of the project by roughly half after settling a lawsuit with a neighboring property owner this summer.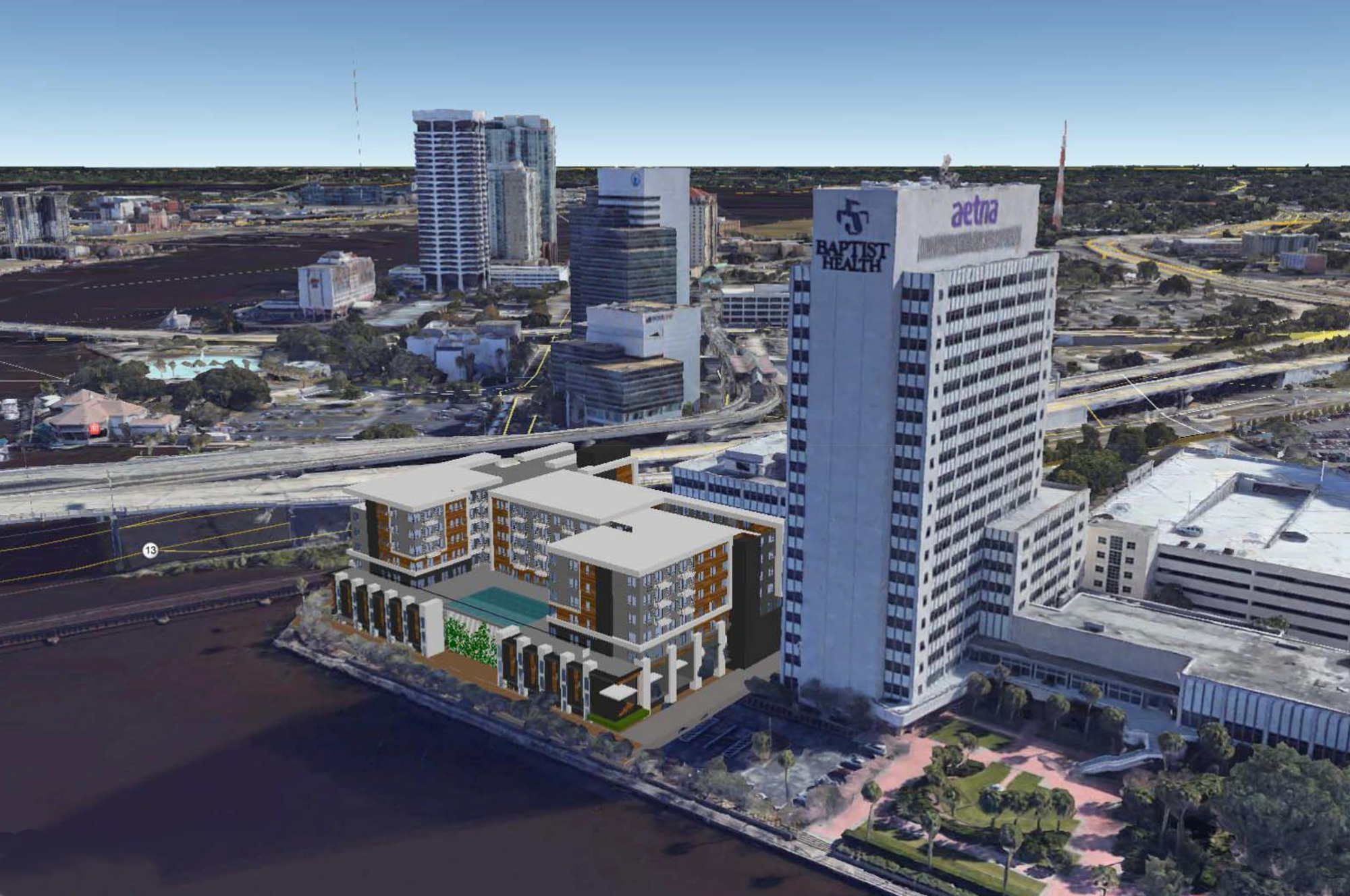 What had been designed as a 190-foot, 13-story building now is seven stories and 84 feet tall. Ventures reduced the number of apartments from 300 to 185 and parking spots from 369 to 211. 
Ventures plans to extend the Southbank Riverwalk and provide more than 55,000 square feet of open public space along the St. Johns River. 
Ventures secured approvals from the DDRB and the DIA in 2017 for its larger designs. 
After reaching a settlement, the group had to return to DIA and DDRB to reflect the new design and economic development agreement. 
The DIA restructured a financial incentives package that now includes a 20-year, $7.88 million Recapture Enhanced Value grant. 
Jacksonville City Council members need to approve two pieces of legislation in November. Ventures also would need to secure permits before it will buy the land from South Shore Riverpoint Holdings LLC. 
Construction could begin early next year and be completed in 18 to 24 months.