By Dan Macdonald, Contributing Writer
Food trucks are becoming a vehicle to open a traditional brick-and-mortar restaurant. 
Once a novelty, food trucks evolved into a multibillion-dollar industry around the nation. Owners are parlaying their vagabond diners into conventional places to eat.
The mobile kitchens provide a relatively inexpensive way to enter the restaurant business. Nationally, the startup costs are $50,000-$200,000 depending on truck size and concept, according to Forbes.com.
Costs also increase depending on the number of permits a city demands, but those costs are about half the $498,888 or more that it can cost to build a small specialty restaurant, according to a survey of 700 restaurant owners by RestaurantOwner.com
Local owners say they like the mobility, and the freedom of setting their hours and location is appealing. At the same time, they say the job presents challenges different from operating a traditional restaurant. 
Also, those who take the step into a storefront, for the most part, aren't ready to park the truck, and keep both going.
Here is what four Jacksonville food-truck operators say about choosing a street address with a front door and four walls.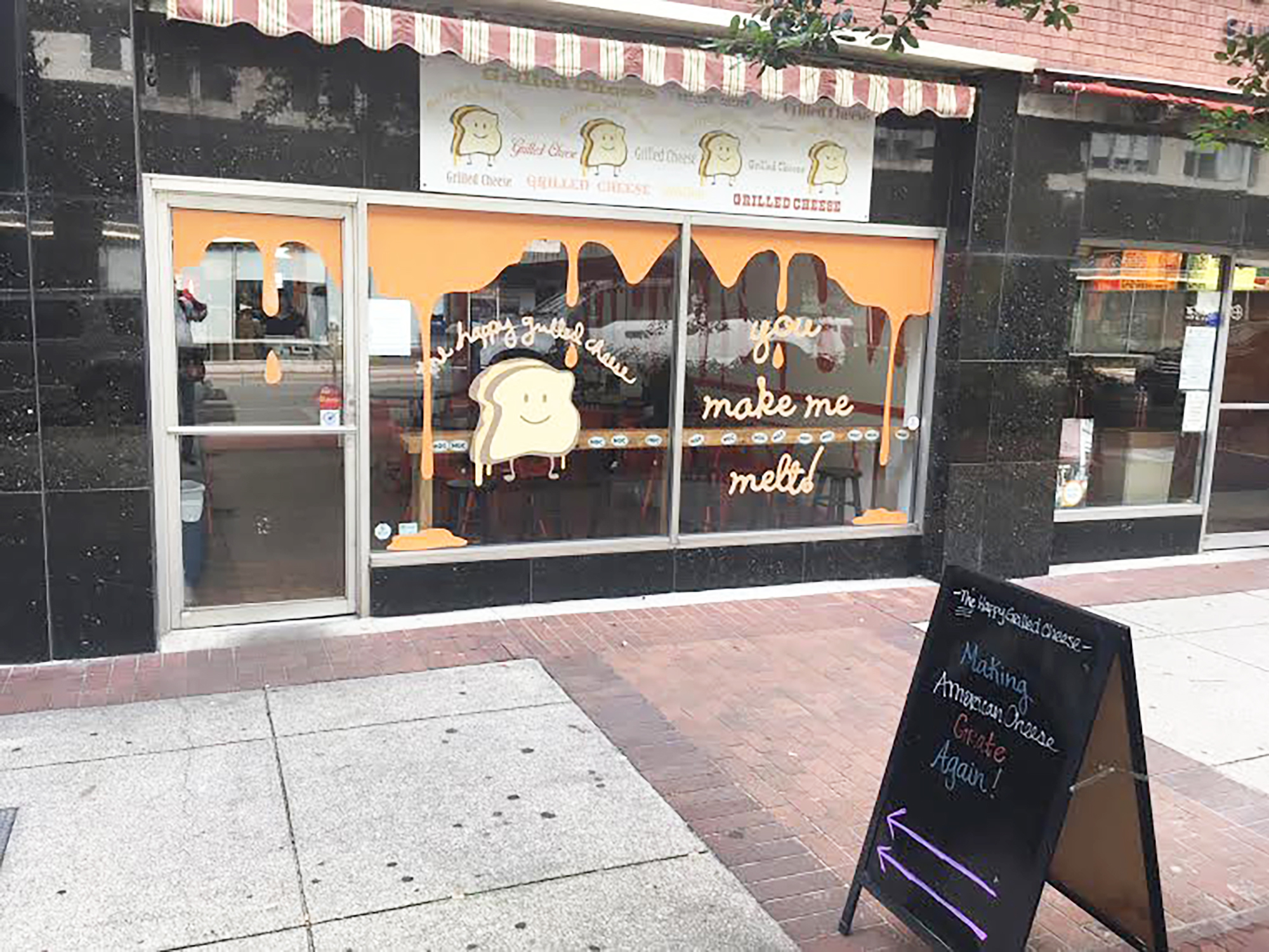 The Happy Grilled Cheese
Serendipity played a large part in Anthony Hashem's decision to open The Happy Grilled Cheese restaurant at 219 N. Hogan St. Downtown.
With his food truck, Hashem had expanded on the theme of the standard grilled cheese sandwich to create concoctions that included ingredients like avocado, pulled pork, apples, ham and cheese options. 
He started the truck in 2013 and branched into the storefront in 2017.
It's rare that there isn't a line of customers at the counter at lunchtime. The 30-seat restaurant can fill up, and Hashem says 60 percent of the orders are to go.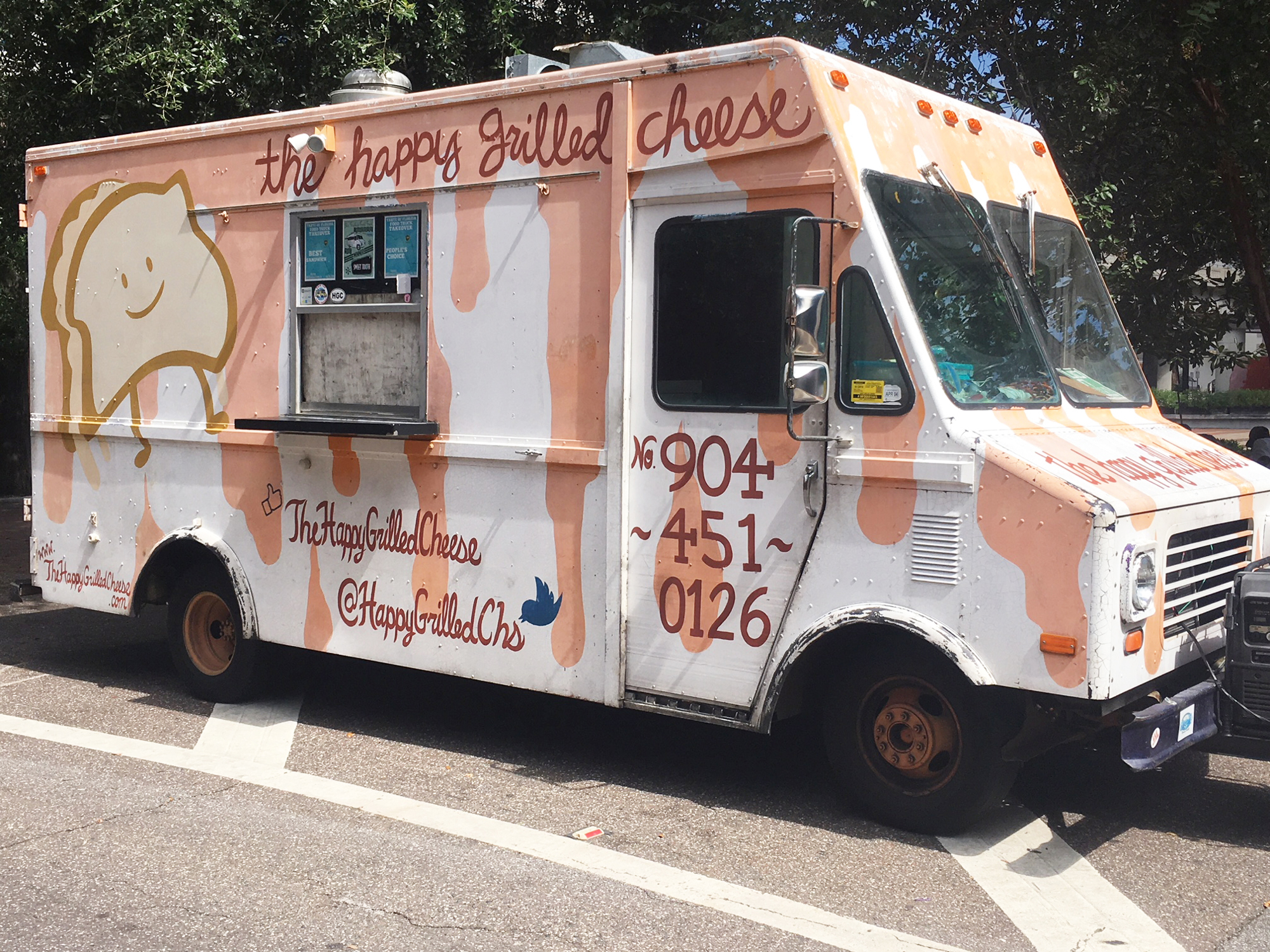 Folk Food previously leased the space and closed. The real estate agent had just placed a for-lease sign in the window when Hashem drove by.
As quickly as he could park the food truck, he caught the agent and by the end of the day had a lease.
Converting the existing restaurant for Happy Grilled Cheese was relatively inexpensive, costing less than $10,000, he said. It needed cleaning, new paint and a few specialty cooking items and it was ready for business. 
Permitting was quicker too because the space had been used for a restaurant.
Hashem said owning a brick-and-mortar location allows him to expand his menu to include salads, which are proving popular, but he doesn't want to expand far beyond grilled cheese.
He is continuing the food truck, too.
The Stuffed Beaver
Paryse Watson, owner of the Full of Crepe food truck, opened The Stuffed Beaver restaurant at 2548 Oak St. in Riverside because she found a niche.
Watson, a former model, had traveled the world tasting variations of crepes. The Canada native saw the thin pancakes as a Jacksonville market niche to fill. 
She found a mail truck and for under $30,000 was able to convert it into a food truck specializing in serving sweet and savory crepes. She started it in 2015.
The truck is small but provided the height to keep the 6-foot-2 chef from stooping all day. 
Watson opened the Stuffed Beaver brick-and-mortar in February of this year to expand her menu and bring the cuisine of Montreal and Quebec City to Northeast Florida.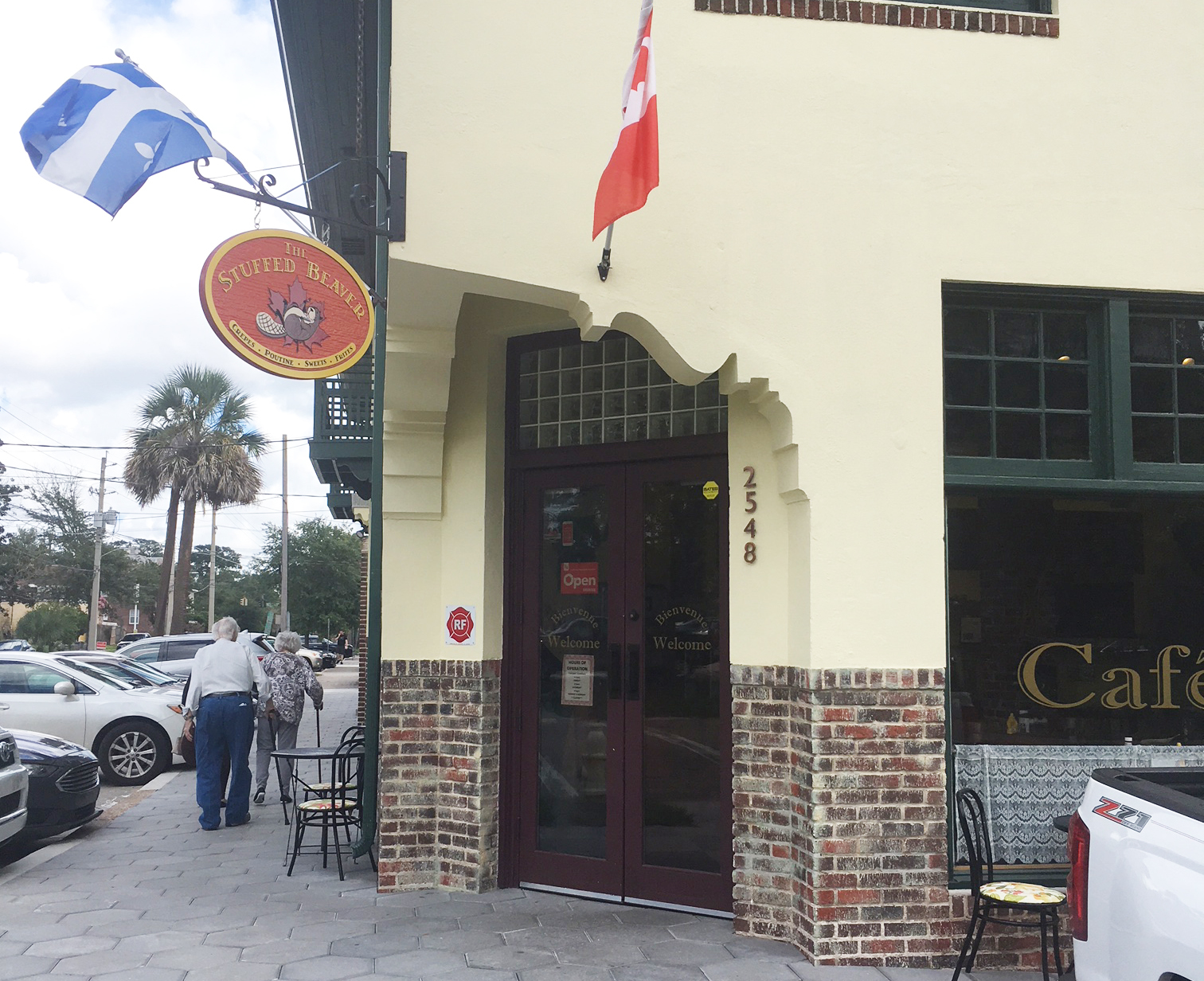 When she saw poutine – french fries with gravy and cheese curds — catching on as an appetizer, she wanted to create the dish as it is prepared in Canada and give it entree status.
Remodeling the former Riverside sandwich shop was a long and expensive endeavor, she said. Watson hoped to open last summer, but construction delays meant the restaurant couldn't launch until the beginning of this year.
At nearly $60,000, the price was nearly twice what it cost to start her food truck.
Jacksonville has a large Canadian population that has discovered the cuisines customers are bringing friends for crepes and properly prepared poutine, she said.
"You can tell when a customer is from Canada because they pronounce it 'pout-zin,'" Watson said.
She still has the food truck.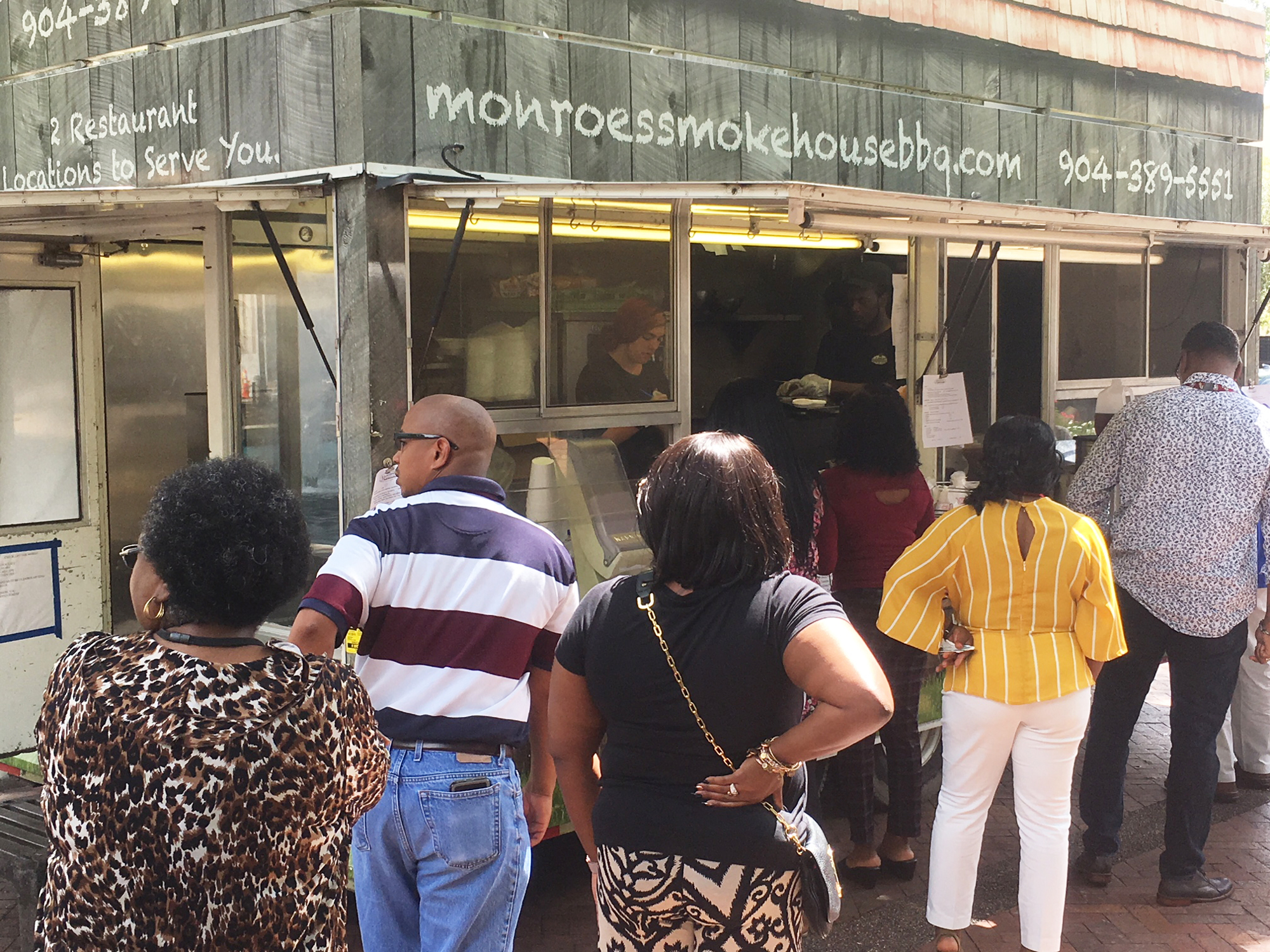 Monroe's BBQ
Keith Waller, owner of Monroe's BBQ, started a food truck business to promote his first restaurant at 4838 Highway Ave. on Jacksonville's Westside, off Cassat Avenue.
He already had a mobile catering truck that he used to provide food for local movie and TV productions as well as serve food at Adventure Landing.
"Being off Cassat Avenue, my restaurant was a destination location. You had to know about (it) to find my place," Waller said. 
"Customers take you seriously when you also have a restaurant."
The truck took his barbecue throughout the city, but with a limited menu. A stand-alone restaurant allows him to prepare and smoke food there and then pack it into the truck to be reheated at the day's location.
When the truck was being repaired for a few days, regular food truck customers sought out his barbecue and traveled for the first time to the Highway Avenue store.
In 2012, he opened a second location at 10771 Beach Blvd. in a former Woody's Bar-B-Q restaurant. It already had the footprint and much of the equipment.
Even so, he estimated it cost $75,000-$100,000 to prepare the second restaurant to open.
He continues to operate the food truck because is a profitable venture and it serves as an advertising vehicle for his restaurants, he said.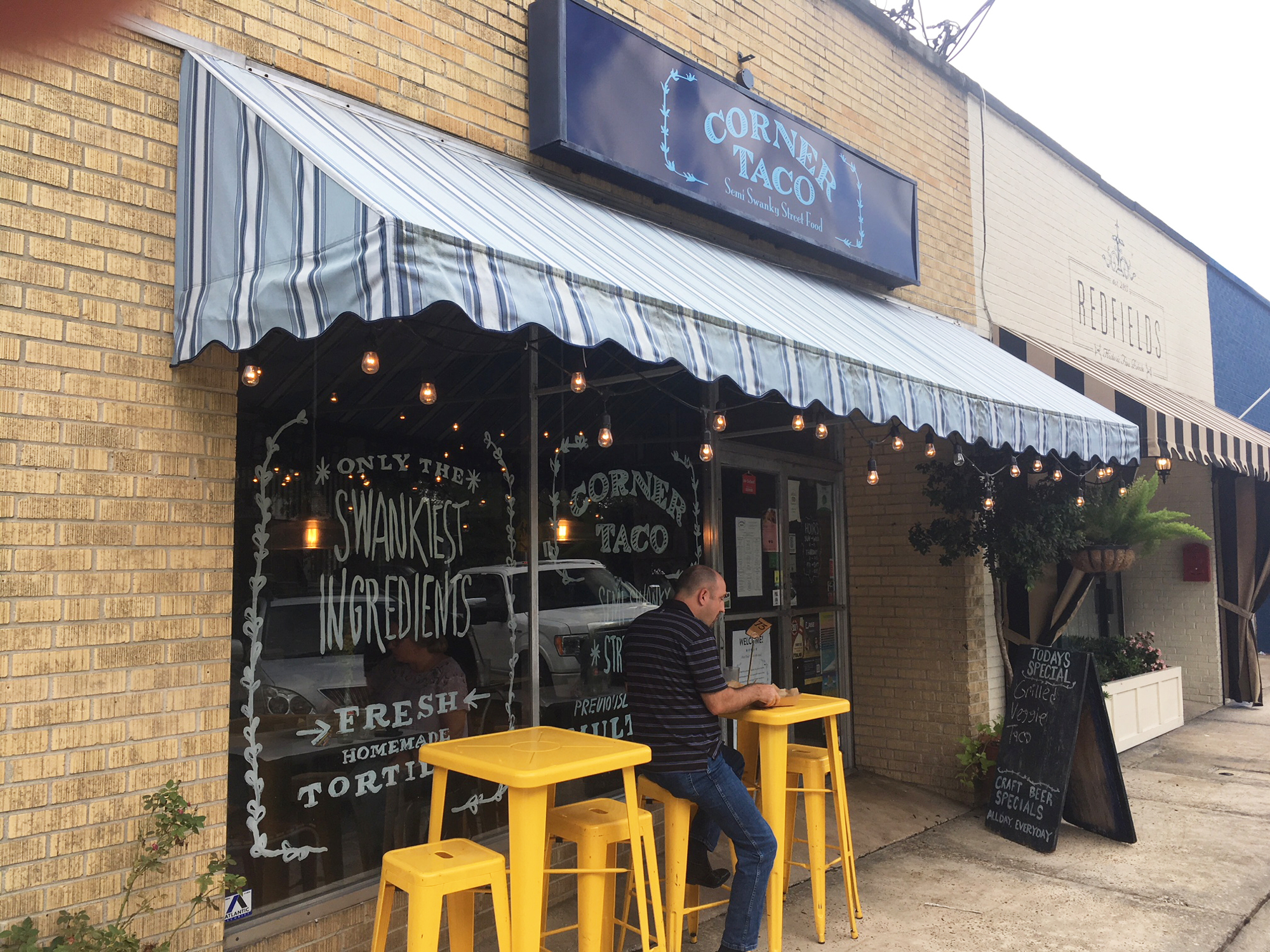 Corner Taco
Corner Taco started as a food truck in 2012 but owner Chris Dickerson now uses only the truck for private parties and special events.
He opened a restaurant at 818 Post St. in Five Points in 2014 and that is his primary business. 
He also took over an established restaurant space, the former Gina's Deli, so his startup costs were minimal. Dickerson declined to discuss his investment.
The 42-seat restaurant is open seven days a week and on a busy day the tables can turn up to 10 times.
It's no coincidence that most food trucks are operated by young people, Dickerson said. The work is tough from loading heavy boxes of product into the truck daily to driving a large rig, setting it up and tearing it down and daily cleaning.
"The food truck currency is creativity," Dickerson said. "I wanted to do my own thing without investors. It was a great overall experience, but it is tough and demanding. I admire anyone running a food truck."
Competition and expansion
When food trucks first came to the market, traditional restaurant owners complained about unfair competition. 
Local laws were created to regulate where trucks could set up to avoid competition with nearby established restaurants. 
Now that they own brick and mortar restaurants, Dickerson and Watson still see the value food trucks bring to customers.
"Those claiming that food trucks aren't fair aren't grasping the economy," Dickerson said. "Did Blockbuster claim it was unfair when Netflix changed the movie model? People vote with their dollar."
Watson said restaurants "need to step up their game," noting that many serve the same menu year after year.  "Food trucks serve eclectic foods or put their own twist on foods," she said.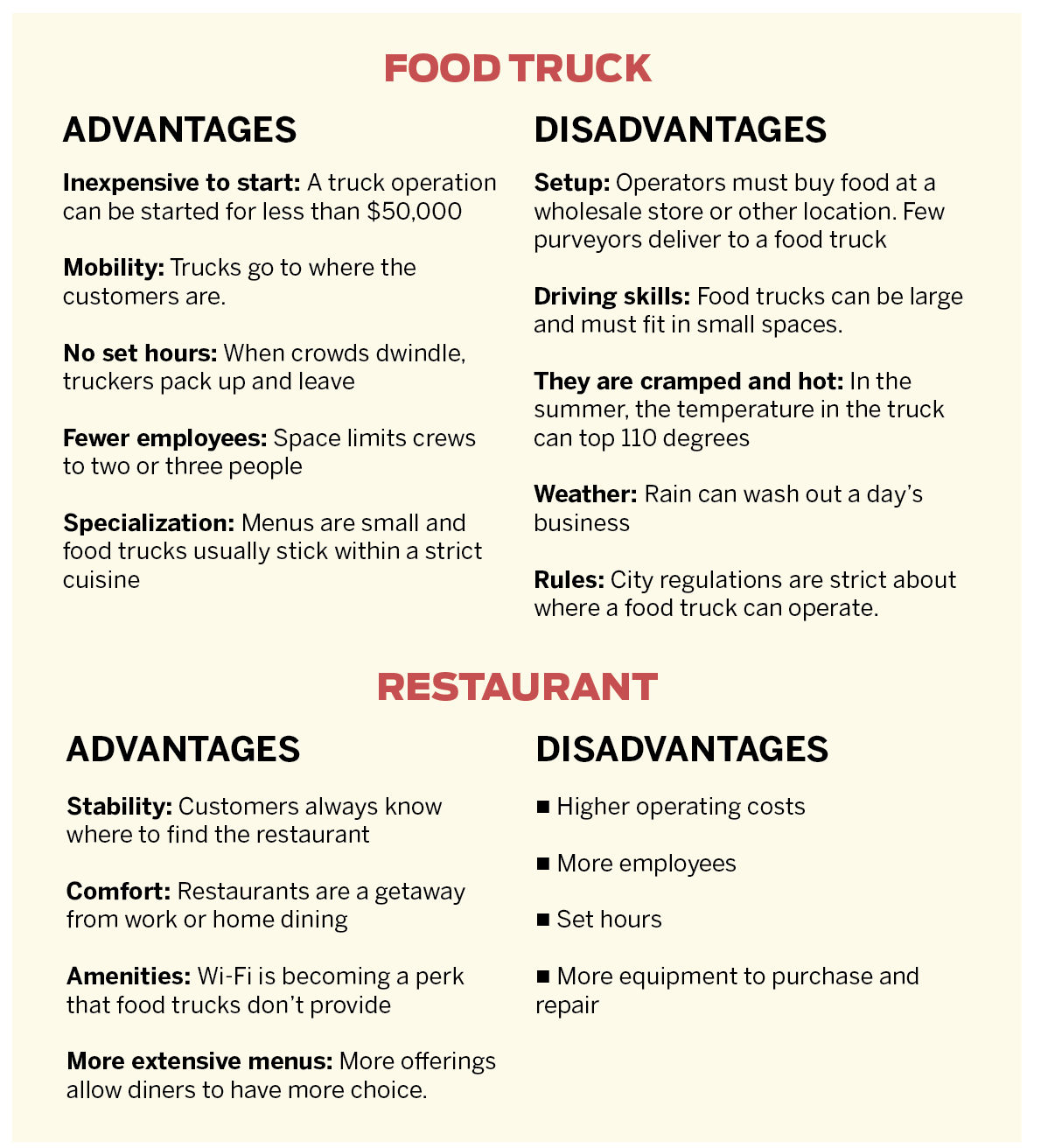 She said food-truck entrepreneurs also rely on social media, which can benefit any business.
Food-truck customer bases are built on Facebook, Twitter and other social media sites that operators use to inform patrons of where they will be.
Dickerson counters the argument that food-truck operators have lower overhead and don't pay rent.
"I saw my fuel costs as my rent. Fuel was 10 percent of my budget compared to rent being 6 percent of my sales." 
Food-truck owners usually must rent a properly zoned space to park the truck when not in use.
The food truck operators say they intend to open more restaurants rather than buy more trucks.
Hashem at The Happy Grilled Cheese wants to expand but sees rents Downtown as too high. He is looking in the suburbs and other counties. If rents fall, he said he will look for another location closer to the city core.
Dickerson's staff run Corner Taco on most days. He spends much of his time these days searching out new locations to expand his brand.