Finding an affordable place to live can be a challenge for some families. For families with kids, the cost of caring for them while the parents are working can be equally challenging.
HotPads, a unit of real estate data firm Zillow that focuses on rental home searches, released a report last week showing the cost of hiring child care is almost as much as families are paying in rent.
The median monthly rent payment in the U.S. is $1,500 a month, HotPads said, while the average monthly cost of child care is only slightly lower at $1,385.
HotPads, which used data from Care.com to determine child care costs, said the median rent in the Jacksonville metropolitan area is $1,375 a month while the average monthly child care cost is $1,290,  a difference of $85.
When ranked by the spread between rent and child care, Jacksonville was in the lower half of the 48 metro areas listed in the report, but child care is an even bigger expense in several other cities.
In more than a fourth of the markets, child care actually was more expensive than rent.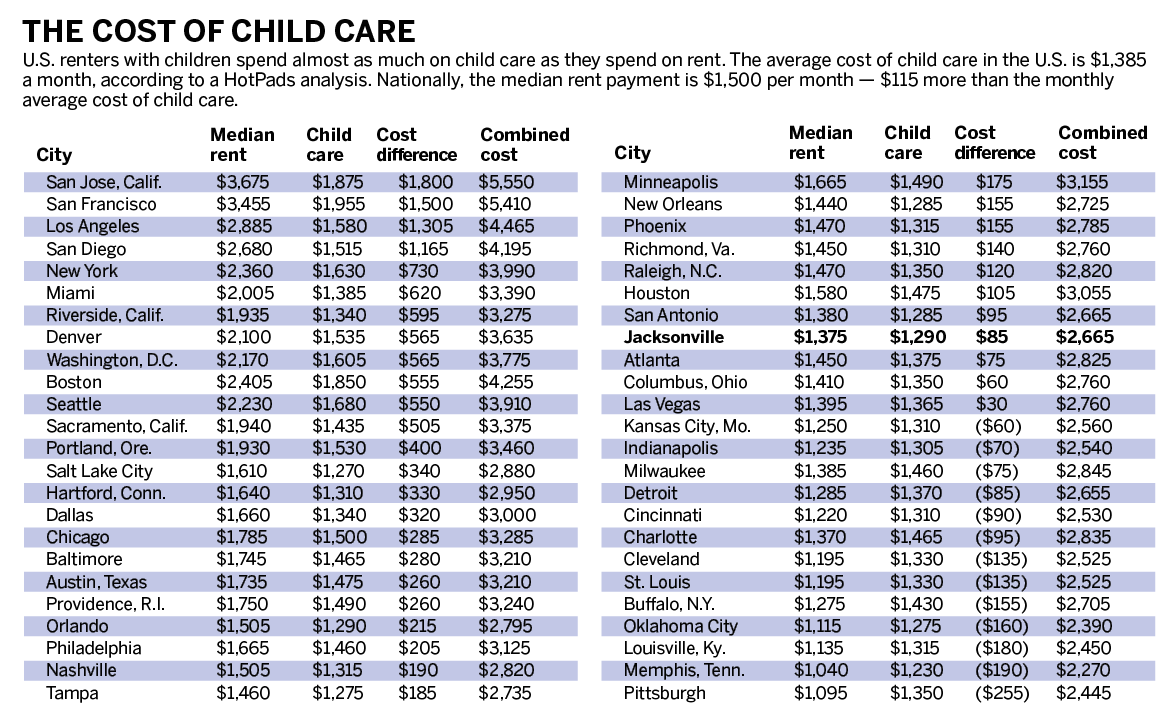 The biggest premium for child care is in Pittsburgh, where the $1,350 monthly child care expense is $255 higher than the median rent.
The four cities with the biggest discount for child care, compared with rent, are all in California, but that reflects the high cost of housing in those markets.
At the top of the list is San Jose, where the median rent is $3,675 and the average child care cost is $1,875, a difference of $1,800.
San Jose's combined cost of rent and child care also is the highest in the country at $5,550 a month.
Jacksonville is one of the lowest-cost cities at $2,665 combined, below the national average of $2,885.
The most affordable city for rent and child care combined is Memphis, Tennessee, at $2,270 a month.
HotPads said median rents across the country rose 2.3 percent in the past year, while the average cost of child care rose 1.3 percent.
However, both are rising slower than the U.S. Consumer Price Index, which increased by 2.9 percent in the 12 months through July, according to the U.S. Bureau of Labor Statistics.
Joshua Clark, economist at HotPads, thinks families may see more increases.
"Rent appreciation has slowed from recent highs, but as the economic recovery matures, child care costs will likely continue to rise," Clark said in a news release.
"For renters with young children in child care, that means any potential savings from softer rent appreciation could quickly be eroded by higher child care expenses."