If developers proceed with building and operating a new convention center in Downtown Jacksonville, the city's financial obligation could be as much as $1.2 billion.
Financial details released Tuesday by firms interested in building a new convention center, hotel and parking garage highlighted the city's long-term financial responsibility.
Three development groups responded to a request for proposals issued by the Downtown Investment Authority to build a convention center complex along East Bay Street at the site of the old Duval County Courthouse and City Hall Annex buildings.
Bids were accepted Aug. 1 and scored Tuesday by an evaluation committee comprising DIA board member Oliver Barakat, Public Works Director John Pappas and DIA CEO Aundra Wallace.
Wallace will present the scores to the full DIA board Wednesday.
"The board will need to decide what it wants to do from there," Wallace said after the five-hour meeting.
In addition to the Bay Street plans, Jacksonville Jaguars owner Shad Khan proposes to build a convention center nearby at the Shipyards and Metropolitan Park.
Khan's development company, Iguana Investments of Florida LLC, is the master developer of the Shipyards, which is estimated to be a $2.5 billion project when completed with entertainment, office, hotel and other elements.
Wallace said the DIA board, Chairman Jim Bailey and Mayor Lenny Curry are expected to choose a location for the convention center location.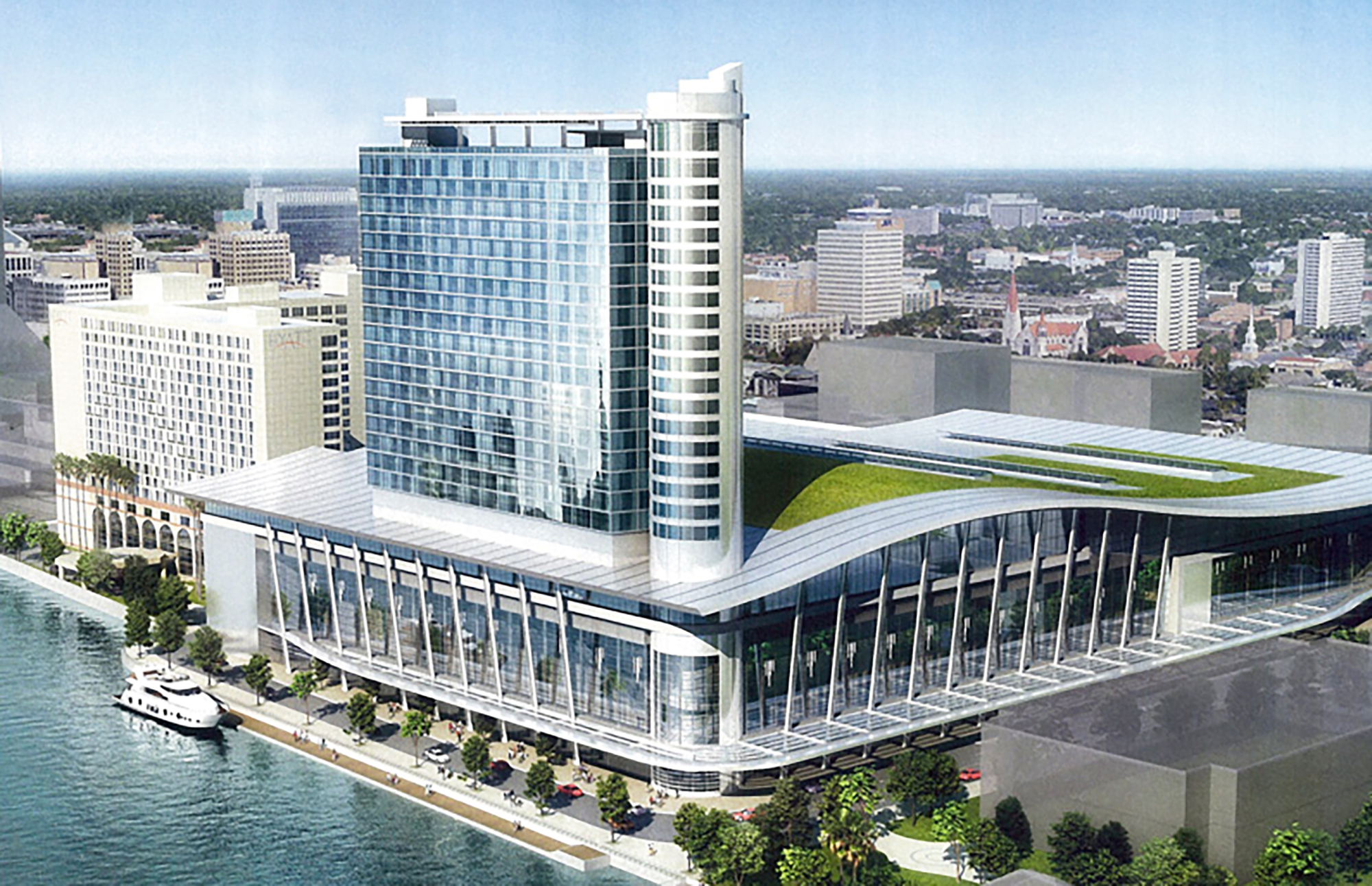 City would pay $936M under Rimrock plan
Rimrock Devlin DeBartolo Development, a partner with Khan's Shipyards plan, is one of three firms offering a proposal for the Bay Street site.
Rimrock would pay $450 million in construction costs to build the complex.
The city would provide a 75 percent Recapture Enhanced Value Grant over 20 years; convey the property to the developer for free; be responsible for any public utility work; and waive permitting and impact fees.
The city would enter at least a 30-year lease with monthly payments of $2.6 million, or $31.2 million annually.
Under Rimrock's plan, the city would pay about $936 million over that time.
The city would operate the convention center and parking garage, gaining all net revenue, while a hotel partner would operate its portion of the complex.
Rimrock's plan includes 200,000 square feet of multipurpose exhibition space; a 40,000-square-foot ballroom; 48 meeting and breakout rooms; a 6,000-square-foot kitchen; outdoor function space; 1,300 parking spaces; a connection to the Downtown Northbank Riverwalk and to the neighboring Hyatt; and ground-floor retail.
If selected, Rimrock executive Rich Hartline said construction could begin in 2019, taking 26 months to complete.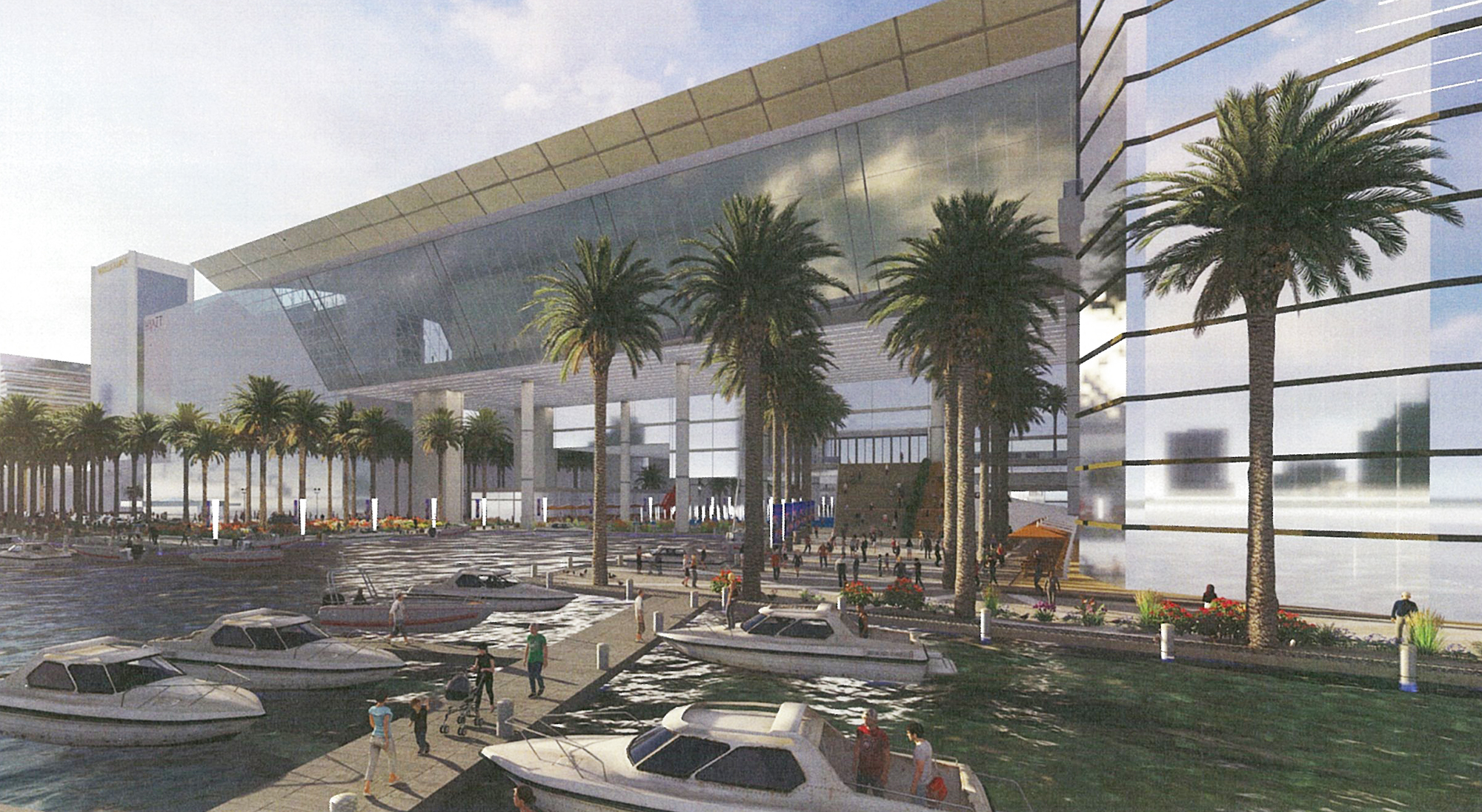 $1.2 Billion plan from Jacobs Engineering 
The largest and most expensive proposal comes from Jacobs Engineering Group.
Construction of the 1.8 million-square-foot complex is about $598 million, financed by Jacobs.
The plan comprises two phases. The first includes working with the city on an "open book" basis to finalize the design, schedule and other preconstruction items.
If officials decide to proceed, Jacobs would refund Phase 1 costs to the city and fund the rest of the project.
Jacobs would operate the hotel, convention center and parking structure.
Under Jacobs' financial plan, the city has a three-year deferral from payments before it is obligated to come up with monthly rent.
The city would be responsible for repaying the construction costs, plus capitalized interest from the three years of deferred payments, in the form of monthly rent payments of $4 million over 25 years.
That's about $48 million annually and $1.2 billion during the life of the agreement.
Jacobs is partnering with Westmont Hospitality, which operates the Hyatt Regency Jacksonville Riverfront hotel, next to the site.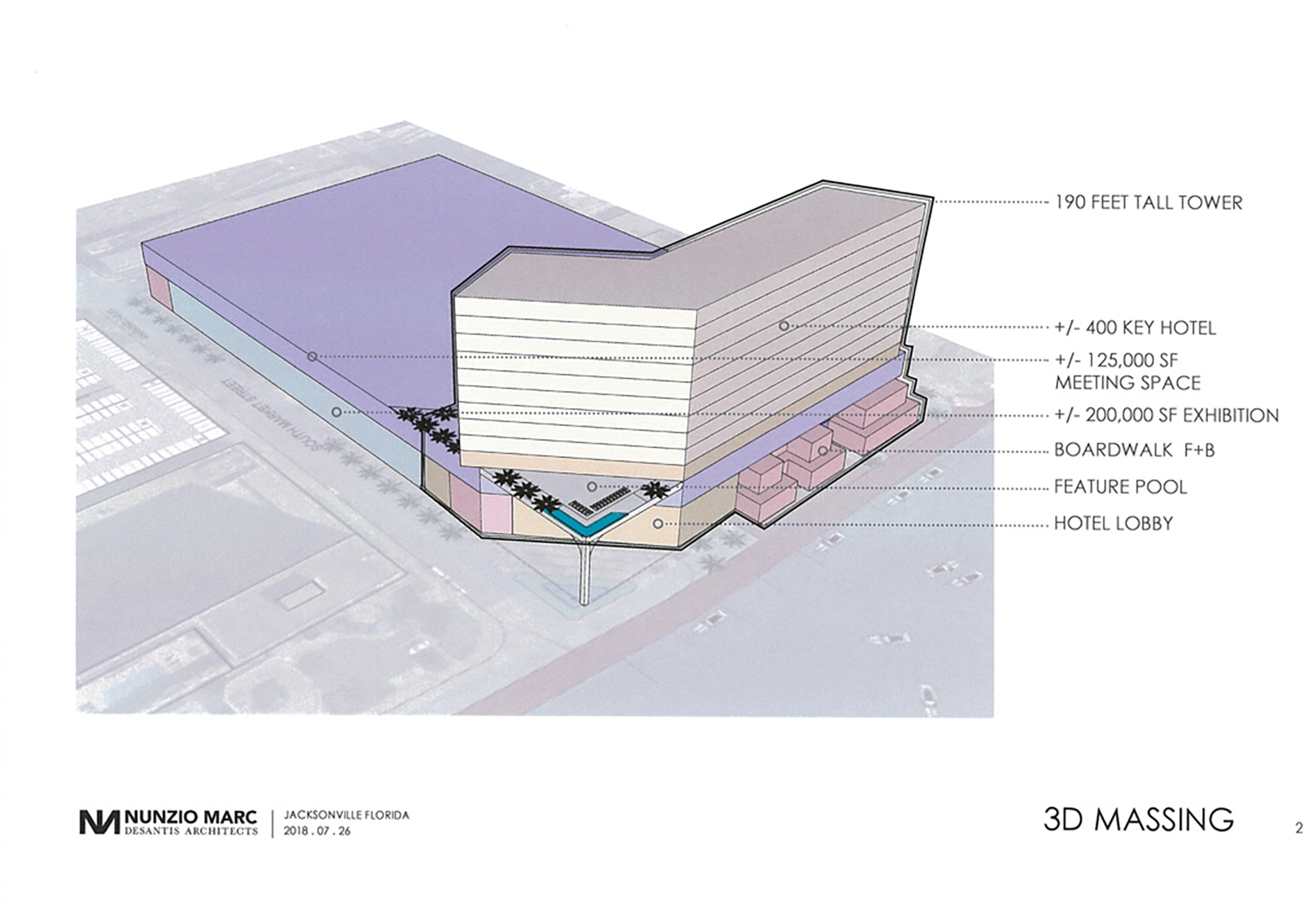 Preston Hollow asks city for half
The last firm to present plans Tuesday was Preston Hollow of Dallas.
While the group was clear about the $450 million to $460 million cost to build the project, details about the city's contribution were not.
Preston Hollow wants the city to contribute up to $229 million, essentially half, to fund the project. The payment would either be upfront or through a payment agreement with additional interest.
Wallace said in a perfect world, the city would have access to that kind of capital upfront to avoid large interest payments.
"Because we live in the real world, we would need to sit down and work on those numbers," he said. "How long, what's the interest rate, and those particular items."
Preston Hollow's presentation lacked the design detail offered by its competitors.
A 468,393-square-foot hotel and a convention center, with up to 431,000 square feet of exhibition space, is shown in the plans along with 45 breakout rooms with 60,000 square feet of space, a 40,000-square-foot grand ballroom and a 22,000-square-foot junior ballroom.
The proposed hotel would be built above the convention center, rising nine stories for a 190-foot tower. It includes 400 rooms, a rooftop pool, three restaurants and other amenities.
A six-level parking garage would offer 1,837 spaces.
Interstate Hotel and Resorts will operate the hotel, although no flag is identified.
Scoring the bids
The three-member evaluation committee will base its scores on each firm's financial plans, design work and its operating plans.
Wallace will present those scores, listed from highest to lowest, Wednesday during the DIA's monthly meeting.
"This isn't a decision the board needs to make alone," said Wallace, who will leaves DIA on Sept. 30.
He takes over Oct. 1 as president of the JAXUSA Partnership economic-development division of the JAX Chamber.
"After Sept. 19, the board will have a path forward and that's what was most important for me," Wallace said.
The DIA meets at 2 p.m. Wednesday at City Hall.