A wellness center, hotel, restaurants and grocery store soon will be joining hundreds of Southern-style bungalows under construction at Wildlight, a master-planned community east of Interstate 95 in Nassau County. 
Panelists outlined the first phase of the Yulee community in a presentation March 19 to members of CREW, a commercial real estate business network in Jacksonville.  
The first phase will comprise 261 acres, a fraction of Wildlight's 24,000 acres about 20 miles north of Jacksonville. 
At build-out, Wildlight will offer 24,000 homes.
Raydient Places + Properties, a real estate investment trust and subsidiary of Rayonier Inc., is developing Wildlight on timberland between Florida A1A north and the St. Marys River.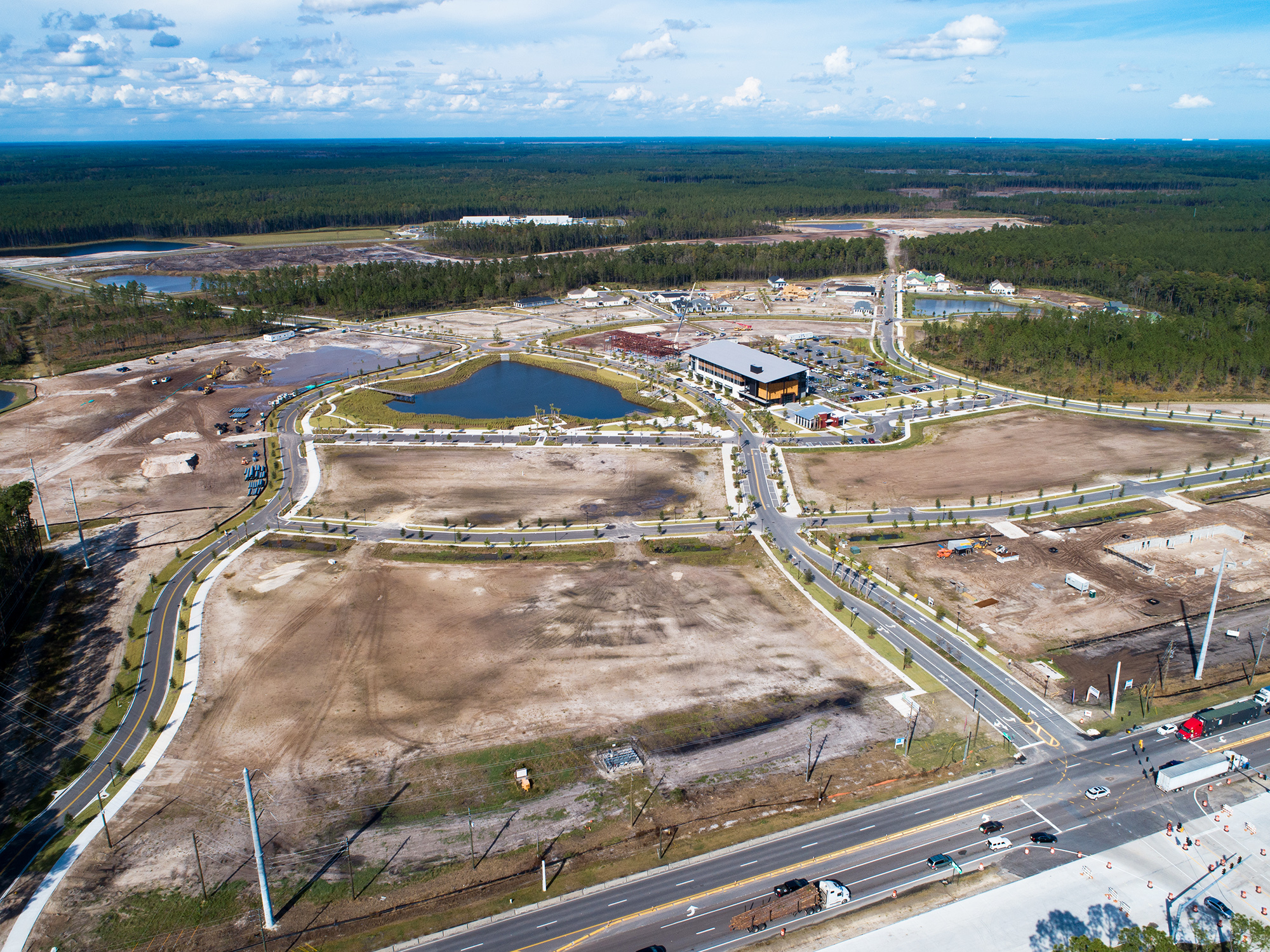 "This is one of our most beautiful properties," said Mike Bell, Rayonier's vice president of public affairs. "Failure is not an option."
The community will be similar to Nocatee, a master-planned community in St. Johns County. But the footprint is nearly twice as big, Bell said, and it will have more commercial and light industrial space and a much longer build-out period.  
Wildlight's development will be market-driven, said Bell, chuckling as he noted that it's on a 75- to-100-year development schedule.
Nearly half the land will be preserved for conservation, with several hundred miles of hiking and biking trails. 
"Trails are the new golf course," Bell said, emphasizing the focus on nature, recreation, health and well-being.
Site development started in spring 2016. The first phase of construction includes: 
• About 700 single-family homes and townhomes, and 300 rental apartments. 
• A 91-acre light industrial park with rail service near the Yulee post office
• Community Wi-Fi from AT&T and Comcast
• A Marriott-branded hotel
• A 40,000-square-foot UF Health medical office building 
• A 35,000-square-foot UF Health Wellness Center in partnership with YMCA
• First Federal Bank
• A day care center 
• About 500,000 square feet of retail, office, hospitality and dining 
• 350 acres of permanently preserved open space 
Developers are designing a "Florida Lowcountry" effect inspired by 19th century Southern architecture. The cottages and bungalows will have steeply pitched gabled roofs, wide sweeping porches and native landscaping.  
The residential units, ranging in price from $230,000 to $500,000, are being built by Dostie Homes, Dream Finders Homes and D.S. Ware Homes.  
A sector plan, Wildlight has been in the works for years. It's an upshot of Nassau County's Vision 2032, a strategic plan to manage growth and create sustainable economic development, Bell said. 
Released in 2007, the planning model identified Nassau County's challenges with long commutes, the unsustainability of heavy traffic on a single road (Florida A1A) and a need to build its tax base. 
"About 70 percent of the working population leaves every day to work somewhere else," Bell said.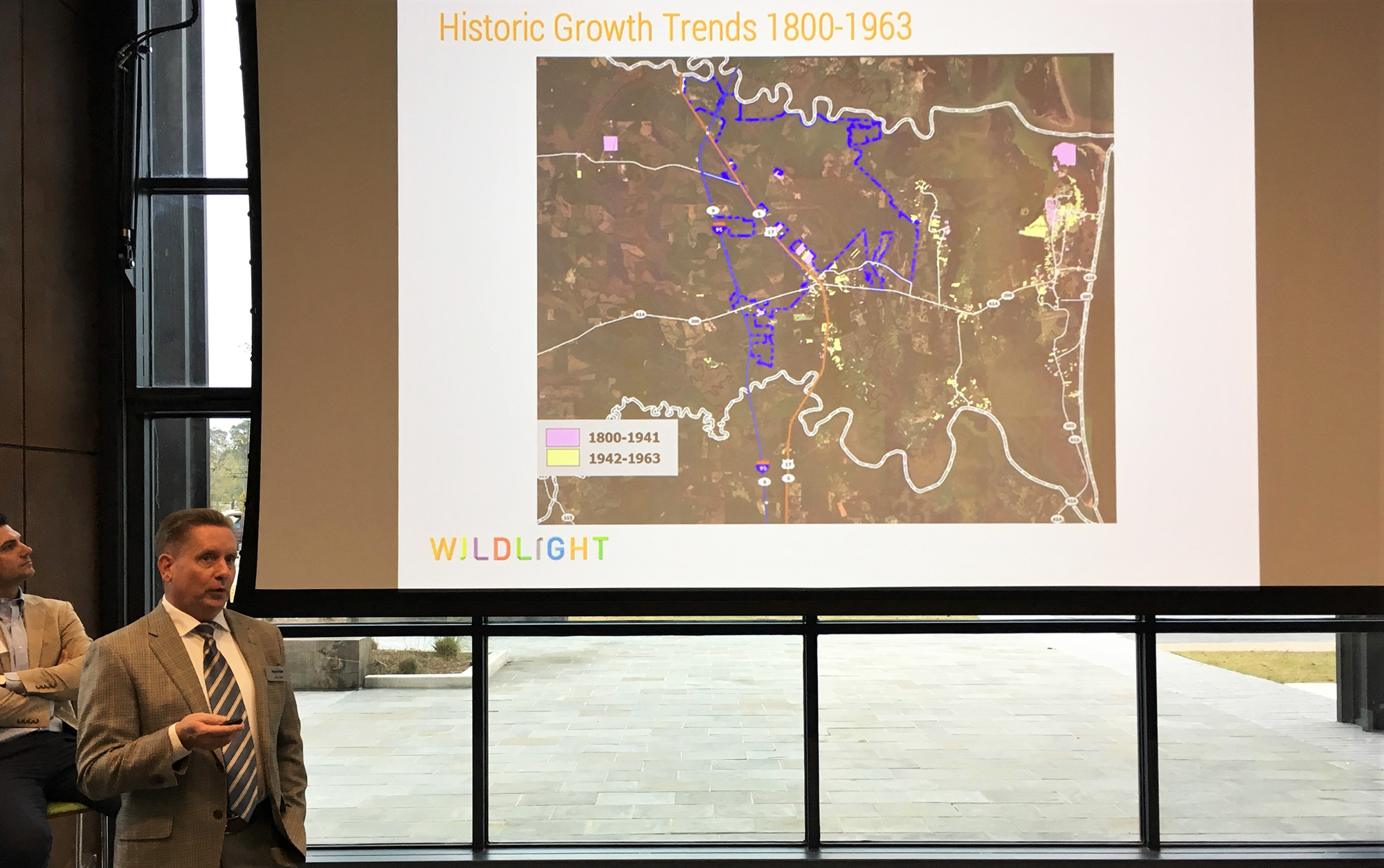 Wildlight's live, work and play concept helps solve those challenges with on-site recreation, health facilities and retail and office space. Residents can shop for groceries, work out and take their children to school or day care without traveling on A1A, he said. 
The community opened its first school, Wildlight Elementary School, in August 2017. Built for 800 students, the school enrolled 660 students before the first Wildlight resident moved in.  
While the East Nassau Stewardship District will provide most of the infrastructure funding, there are additional sources of funding, such as funding from the developer.
Residents and commercial tenants will pay the district's assessments. As the community develops, the taxing district's board will be appointed by district residents.
Wildlight will bring more employers to the area and help fulfill the county's smart planning goals, said Nassau County Economic Development Executive Director Laura DiBella. 
"We are where Nocatee was 10 or 15 years ago," she said. "Seeing this come up out of the ground has been really special for me."