A week after pulling a permit for the almost $4.2 million shell construction of the area's second Sprouts Farmers Market, the contractor was issued permits for the two retail buildings adjacent to the grocer.
Harbour Retail Partners, of Wrightsville, North Carolina, is developing Sprouts, the multitenant retail buildings and outparcels, on 11.22 acres at 12675 Beach Blvd.
J. Raymond Construction Corp. of Longwood was issued permits Friday for the two buildings to the east and west sides of Sprouts, totaling 23,780 square feet, at a cost of $1.96 million.
One of the buildings is 12,241 square feet at a construction cost of almost $1.31 million and the other is 11,539 square feet at almost $654,000.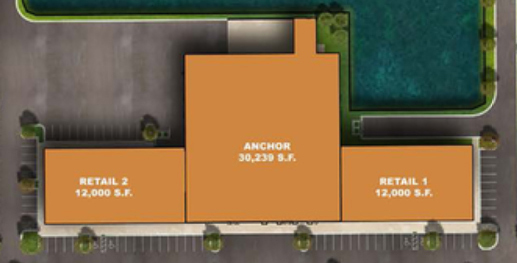 Separate permits will be issued for the interior completion of the almost 30,000-square-foot Sprouts, which is expected to open there in early 2020, and for the tenants who lease the shops.
Tamaya Market is designed as a 75,000-square-foot shopping center. 
The supermarket and adjoining shops total almost 54,000 square feet and the three outparcels can accommodate another 21,000 or so square feet of space.
Three outparcels of 0.6 to 1.56 acres are available. The city is reviewing a permit application for an almost 7,200-square-foot building on the 1.06-acre outparcel 1 at Tamaya Market. The construction cost is $632,310. 
Kelley estimates the entire project at $23 million.
The Tamaya Sprouts will be the Phoenix-based chain's second in Jacksonville.
Harbour Retail Partners Principal Randy Kelley said previously eight tenants, which he declined to identify, are in stages of lease negotiations at the market.