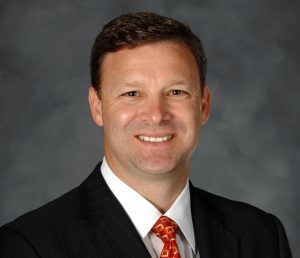 Florida Power & Light Co. President and CEO Eric Silagy said Friday the company is looking at bidding to buy JEA.
"We're of course interested and continue to work with JEA, looking at what the opportunity is. JEA is a great organization," Silagy told reporters after a more than 50-minute FPL informational presentation to the St. Johns County Chamber of Commerce Economic Development Council.
JEA, one of the largest municipally owned electric, water and stormwater utilities in the country and the largest in Florida, is inviting responses from companies and organizations interested in buying some or all of it.
JEA officials released a notice of solicitation Aug. 2, asking interested and qualified parties to submit their proposals by noon Sept. 30.
The JEA board voted July 23 to explore privatization, one day after Mayor Lenny Curry said he would propose using proceeds of the utility's sale to pay off the city's $2.2 billion debt.
FPL, which is owned by Juno Beach-based NextEra Energy Inc., has a history with JEA.
FPL owned 20 percent of the St. Johns River Power Park in North Jacksonville to JEA's 80 percent. An additional long-term agreement between the two utilities allowed each to share the power output and operating expenses equally.
The coal-powered electric generating plant closed in January 2018 and has been demolished. 
Silagy's comments are to be expected. On July 24, NextEra Energy CEO Jim Robo said in the publicly traded company's second-quarter earnings conference call that "we think we would bring a lot to the table with any utility in Florida."
"Obviously, we run the best utility in the world, we think. And so we think we would bring a lot to the customers of those utilities in Florida who would be interested in selling."
Robo said FPL serves "very close to JEA's area."
"We've had a terrific relationship with JEA over a long period of time. We've been partners with them. And so we're going to follow it closely and try to be as constructive as possible."
Silagy's presentation included a map that showed FPL serves some of southwest Florida and, except for Duval and part of Clay counties, all of the state's east coast.
Silagy said FPL has known JEA "many, many decades."
"We obviously serve this area. We've partnered with them on power plants and on storm restoration. We've been there. We know a lot about JEA and they're a terrific company and this is an opportunity," he said.
Silagy emphasized that a deal would have to "make sense" for JEA customers and FPL, "but we're going to absolutely take a hard look and see what happens."
JEA also provides water services. Silagy said FPL has not decided about bidding on that.
"We're going to look at everything," he said.
"We have some experience in water. It's a 24-hour, seven-day-a-week business like electricity and we're comfortable that we could take a look at the water system and upgrade it effectively as well," he said.
"We're definitely going to take a look. We just haven't made a decision. We're very early in the process," he said.
JEA's timeline shows that Sept. 30 is the deadline for respondents to submit required documents. It anticipates an Oct. 14 evaluation team meeting and posting a notice of the intent to negotiate.
The negotiation phase is expected to start Oct. 15, but no date initially was provided for the posting of the notice of "Intent to Award."
JEA CEO Aaron Zahn spoke about the process Friday morning at the City Council Finance Committee budget meeting. JEA was one of the independent agencies presenting.
 "We ultimately would run through a far more extensive process from around Sept. 30 and ultimately we're looking sometime around March 2020 to finalize that type of process to be able to bring some sort of recommendation and all the results of each of the different scenarios back to our board of directors for them to contemplate the path that they are interested in pursuing," Zahn said.
Zahn said JEA recognizes that the strategic planning process regarding "alternative structures of JEA that might not be government, certainly presents a very emotional and kind of a communitywide conversation that ultimately would include this body, the City Council and perhaps even the voters at some point in time, if in fact the board of directors ultimately chooses to go that route, which is certainly not a guaranteed outcome."
Zahn said JEA will be "methodical" about the process.
"This is going to be done not overnight. It will not be done behind closed doors," he said.
Zahn said scenarios include conversion into a customer-owned co-op, an initial public offering and "conversion with the strategic partners."
Silagy said FPL was going through the qualification process and documentation.
NextEra Energy said in an August investor presentation that FPL is the largest electric utility in the United States by megawatt-hour sales. It said FPL served more than 5 million customer accounts and generated $12 billion in operating revenue, holding $55 billion in total assets.
Asked about the importance of acquisitions, Silagy said FPL grows organically while also considering purchases.
"We're going to be very disciplined financially, as we always have been, making sure that whatever we do makes sense for all customers," he said.
"(With) JEA, because we need to be able to deliver on our commitment, we would like to continue to find ways to lower bills and have reliability. Our reliability is the best in America at FPL. We want to be able to do that as well at JEA, we want to have visibility that we can do that but also not have a negative impact on FPL customers."
A JEA email Friday afternoon in response to the FPL statements said "JEA remains committed to a full and fair process for all interested participants."
Zahn and Mayor Lenny Curry have said that a $3 billion payment would be a minimum requirement for the privatization or sale of JEA.