Only five months into the 2019-20 term, the City Council's next president and vice president could already be determined.
Council Vice President Tommy Hazouri filed a letter of intent Nov. 19 to run for the presidency for the 2020-21 year. Second-term Group 5 At-Large Council member Sam Newby filed his letter of intent Nov. 25 for vice president.
Hazouri said Wednesday declaring his bid for Council president with seven months to go in the current session could help keep the Council's focus on issues such as JEA's push toward a possible sale and proposed taxpayer incentives for Jacksonville Jaguar owner Shad Khan's $450 million Lot J development.
"To get it behind us this early, I think it's significant. It avoids constant meetings and discussion in the sunshine while we're trying to address the debacle of this issue of the JEA, this issue with Lot J and possibly the (Jacksonville) Landing," Hazouri said. "I didn't want it to take time away from our business by seeking pledges until we have the election in May."
District 4 At-Large Council member Matt Carlucci held a noticed meeting Nov. 21 for members to show support for Hazouri's candidacy.
Hazouri, 75, who has a 45-year career in local and state politics, is seeking the Council presidency during his second term in the at-large seat. He served as Jacksonville mayor from 1987-91 after spending 12 years in the Florida House of Representatives from 1974-86. 
Hazouri was a Duval County School Board member from 2004-12 before returning to city government in 2015.
Only three Council members have not signed on to support Hazouri, according to documents from his office. District 2 Council member Al Ferraro, District 11 Council member Danny Becton and District 13 Council member Rory Diamond have yet to commit. 
If his support holds, Hazouri, a Democrat, will preside over a majority Republican Council.  He has a recent track record of receiving local GOP backing.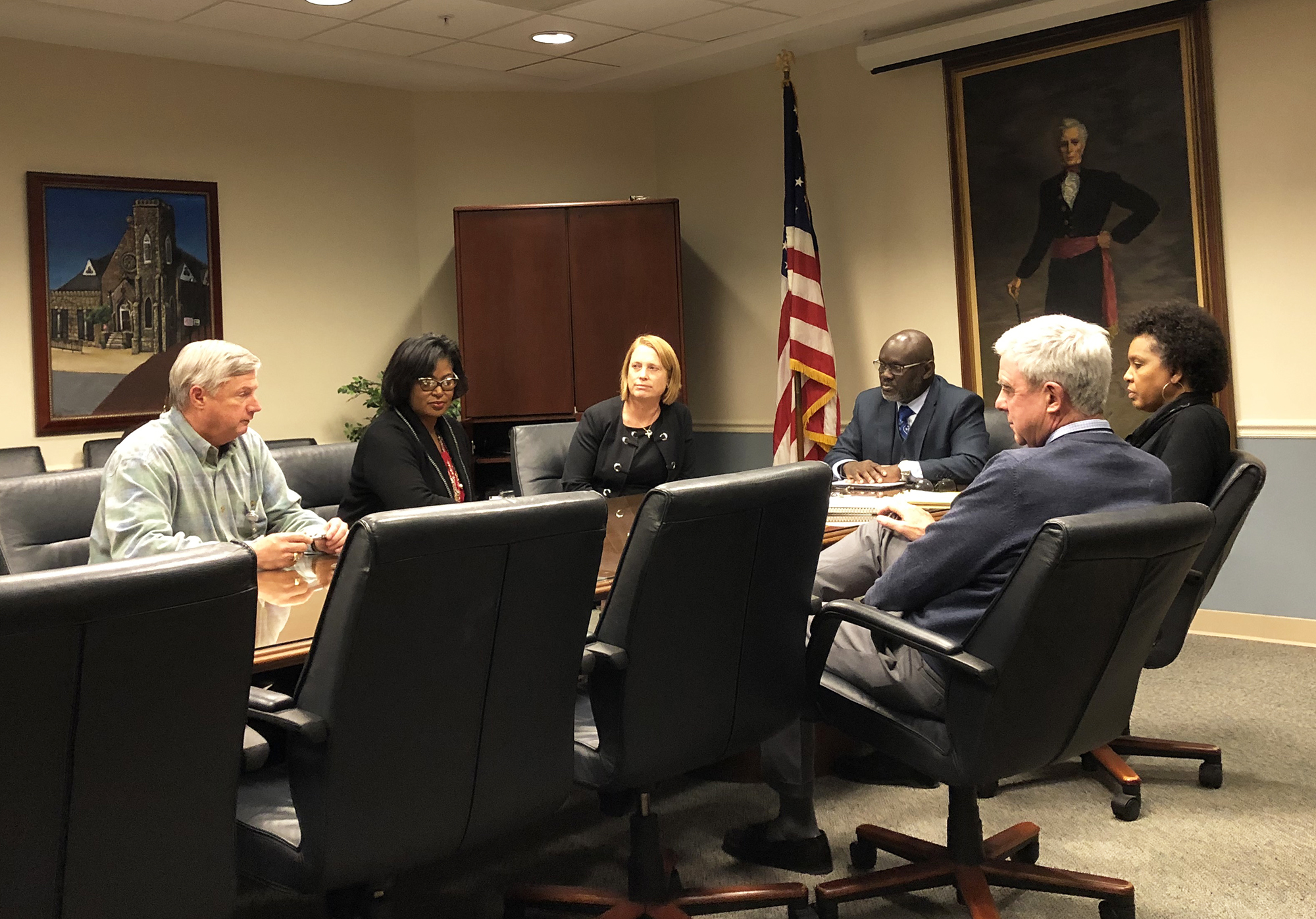 Republican and former Council President Aaron Bowman nominated Hazouri for vice president in May. In his nomination speech, Bowman said Hazouri likely will be the president in 2020-21.
"I can think of no one better qualified on our incoming Council to become vice president and, ultimately, president the following year," Bowman said.
Carlo Fassi, a Republican strategist and a lobbyist with The Southern Group, ran Hazouri's 2019 reelection campaign. 
Hazouri also supported Republican Mayor Lenny Curry's successful reelection bid this year. He would succeed District 4 Council member Scott Wilson, a Republican.
Newby, 56, a Republican, was elected to Council in 2015 and reelected in March. He worked for PepsiCo for 30 years and is a past chairman of the Republican Party of Duval County. He also served as president of the Joseph E. Lee Republican Club.
All but four Council members have signed pledges of support for Newby's candidacy as of Tuesday afternoon. Sitting Council President Scott Wilson; Ferraro; District 9 member Garrett Dennis; and Becton have not committed. 
Both Hazouri and Newby will need a majority vote from the Council to be elected to the one-year terms. If officially selected, they would be seated July 1.
Council members Brenda Priestly Jackson and Randy DeFoor held a noticed meeting Tuesday to show support for Newby's candidacy.
The theme of the meeting involved reasserting the Council's position as an equal branch of government to the mayor's office and Mayor Lenny Curry's administration while maintaining a productive relationship.  
Newby said Tuesday that one of his priorities as vice president will be to the reduction of crime and violent crime through youth intervention, which includes securing funding for the citizen-led Safety and Crime Reduction Commission. 
Newby said he was disappointed that $1 million set aside by the Council Finance Committee to fund the group was not included in Curry's 2019-20 city budget.
"People have to understand and respect that we are equal to the mayor. We're not an assistant of the mayor, and I want this body to understand that and do what's best for the citizens of Jacksonville working with the mayor," Newby said during the meeting.
Carlucci urged Newby on Tuesday to find a balance with the executive branch. 
"I'll tell you exactly what I told Tommy Hazouri: You are the Council's president not the mayor's Council president," Carlucci said. "Now, you have to have that relationship with the mayor, and that's important because you want to be able to steer the ship as well as you can.
"Like Councilwoman (Joyce) Morgan said, we are the checks and balances side of this government. That's real important to me," Carlucci said.
Priestly Jackson, a Democrat who represents District 10, said she sees Newby as being able to bridge some perceived divisions on the Council.
"The ideology expressed in that meeting in terms of support of Council member Hazouri just made me think so much of Council member Newby as well, in terms of consistency of leadership, someone that can give us unity (and) someone that can help us not politicize that part of our work so that we can address the needs of our community going forward," Priestly Jackson said.
Newby said, "It's my time to lead."
"City Council, we're a family and sometimes families fight. But at the end of the day, we come out together as one. That's what I want to bring back. I want to bring back unity. We can disagree, but we can still move on," he said.