Toll Brothers began sales in January for its new single-family home community in Shearwater, a master-planned residential development on County Road 210 in northern St. Johns County. 
Plans are for 66 two-story single-family homes priced from the low $400,000s. Home buyers can select from five home designs: Anastasia Elite; Anna Maria; Captiva Elite; Julington; and San Tropez. Construction is underway on the community's model home, a two-story, 3,075- square-foot Anna Maria, which is scheduled to open this spring.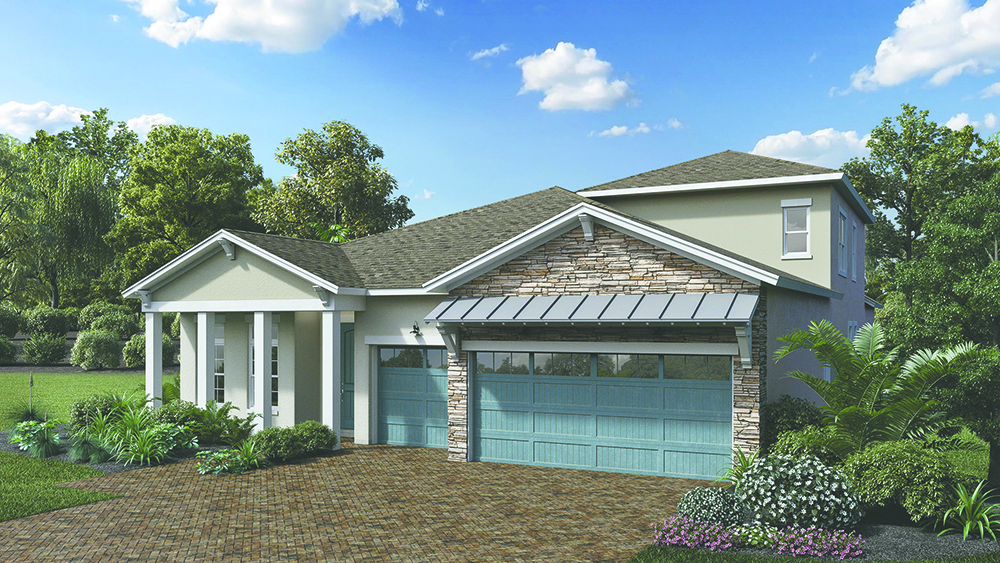 The community will be in The Falls area of Shearwater, which includes a 4-acre park, the Falls loop trail that enhances the community's trail network, Shearwater's first dog park, which includes one fenced area for large dogs and one for smaller dogs, and a community garden for residents to plant flowers, herbs and vegetables year-round.
Shearwater residents also have the Kayak Club amenity center, a Fitness Lodge, Har-Tru tennis courts, resort-style lagoon and lap pool, the Perch Water Tower, Northeast Florida's longest lazy river and 13 miles of trails.
LGI Homes planning to build a 149-home subdivision
A Texas-based homebuilder submitted plans to build a single-family subdivision with 149 home lots in rural southwestern Duval County.
The Florida division of LGI Homes filed an application with the St. Johns River Water Management District on Dec. 10 for the project, called Treeline Trails.
The plans show that the 149 homes would be built on 30 acres of forest land at McClelland Road and Forest Trail Boulevard, slightly north of the border of Duval and Clay counties and south of Florida 228.
The town closest to the subdivision is Baldwin, about 10 miles north.
The property owner is listed as Lee Smith of Timber Forest Trail Investments LLC at 9996 Gate Parkway N. in Jacksonville.
The applicant is listed as Alex Azan, land acquisition manager for LGI Homes-Florida, based in Tampa. 
Jacksonville Beach public housing being torn down
The Jacksonville Housing Authority and TVC Development Inc. are teaming up to tear down more than two dozen 1960s-era apartment buildings in Jacksonville Beach and build The Waves, a 127-unit affordable housing project.
Plans call for the demolition of 26 affordable apartment buildings owned by the public housing agency on eight separate residential blocks east of Jacksonville Beach's golf club and elementary school.
 They will be replaced with 16 two-story buildings, which also will be owned by the Jacksonville Housing Authority.
Each building will house eight apartments and have 32 parking spaces. There will be 128 units, but one will be used as a "common area" unit.
The project is broken up into eight plans, since the buildings are on eight separate city blocks.
They were submitted separately to the St. Johns River Water Management District for review. 
The eight sites are along Seventh, Eighth, Ninth and 10th Streets South, First Avenue South and Fifth Avenue South, with a few adjacent to each other.
TVC Development President Ryan Hoover said the old buildings aren't in poor condition, but they couldn't be easily renovated or upgraded.
TVC Development is the affordable housing division and subsidiary of The Vestcor Companies, a Jacksonville-based developer.
"To bring them up to today's standards, there was no way to do it except to tear them down," he said, adding that the new buildings will be "much better looking" that could help increase property values in the area.
Before the old buildings are demolished, Hoover said the Jacksonville Housing Authority will relocate the residents to other public housing. They will be given first chance to move into the new buildings.
The apartments are in The Hill neighborhood and will be named The Waves at Jacksonville Beach. Amenities planned for the community include a clubhouse, playground, dog walk area and a library.