One of the most important economic incentives in recruiting jobs is who you bring to the table.
It's not only who can provide a location for a new business, or which organization can assist with permitting or what group can arrange incentives.
It's much larger. It's the workforce.
"Become a talent magnet," JAXUSA Partnership President Aundra Wallace insists for the region. "Talent is going to be key over the next five years of everything that we do."
On Oct. 1, Wallace took over as head of JAXUSA, the JAX Chamber's economic development division, after serving as CEO of the Downtown Investment Authority since 2013.
"Millennials and Gen Z are making lifestyle decisions, 'this is where I want to live.' And the companies are chasing them," Wallace said Feb. 12 at a meeting of CREW Jacksonville, a network that supports women's advancement in the commercial real estate industry.
He referred to the generation of workers who are under the age of 40.
"Here's what I know that we must do as a region. The war of talent, talent attraction, development and retention of talent, is going to allow us to win the battles about the attraction of companies to our area," he said.
"If we do not have the talent, we're going to lose more of the economic development battles from company to company over the next five years, so that's why the focus for us has to be on the workforce," he said.
Wallace presented a strategy and asked for the support of businesses and leaders in Northeast Florida, especially among the JAXUSA counties of Baker, Clay, Duval, Flagler, Nassau, Putnam and St. Johns.
He framed it in the context of Elevate Northeast Florida, the five-year regional plan that focuses on education, workforce partnerships, smart transportation and innovation, global branding and targeted industries.
Those industry targets, which have evolved over the decades,  are advanced manufacturing; financial services; health and biomedical; advanced transportation and logistics, including the port; and information technology and innovation.
Wallace also disclosed the areas most competitive with Jacksonville for jobs and corporate investment: Orlando, Tampa; Nashville, Tennessee; and Charlotte and Raleigh, North Carolina.
Wallace outlined the areas that need action for effective economic development.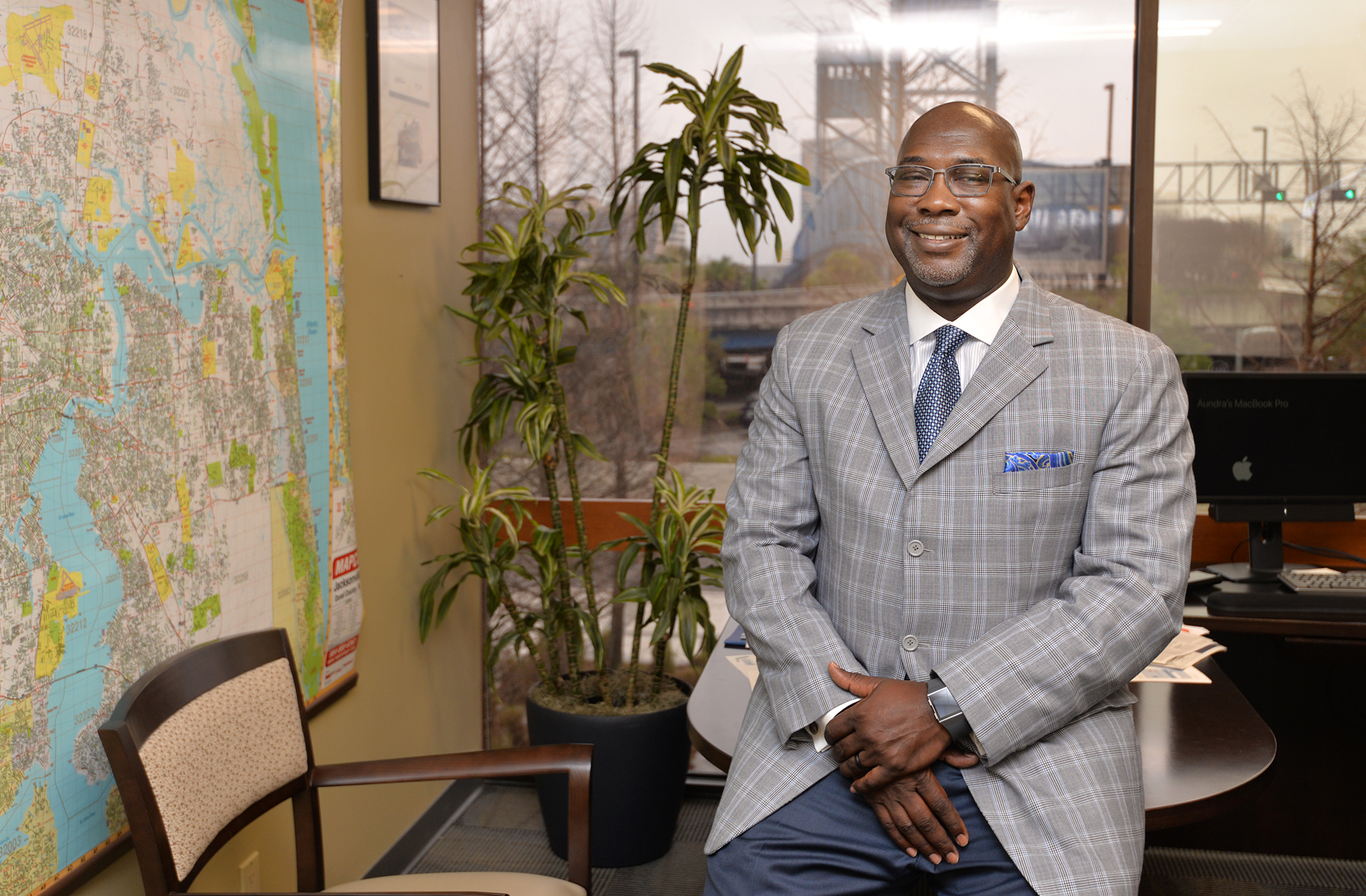 Transparency
 "We must be much more transparent than we ever have been in economic development to make sure we do not continue to be called on the carpet for corporate welfare," Wallace said, emphasizing he doesn't like the "corporate welfare" term. "We're going to be as transparent as we possibly can in doing the work."
Affordable and workforce housing
"We can no longer not engage in the conversation about affordable and workforce housing, being on the sidelines. 'That's their job.' No, that is our job if we want to survive as economic development specialists."
Public transportation
Workers need to be able to reach their jobs and other destinations without relying on cars. Wallace also said the Downtown Bay Street innovation corridor to launch a system of driverless cars is an example of pursuing ways to meet the needs of the future workforce.
Education
Employers and educators in the K-12 system throughout the seven counties must work together.
"It is the employers that are going to tell us exactly what skills that they need for a labor force," he said.
Higher education
Some competing Florida cities boast high university enrollment. The University of Central Florida in Orlando has more than 65,000 students and the University of South Florida in Tampa has more than 44,000 students. The University of North Florida in Jacksonville, by comparison, has more than 16,000 students.
Wallace said he isn't advocating for UNF to reach the level of UCF.
"What I'm saying is that everyone in this room must work with our regional University of North Florida to help them in every way possible to gain more students and create that talent pipeline that I know we're going to need to continue to serve the companies that are here as well as the companies that we seek to attract into Northeast Florida," he said.
Career pathways
Not every student, Wallace said, will attend a four-year institution for a bachelor's degree. "We have to have meaningful pathways for them to have gainful employment, including apprenticeships," he said.
He noted that homes, offices and factories can't be built without plumbers and electricians, for example. "That's how you have a sustainable, robust economy and region," he said.
Innovation
Young entrepreneurs create businesses and need the co-working and university space to do so. When they succeed, they hire local students. "More than likely, they're going to stay here and they're going to hire the people at UNF, Jacksonville University, Florida State College at Jacksonville and St. Johns River State College," he said.
"Home-grown talent is huge and as important as us going out and trying to bring in corporate headquarters."
Although, he said, "I know how we're judged so I have to make sure that we still go after the corporate headquarters as well."
Buildings
Office prospects are seeking at least 50,000 square feet of space and industrial prospects are "not looking for anything less than 274,000 square feet of space," on average, he said. "We can definitely absorb what is actually being produced."
Population
The population is growing in all the JAXUSA partner counties except Putnam, he said. From 2016-17, he said, 17 Florida counties lost population and Putnam was one of them.
"Hopefully we can work with them in terms of bringing in more jobs," he said, which could attract more residents.
Poverty
"There are still people that are left behind," Wallace said. "We have to create opportunities for those individuals to gain meaningful, gainful employment; get the skills that they need to participate in this thriving, robust Northeast Florida region economy." That includes education, safe housing, safety, and child and family care.
Existing business
It's critical to support the businesses already operating in the area, considering they will be the employers who retain jobs during a recession and create new ones during the recovery.
"That's why we visit them, talk to them, understand what their needs are," he said. "What are your talent needs? How can we help you? How can we link you to the right entities to help you? This is going to be really important as we move forward over the next five years," he said.
Air service
Cathy Chambers, JAXUSA senior vice president of strategy and business development, said air service is important. "I know we're working hard to expand service all the time and trying to be more aggressive," she said.
Wallace said that overall in Northeast Florida, without workforce housing, public transportation, air service and a "darned good" education system, "you are not in the competition. Those are things we must improve upon."
"That's why I say the game is changing. We can no longer be on the sidelines as economic development professionals," he said.
Where Jacksonville ranks
JAXUSA Partnership works with economic development teams and business recruitment and retention in the seven counties, which Wallace said have a population of 1.7 million.
State figures show a labor force of 849,383 among the seven counties as of January. With employment of 822,302 people and unemployment of 27,071, the regional unemployment rate was a low 3.2 percent.
By sector, the area is led by trade, transportation and utility industry, which comprises 20 percent of area jobs.
Education and health services account for 15 percent of jobs and professional and business services also provide 15 percent of employment.
Rounding out the remaining 50 percent are leisure and hospitality (12 percent); government (11 percent); financial services (10 percent); construction (6 percent); manufacturing (4 percent); and other services.
Wallace said the state's next 5 million people are predicted to include many for Northeast Florida: More than 278,000 more residents for Duval; 128,000 for St. Johns; 73,000 into Clay; 43,000 into Flagler; 26,000 into Nassau; 4,400 for Putnam; and 3,300 for Baker.
"Economic development is going to be critical because people are going to be looking for employment opportunities," he said.
In terms of who is moving to the area, Wallace said the "wealth migration" from 1992-2016 to Duval came from Connecticut, Virginia and from South and Central Florida.

Those leaving Duval moved to St. Johns, Clay, Nassau and Baker county and to Texas.
The moves within the region shows "that we're all tied together and that is why we have to work together from a regional standpoint."
Wallace said he maintains the Northeast Florida brand. Elevate Northeast Florida consultants made a suggestion in a marketing plan, released in September, to "embrace Jacksonville as the name of the region versus 'Northeast Florida," which drew criticism.
Wallace was asked at CREW about the branding.
"That conversation is something that we have to work on," he said. "This is not about an individuality brand of one particular area over the other."
He said determining the brand "takes all of us coming together in that conversation, both private and public sectors."
It's important, he said, for private-sector involvement so "that when we talk about the global awareness of our brand to make sure there are companies that are supportive of us and leading us in that discussion."
As branding is discussed, Wallace wants to increase the area's visibility in the areas he sees as important.
"That's what we have to recognize – that the game is changing in economic development," he said.