JinkoSolar Holding Co. Ltd. ceremonially opened its new solar-panel factory Tuesday in AllianceFlorida at Cecil Commerce Center.
Based in Shanghai, China, JinkoSolar began pilot production at the plant in November and intends to reach full capacity in a few months. 
It is JinkoSolar's first U.S. factory.
Company representatives said JinkoSolar has more than 150 employees at the Westside manufacturing plant, at 4660 POW-MIA Memorial Parkway,  and will reach a staff of more than 200.
JinkoSolar chose Jacksonville in March for the $50.5 million facility. City Council supported incentives for JinkoSolar in a resolution adopted March 13. 
The city and state offered $4.2 million in a grant and tax refunds. The jobs, which will pay an average annual wage of $45,562, must be created by the end of 2019. 
When fully operational, the facility will produce 400 megawatts of 60-cell (for residential) and 72-cell (for industrial and utilities) PERC modules a year.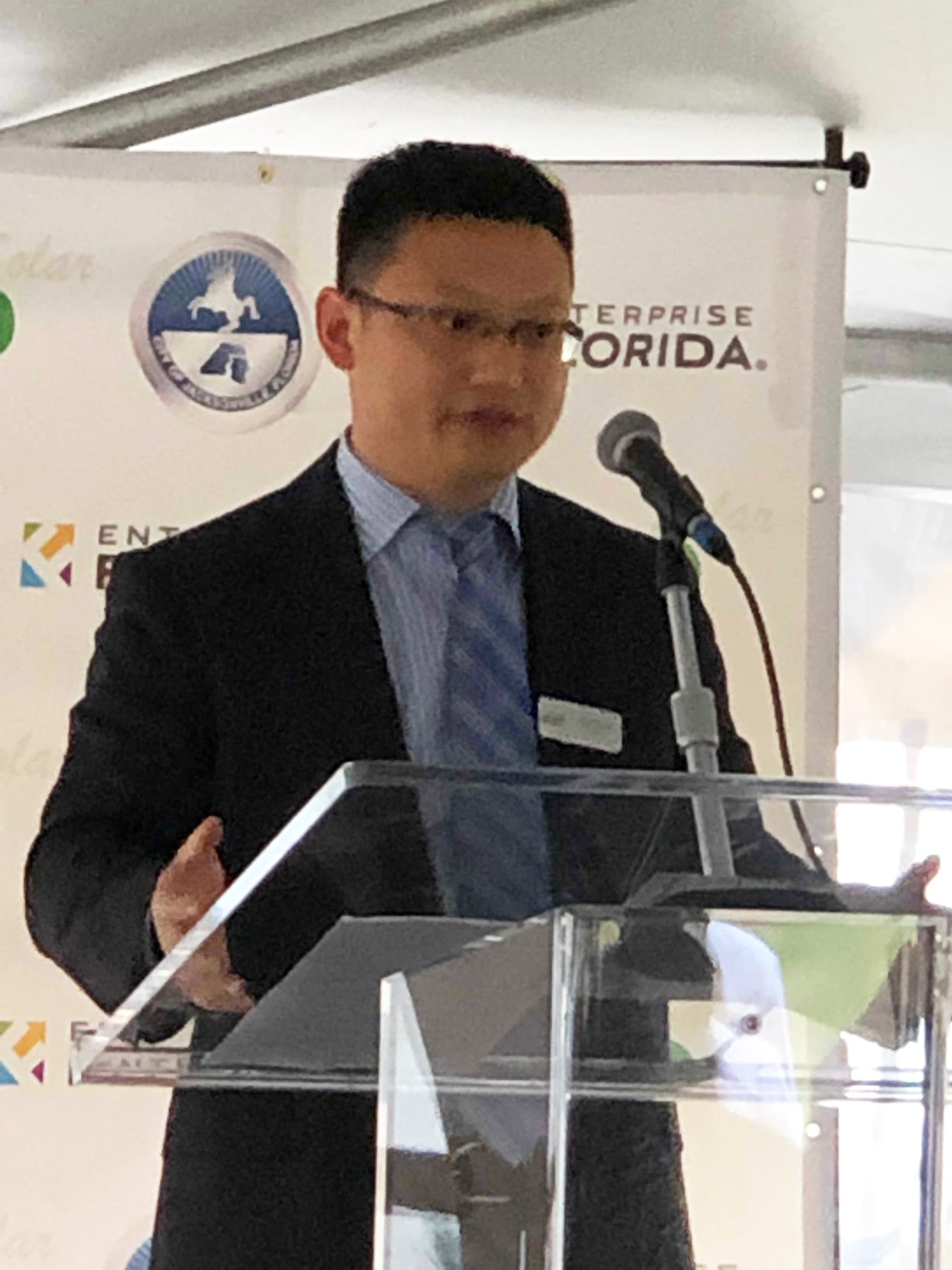 The high-tech automated facility can make two panels a minute, meaning the plant can produce 1.2 million solar panels a year.
It assembles the panels in Jacksonville from solar cells produced by JinkoSolar in Malaysia.
"This is our most advanced facility," said JinkoSolar Co. Ltd. Chief Financial Officer Charlie Cao.
He said the location brings JinkoSolar closer to customers, such as Florida Power & Light Co.
JinkoSolar leases 285,652 square feet in a 407,435-square-foot building developed by Hillwood. 
JinkoSolar employs more than 12,000 employees among six production facilities worldwide and in 16 international facilities, according to a news release. It distributes products to utility, commercial and residential customers in more than 108 countries.
"It's another statement about Jacksonville's move into the international market," said Mayor Lenny Curry, one of five speakers making remarks before a "powering of factory" lighting of a worldwide map of JinkoSolar's locations that now includes Jacksonville.
JinkoSolar CEO Kangping Chen said in a news release that JinkoSolar continues to gain market share around the globe, including in the U.S. "This factory will be key to solidifying that strong market position," he said.
JinkoSolar said it has been the best-selling brand of modules globally since 2016.
"Locating our first factory in the United States puts us even closer to our key U.S. customers, allowing us to provide tariff-free modules and better, more efficient local service," it says.
JinkoSolar is the first Chinese company to set up a factory in the U.S. after President Donald Trump approved 30 percent tariffs in January 2018 on imported solar panel technology.