CSX Corp.'s 2018 job cuts exceeded management's expectations, and company officials said last week they see plenty of room to cut further.
As the Jacksonville-based railroad company reported year-end financial results, its official employment fell by 1,531 in 2018 to 22,475 at the end of the year, but that's only part of the story.
"With respect to our total workforce, which includes management and union employees as well as contractors and consultants, we exceeded our 2018 goal of 2,000 reductions," Chief Financial Officer Frank Lonegro said during CSX's conference call with analysts.
"Looking forward to 2019, improved service and operating fluidity together with opportunistic streamlining in our support functions will drive significant year-over-year labor productivity," he said.
CSX officials did say they expect attrition to take care of its continued job reduction, as opposed to layoffs. But they do see areas for cost-cutting.
"Across the organization, operations, sales and marketing and all other functions, there are plenty of opportunities for improvement to keep us busy for years to come," CEO James Foote said in the conference call.
"Millions of unnecessary events in our business processes can be eliminated which will improve service to our customers and allow them to be more efficient," he said. 
"We continue to make progress towards the efficiency goals set a little less than a year ago."
A year ago, CSX officials said they were targeting a total employment count of 21,000 in its operations that cover most of the eastern U.S. by the end of 2020.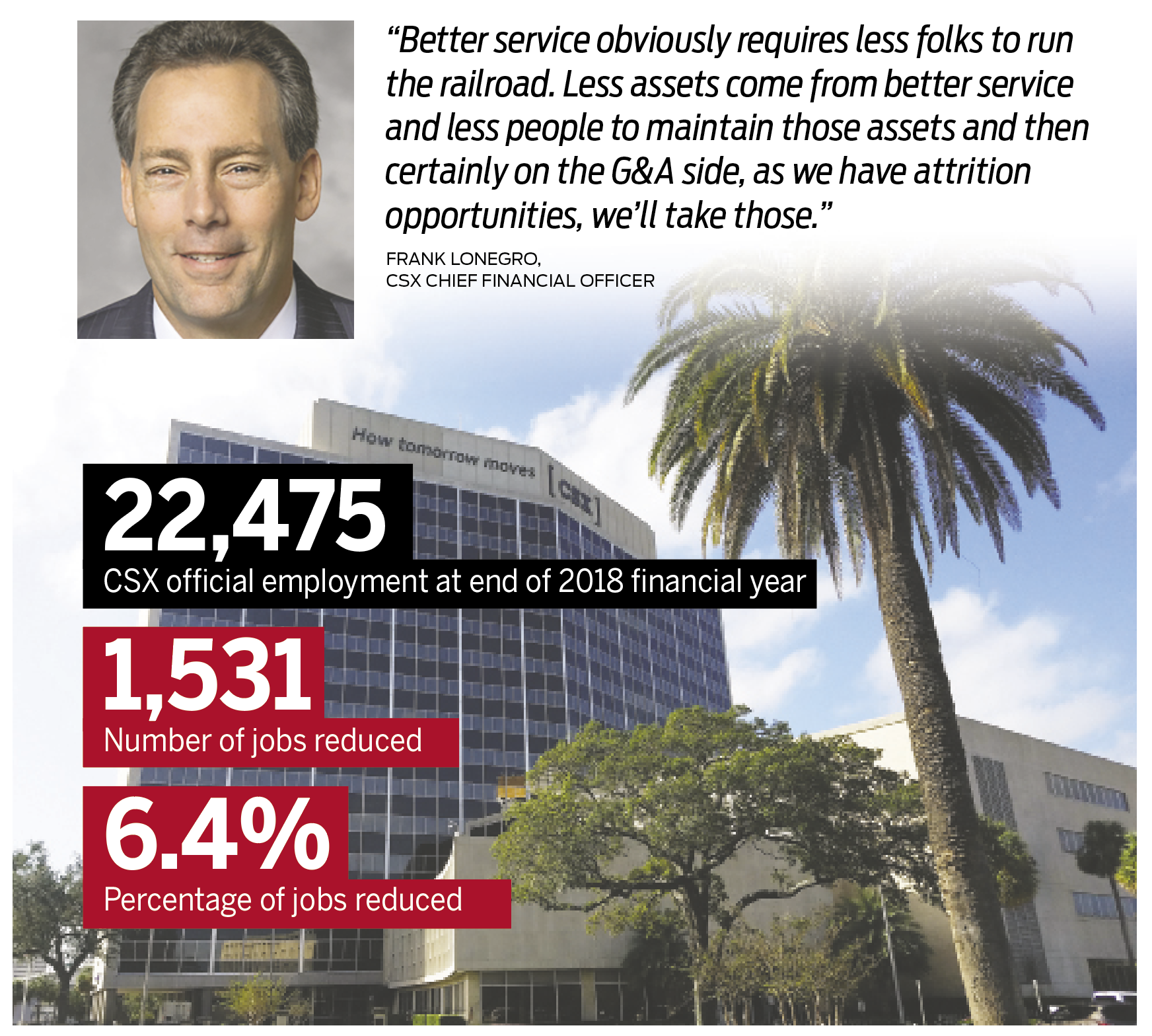 The company did not give any targets for 2019 but Lonegro said he expects this year's reduction to be in line with CSX's normal annual attrition rate of 6 to 7 percent.
"Better service obviously requires less folks to run the railroad. Less assets come from better service and less people to maintain those assets and then certainly on the G&A side, as we have attrition opportunities, we'll take those," he said.
The drop in employment and other cost-cutting moves allowed CSX to significantly improve its operating ratio last year, a key metric for the company.
CSX was hoping to get the ratio, which is operating expenses divided by revenue, down to 60 percent by 2020. However, it got there two years early, with the ratio falling below 60 percent in the second quarter of 2018 and ending at 60.3 percent for the full year, down from 67.4 percent in 2017.
Foote said he expects more improvements in the operating ratio this year but he said the 60.3 percent ratio for 2018 was helped by real estate sales, which boosted revenue in 2018. So analysts shouldn't expect the ratio to drop even lower this year.
"I believe a good 2018 OR baseline to measure our improvement in 2019 is closer to 61, which adjusts for some of the better-than-expected benefits from real estate that occurred in 2018," he said.
CSX grew revenue by 7 percent to $12.25 billion in 2018, and Foote projected revenue to grow by a "low single digits" percentage this year.
Foote said he expects "muted" growth in its intermodal business and "some moderation" in revenue growth from export coal shipments. However, he has a mostly positive outlook.
"Over the past few days, I have spoken to a number of large customers across different industries. General customer feedback has been positive and it's consistent with the demand levels we are seeing today," he said.
"While it's hard to ignore the volatility in the equity markets, I cannot call out any trend in our business today that would point to a significant slowdown in our business," he said.
"You really have to love being in the rail industry right now," Foote said.
American Outdoor Brands facility is closing June 30
After parent company American Outdoor Brands Corp. revealed plans to close the facility last year, Ultimate Survival Technologies LLC filed notice last week that it will close its Jacksonville operations June 30.
The closing will impact 45 employees and 22 temporary workers employed by a third-party company, according to the Worker Adjustment and Retraining Notification filing with the state.
American Outdoor said in a Securities and Exchange Commission filing in August it would close the 100,625-square-foot facility at 7720 Philips Highway as it consolidates operations into a new logistics and customer service center in Missouri.
The building is the former headquarters for Ultimate Survival Technologies, which produced survival and camping equipment before it was acquired by American Outdoor in 2016.
Springfield, Massachusetts-based American Outdoor was formerly known as Smith & Wesson, but it changed its name and acquired UST as part of a plan to expand beyond its iconic firearms brand.
In its WARN notice, UST said affected employees will be let go beginning March 10 and all cuts will be completed by June 30, when the facility will be permanently closed.
American Outdoor leases the facility, which was acquired by a California investor in December 2017 for $5.075 million, according to Duval County records.
mCig spins off subsidiary, Obitx
Jacksonville-based mCig Inc. said in an SEC filing the spinoff of a subsidiary called Obitx Inc. into a separate public company has been completed.
The spinoff was completed by distributing stock of Obitx to mCig shareholders.
Obitx provides marketing and advertising software while mCig operates a number of businesses serving the legal cannabis markets. 
No public market for Obitx existed before the spinoff but the company said in SEC filings it intends to apply for listing in the OTC markets, where mCig trades under the ticker "MCIG."
Shares of mCig have traded mostly below 20 cents for most of the past month.
MCig last week filed its quarterly report with the SEC showing sales of $1.18 million for the six months ended Oct. 31 and a net loss of $1.08 million in the first half of its fiscal year.
Obitx filed an SEC report showing sales of $84,610 for the nine months ended Oct. 31 and a net loss of $690,702.
Tech company continues IPO effort
More than a year after its initial SEC filing, a Jacksonville company called Webstar Technology Group Inc. filed an updated registration statement two weeks ago saying it is continuing its efforts at an initial public offering.
Webstar is trying to sell between 3 million and 20 million shares of stock at $1 each directly to investors in a best-efforts offering, meaning it is not using an underwriter.
The company, which is developing several technology applications, reported no revenue in the first nine months of 2018, according to the latest filing.
The company has not applied for a stock exchange listing but said in the filing it plans to apply for listing on the OTCQB Marketplace under the ticker "WBST."
The filing comes at a time when several financial news outlets are reporting that the partial federal government shutdown could grind the IPO market to a halt, because of a cutback in SEC staff to review filings.
The Wall Street Journal reported Tuesday that some companies are planning to get around that with a legal option that allows them to "pick a price" for their IPO and then begin trading at that price 20 days later. But because of market volatility, that's a risky strategy, the newspaper said.
IPOs are normally priced the day before trading begins.