In April, 5,220 people were documented living in Downtown Jacksonville.
The number of Downtown residents is approaching 10,000 — the residential density many officials, including JAX Chamber CEO Daniel Davis and Downtown Investment Authority CEO Lori Boyer, see as a threshold for housing in the urban core to become self-sustaining. 
Boyer said 10,000-12,000 residents will allow the Downtown market to attract essential services like grocers and a pharmacy as well as more retail, restaurants and entertainment.
"Getting the housing to a robust level is going to make it much easier for those retail businesses to be successful," Boyer said.
Since 2010, much of the demand and construction in Downtown housing has centered on multifamily affordable and workforce housing. 
But there are signs that market-rate rentals Downtown are becoming sustainable and contributing to the urban core's overall residential mix.
For developers to build profitable market-rate rentals Downtown, Boyer said the magic number is rent at $2 per square foot.
A report submitted to the DIA from commercial real estate services firm CBRE Jacksonville shows, as of April 1, five Downtown residential projects have hit or exceeded the average $2 per square foot price point: 
• Vista Brooklyn, a 10-story, 308-unit tower at 200 Riverside Ave.
• Bishop Gate, a three-building, 145-unit apartment complex in Riverside
• Broadstone River House Apartments, a 263-unit apartment community on the Southbank
• 1230 Hendricks Ave., with 345 apartments, parking and 5,500 square feet of retail space.
• The Residences at Barnett, the 18-story, 107-apartment high-rise at 112 W. Adams St.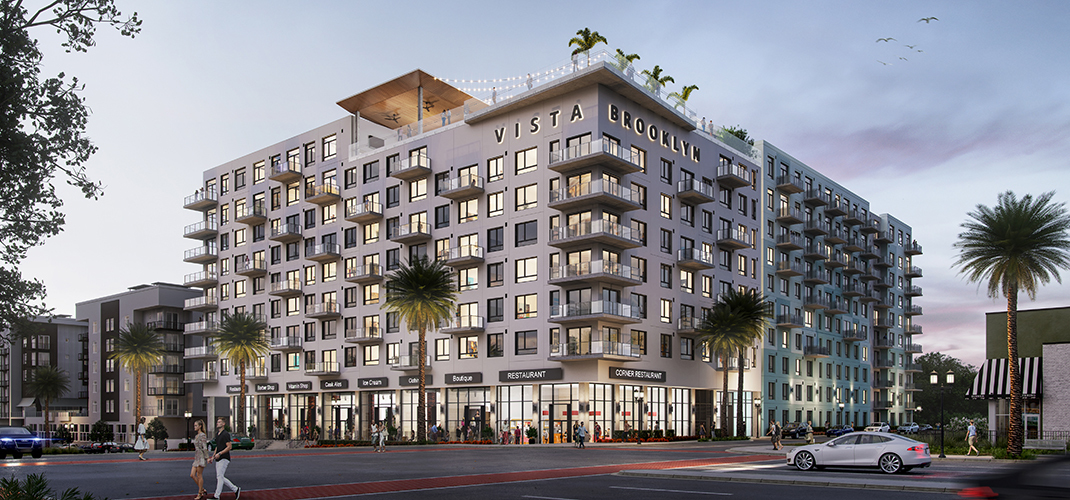 In 2010, CBRE listed four multifamily residential projects under development. The average rent per square foot ranged from 98 cents to $1.28. 
By 2014-15, that average rose to $1.22 per square foot on the low end and topped out at $1.57 between six developments.
By April of this year, CBRE's study shows the lowest average rent per square foot in Downtown is $1.57. The highest is Broadstone River House at $2.20 per square foot. 
The average rent in Downtown continues to grow along with supply. CBRE listed 24 Downtown residential projects in development or recently completed from the Cathedral District on the Northbank to San Marco on the Southbank. 
Although market rate is now an option for developers, affordable and workforce housing like Vestcor Companies' "Loft"-brand apartments in LaVilla and Brooklyn continue to be in demand. 
Vestcor, a member of the Northeast Florida Builders Association, is one of three companies, including Blackwater Capital LLC and JWB Real Estate Capital, that have submitted bids to develop for-sale townhomes on city-owned property in LaVilla. 
Single-family development is being pushed in LaVilla, and Boyer said it also could be viable in Brooklyn, the Cathedral District and areas of the Southbank.
However, property in the Downtown core is "too valuable" for lower density housing, she said.  
"As Downtown Jacksonville continues to grow and evolve along with the rest of Northeast Florida, the Northeast Florida Builders Association strongly supports the development of new housing, both rental and for sale," NEFBA President Sean Junker said. 
"Creating a positive growth environment for residential builders and developers is vital to the economic success of Downtown," he said.
Multifamily housing construction Downtown has largely been for-rent, mid-rise apartment complexes. But increasing rental prices could bring renewed interest in condominiums, including high-rises, Boyer said in a July 9 interview.
A possible location for residential high-rise development is Bay Street at the site of the former Duval County Courthouse and former Jacksonville City Hall. CBRE is conducting a highest and best use analysis of the properties, and the city is gathering information on existing easements and utility services.
Boyer said she wants the DIA board to have that information by September so parameters for development can be part of requests for proposals from developers by October.
"We hope to have it on the market by October. CBRE is doing the marketing for us and they're doing a highest and best use analysis. But we are hopeful that at least part of that type can be high-rise," Boyer said.
If projects like residential high-rise gain traction, Boyer said it could contribute to reaching higher density Downtown. 
"And if the area behind the Hyatt (Regency Jacksonville Riverfront) can support high-rise and we can get that increased density, we get to our 10,000 or 12,000 residents Downtown just that much more quickly," Boyer said.