A large industrial development continues on its path for North Jacksonville.
Benderson Development Co. continues to seek approvals for more than 2 million square feet of warehouse space.
The city calculated the mobility fees for two industrial warehouses designed on 46 acres north of Pecan Park Road between Interstate 95 and North Main Street.
Benderson's plans show the 499,000-square-foot Building 100 and the almost 1.54 million-square-foot Building 200. 
The mobility fees, calculated to mitigate the traffic impact, total $816,445. The applications are for horizontal development and the buildings.
Benderson is a private real estate company based in University Park near Sarasota. Kimley-Horn and Associates Inc. is the civil engineer.
The Benderson executive identified as the project representative has not returned two phone calls.
Benderson previously submitted plans to the city for the warehouses.
As owners of the almost 850-acre undeveloped Pecan Park Regional Activity Center, Benderson entities seek a minor modification to the property's planned unit development that was approved in 2008.
Benderson bought the bulk of the property in 2007 from Bacardi Bottling Corp., which bottles rum, and about 15 acres from an affiliate of Signature Land Co.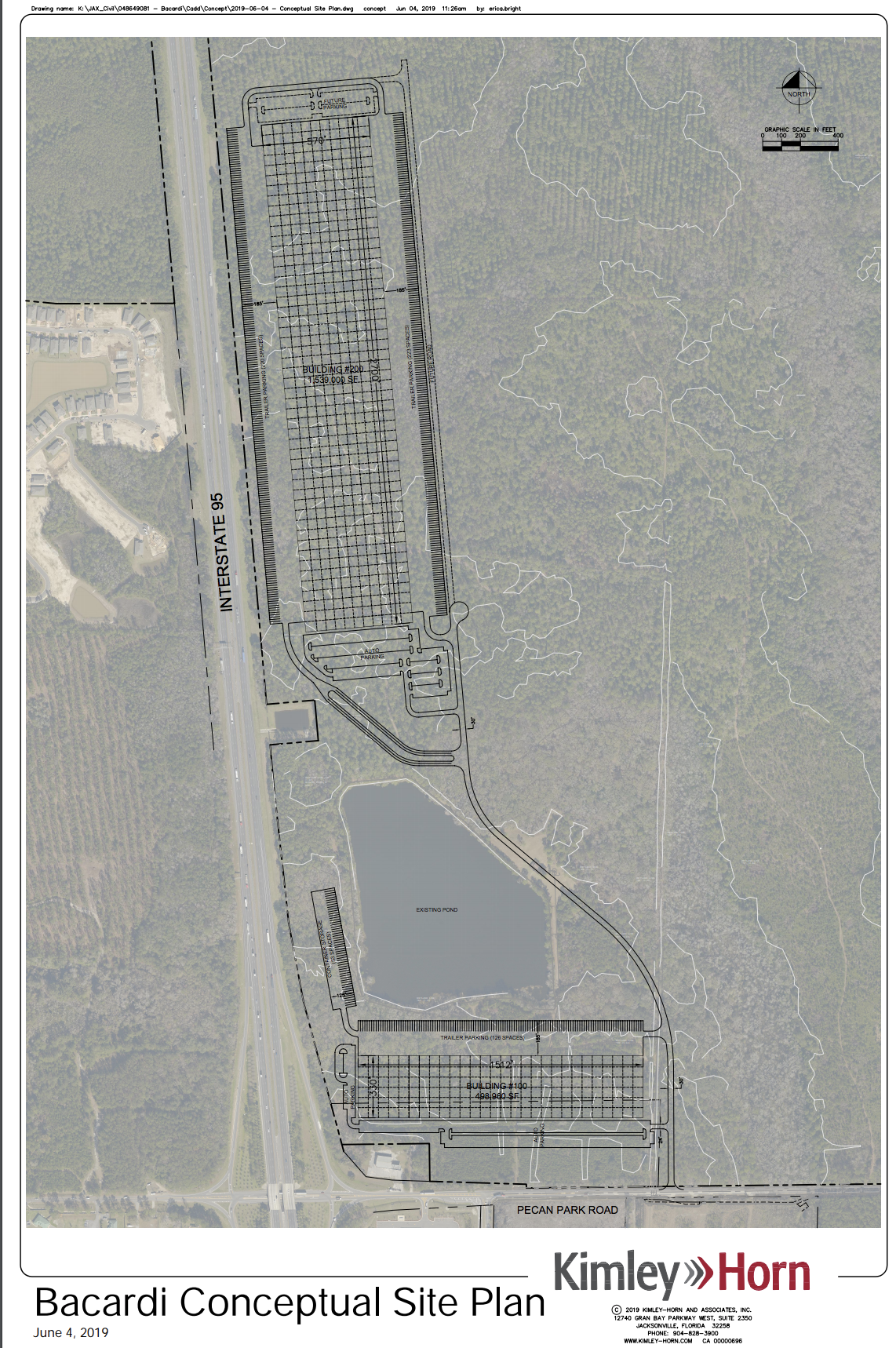 The Bacardi Bottling Plant is at 12200 N. Main St., south of Benderson's land.
The modification would relocate the site's mix of commercial, office/business park and residential uses to a central location and places 46 acres of light industrial adjacent to I-95.
Submitted with that application was the Bacardi Conceptual Site Plan, dated June 4, showing the two warehouses on the 46 acres.
The Pecan Park Regional Activity Center owners are Pecpar LLC and Rum East LLC, associated with Benderson Development Co. LLC.
Benderson Development says it owns and manages more than 700 properties totaling more than 40 million square feet in 38 states. Holdings include retail, office, industrial, hotel, residential and land.
Colliers International's second-quarter industrial report shows a 4.3% vacancy for Jacksonville's warehouse market. About 3.5 million square feet of industrial space is under construction.
"The Jacksonville market is on pace to add the modern industrial stock the region needs to land large-scale operations on tight timelines," Colliers wrote.
"This is a good thing."