Beach Buggy, a company that's provided free rides around Jacksonville Beach since 2014, expanded its service to San Marco.
Beach Buggy operates two electric 10-seat buggies in San Marco, which can be requested through the free Beach Buggy smartphone app or hailed on the street. Riders can request rides between its sponsor locations, businesses, hotels and residential addresses.
The service area covers from the St. Johns River to the west and north, Kings Avenue to the east and River Oaks Road to the south. They operate 11 a.m.-10 p.m. Sunday-Thursday and 11 a.m.-midnight Friday-Saturday.
Because San Marco is densely populated with homes, condos, hotels and businesses and lacks ample parking, the neighborhood seemed like a sensible next step for expansion, said owner Dustin Kaloostian.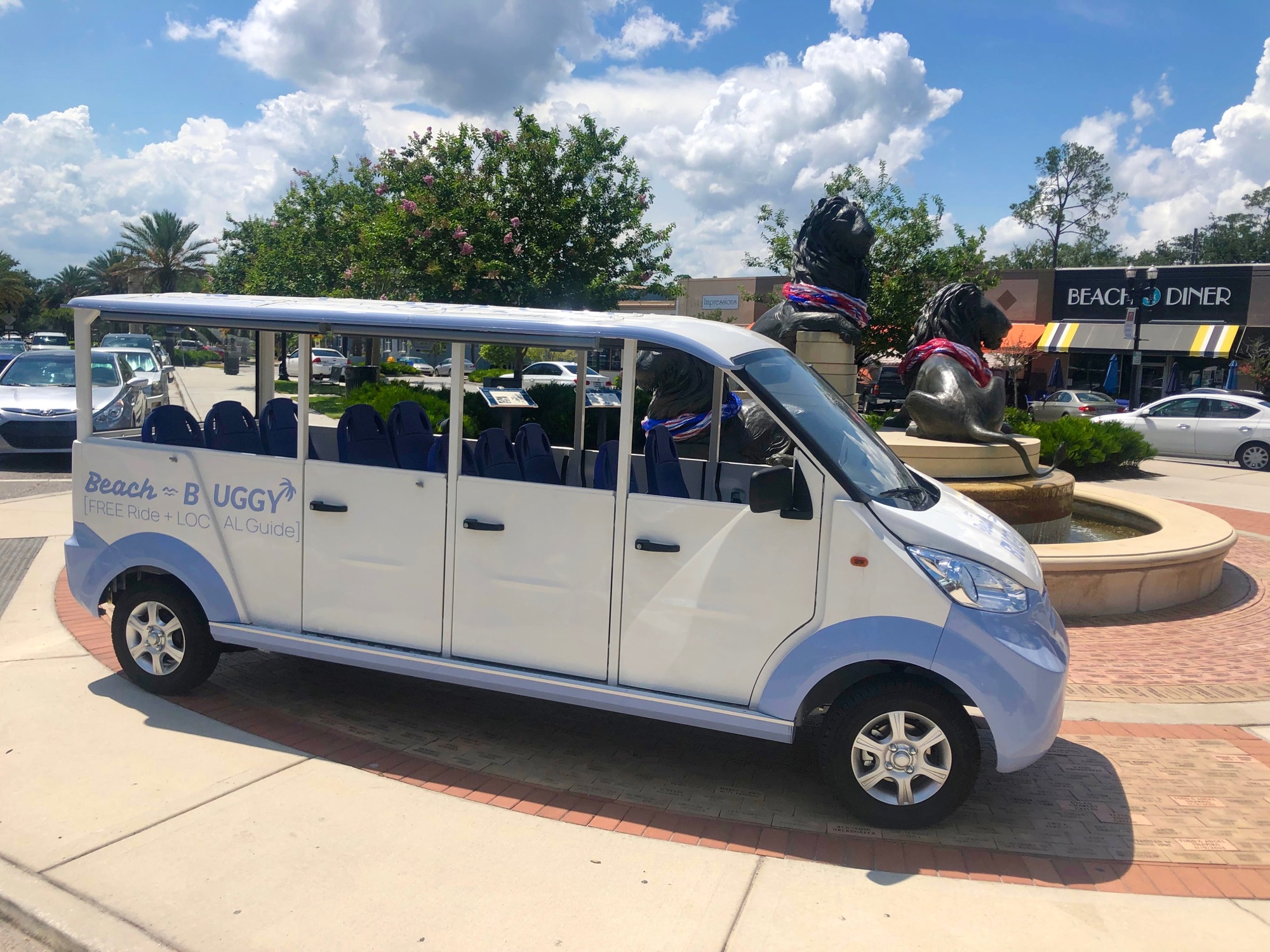 "The distance we see people traveling in San Marco is a little far to walk, especially in heels and heat and things like that, but it's also a little short for people to commit to an Uber," he said. "We kind of envision a lazy river of these quiet low-emission vehicles roaming around."
The buggies can travel up to 25 mph and are treated on the road as another vehicle. 
The company has been working since the fall to bring the concept to San Marco.
 The San Marco Merchants Association helped make introductions to area businesses to sponsor the service. 
With help from the association, finding sponsors was fairly easy, Kaloostian said.
Sixteen San Marco companies sponsor the service, including V Pizza, San Marco Theater, High Tide Burrito Co., Beer:30 and The Bearded Pig.
"It didn't feel like much of a sales process, not the typical knocking on doors explaining who you are," he said. "It's a very tight-knit business group over here."
Kaloostian said he intends to deploy two more vehicles within six months as the company gets more interest from sponsors. But because of the grid structure in San Marco, and the short rides between destinations, two vehicles have done well so far. 
"The big broad goal is to change the way people think about short commutes," Kaloostian said. "It can be something that's fun, with open-air vehicles and music. Just changing the way people treat the last-mile transit."