Jacksonville University says its three-story, 104,000-square-foot Healthcare Sciences Academic Center is on track for completion in January.
The building will house the School of Applied Health Sciences, the School of Orthodontics and the Keigwin School of Nursing graduate programs. Classes and clinical work are expected to start in the building in the spring semester.
Jacksonville-based Stellar is the design and construction firm for the $20 million center at the private institution along University Boulevard North in Arlington.
Brooks Rehabilitation College of Healthcare Sciences Provost Christine Sapienza said in a news release that demand for health care professionals in the region continues at a rapid rate.
"This new facility will position our expanding health care programs for even more growth and experiential learning, offering students a modern learning environment, along with the latest technology and instrumentation to enhance the quality of their education," Sapienza said.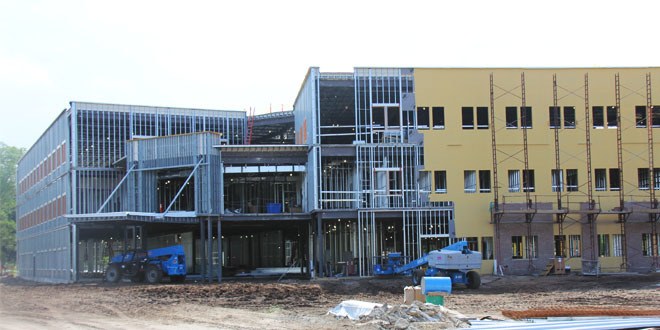 JU worked with the Jacksonville-based Stellar team to design the space and laboratories for kinesiology, mental health counseling and speech language pathology.
Two kinesiology labs will focus on biomechanics, athletic performance, exercise and physiology. A third lab focusing on wellness and nutrition is in development.
PQH Architects is a project partner with Stellar on the facility.
JU also plans to develop a student health center within the Healthcare Sciences Academic Center, offering on-campus primary care services to JU students, faculty and staff. The university wants to offer basic checkups and immunizations as well as on-site mental health and wellness services through the center. 
Cheryl Bergman, dean of the Brooks Rehabilitation College of Healthcare Sciences, said a campus clinic will be convenient for students with basic health care needs and for those needing clinical hours to complete their degrees.
The center is under construction at 5491 Dolphin Point Blvd. on the north end of the campus.
The building will be near Dolphin Pointe Landing, a health care and rehabilitation center that will work with JU to offer training for students in programs, including nursing, occupational therapy, speech language pathology and kinesiology.
The first phase of Dolphin Pointe is expected to open this year.