Scott Adeeb hopes to net both fans of sports and craft beer at Strings Sports Brewery at Ninth and North Main streets in Springfield.
The restaurant venture that brings the fourth generation of Adeebs into the family business opens Monday.
Strings is in the vacant space that housed Henrietta's in the early 2000s.
The building, originally a gas station, was built in the late 1930s. It later was a tire store.
 According to city property appraiser records, Adeeb paid $96,800 for the property in 2018 as the sole bidder in a city tax auction.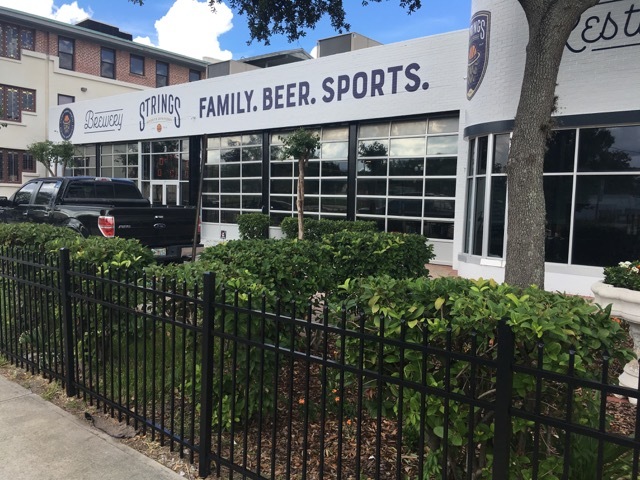 He said he spent $750,000 remodeling the building.
Traditionally, sports-themed restaurants do their best business from the beginning of football season through the end of the NCAA basketball tournament. Adeeb, however, sees the summer opening as an advantage.
"We were going to open when we were ready and this is just how it fell on the calendar," Adeeb said. "By opening now, we can work out the kinks and by the fall we will be in pretty good shape." 
The 7,500-square-foot venue features two dining areas, a bar and a brewery built behind glass windows.
 With internet capabilities, Adeeb already has had some inquiries about using Strings as a place for business meetings.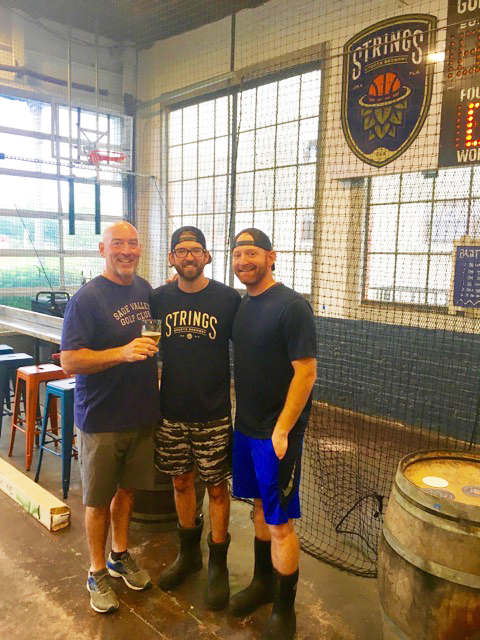 A covered beer garden in the back adds another 2,500 square feet of space. Adeeb kept trees that were there and had tables built around them.
The beer garden can be used for corn hole tournaments and other games. A large piece of art depicts city landmarks painted on a basketball on one wall. Adeeb salvaged the old scoreboard from Klutho Park.
This is the second incarnation of Strings.
Adeeb owned Strings, a sports restaurant on Third Street in Neptune Beach from 1992-97.
Strings Sports Brewery carries on one tradition from the original — a regulation-height basketball hoop where customers can shoot free throws.
Adeeb pointed out one of the garage doors that make up the front of the restaurant, toward 10th Street. "See that Krystal? That's where my grandfather's restaurant was."
The Adeeb family has been operating restaurants in Jacksonville since the 1940s starting with The 3 Jays where the Krystal now stands.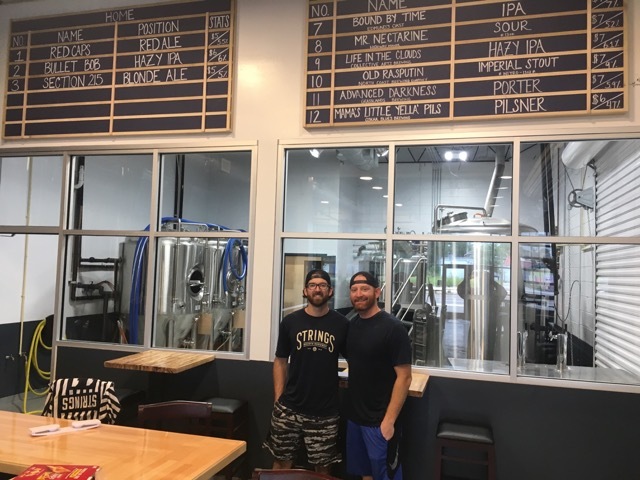 The family operated the Green Turtle restaurant formerly on Philips Highway and the Sea Turtle Inn in Atlantic Beach, which is now One Ocean.
In 1979, Scott Adeeb's father, Joe Jr., bought Bono's Pit Bar-B-Q, which has grown into a regional mainstay.
Strings brings the fourth generation into the family business.
Adeeb's sons, Trevor, 29, and Colby, 26, are the brewers. Trevor's wife, Kaiti, is the general manager.
The brothers have grown up working at Bono's and other restaurants.
The two became avid home brewers and that interest prompted their father to start a new family venture. Scott Adeeb and his sons are partners in Strings.
Besides craft brews, food will be a draw for the restaurant.
Jacksonville native Patrick Dillon is the chef. He worked at Edmund's Oast in Charleston, South Carolina, a restaurant with a brewery.
Sous chef Kevin Roberts worked at Moxie in the St. Johns Town Center.
Strings will have 25 employees.
The menu includes sandwiches, salads, small plates and smoked wings, ribs, brisket, sausage and pork belly. Strings will be open 11 a.m. to 11 p.m. daily.
The in-house beer lineup will come along slowly. Playing on the sports theme, two chalkboards hang above the brewery windows marked "Home" for Strings beers and "Away" those made elsewhere. Beer will be sold by the glass, no pitchers, with prices in the $5 to $6 range. Strings also will sell wine but no liquor.
The starting lineup for the "Home" team will be Red Caps Red Ale (paying homage to Jacksonville's Negro American League team, the Red Caps), Bullet Bob Hazy IPA (named after Jacksonville native the late Bob Hayes, the only person to have won both an Olympic gold medal and a Super Bowl ring), and Section 215 Blonde Ale (Section 215 happens to be where the Adeebs have their Jaguars season tickets).
"I'm very proud to come back to the neighborhood where my parents met as kids," Scott Adeeb said. "I wouldn't be tackling this on my own if not for the kids. I'm very blessed. They have a passion and desire on both the brewery and restaurant side. I'm not doing this for them. I am doing it with them. Our motto is 'Family, Beer, Sports.' "
Strings joins Main & Six Brewing Co. and Hyperion Brewery Co. on Main Street, as well as Crispy's, a multitap restaurant with liquor sales.
Adeeb said he has been welcomed into the neighborhood.
"We are going to be the only part of Jacksonville where you can park on Main Street and you can walk to (three craft breweries) as well as there's Crispy's and Cotten's BBQ in the area. Hopefully, with us opening, it will encourage more people to want to come to Springfield and make it a destination."