When the audio-visual system was designed and installed in the Duval County Courthouse at 501 W. Adams St., it was state of the art and a leap in technology compared to what judges, attorneys and jurors were accustomed to using and seeing.
Now, nearly eight years later, it's time for a "refresh."
Some of the hardware that processes the audio and video used to present demonstrative evidence in court has reached the end of its useful life, and in some cases, manufacturers no longer offer service or parts, said Mike Smith, 4th Judicial Circuit court technology officer.
"We've been repairing devices for the past five years, but the manufacturers won't repair them anymore. We've gone as far as we can go," he said.
There's also an issue with the wireless microphones used to record court proceedings because the Federal Communications Commission re-assigned some of the radio frequencies since the system was installed.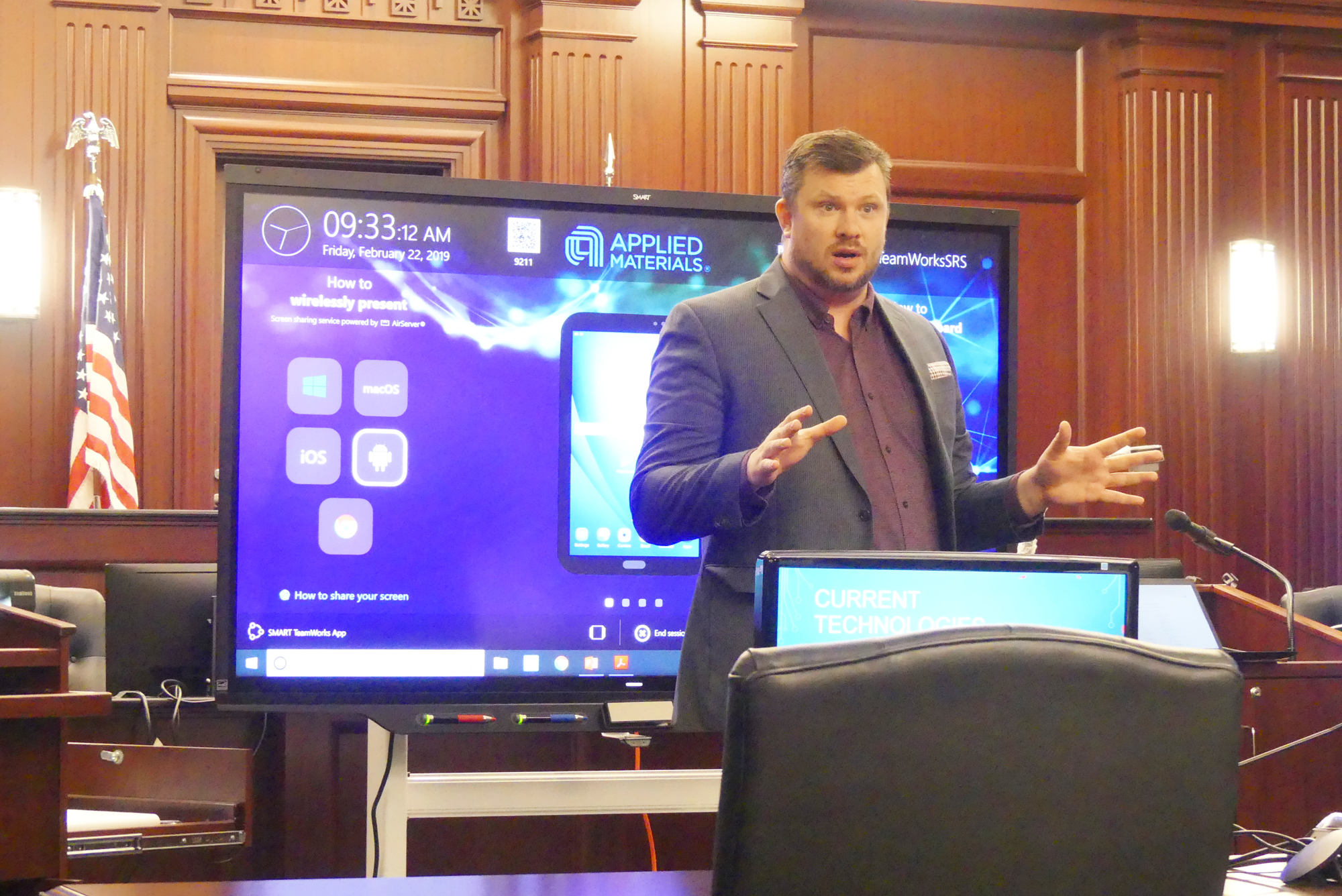 Smith said the FCC opened up bandwidth on the radio frequency spectrum for cellphone carriers. Some of the new cell service interferes with older systems, such as those in the courthouse.
"They'll jump on the same frequencies as our wireless microphones and the only way to stop it is to shut off the microphones," he said.
Smith invited a group of legal practitioners to the courthouse Friday for a demonstration of an interactive evidence presentation system that could replace some of the flat-screen monitors that were added to the courthouse inventory a few years ago.
Designed by Smart Technologies, a Canada-based company, they offer 4K Ultra HD resolution and software that makes the displays as easy to use as a smartphone, said Frazer Couzens, corporate line manager for Smart Technologies.
In addition to courtrooms, the displays are used in classrooms and corporate settings, "anywhere you need to tell a story," he said.
The device is compatible with Apple, Android and Windows operating systems. Data, including document files, video and even Skype, can be displayed via direct cable connection, Wi-Fi or Bluetooth.
Smith said the devices are being considered because they have a 10- to 15-year service life and the software can be updated to keep up with technology as it continues to evolve.
Couzens said the displays offer advantages to attorneys because they are as easy to use as a smartphone or tablet.
Jurors also are accustomed to using smartphones and tablets, so what they expect to see in court has changed compared to the easels and flip charts that were used in courtrooms years ago.
"They expect more technology in terms of information," said Couzens.
There hasn't been a contingency fund in the budget for replacement of obsolete courthouse audio-visual equipment since the building opened, so Smith is working with the city's Information Technology Department to formulate a proposal for the 2019-20 general fund budget.
He's considering purchasing 10 of the new smart displays, replacing the wireless microphone system and bringing up to current standards some of the equipment that's not seen in the courtrooms but processes and stores the court's audio and video.
"We're probably looking at about $1 million – which is less than one-fourth of the original AV budget," Smith said.