With financing in hand, Margaritaville Holdings broke ground March 8 for the 202-room Margaritaville Hotel at 715 N. First St.
Fifth Third Bank issued a $52.5 million mortgage to developer MSB Hotels IV LLC to build the Margaritaville Hotel on the Jacksonville Beach oceanfront.
The mortgage, made Feb. 27, also finances a St. Augustine hotel property owned by MSB Hotels I LLC. The hotel group is part of Elite Hospitality Inc. of Ormond Beach.
MSB Hotels paid $11 million for the Margaritaville property in October 2017. It said upon groundbreaking that it expects construction to take up to two years.
Rendering show an eight-story Margaritaville Beach Hotel.
The project features a two-story Landshark Bar & Grill, a "LandShark Lookout" observation deck for sunset views, a beachside pool, coffee shop, fitness center and meeting and event space.
The U-shape design will maximize the number of guest rooms with ocean views, according to a news release. The hotel will provide an internal parking garage.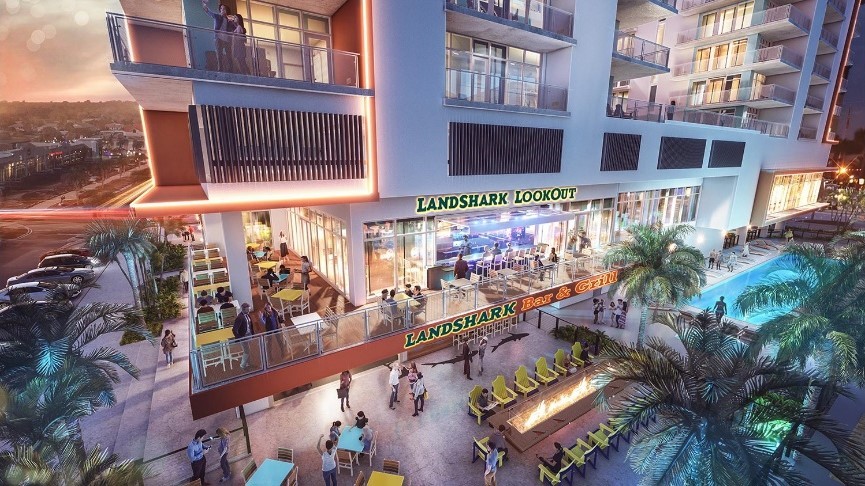 Margaritaville's "casual luxe" design includes food and beverage concepts, a fitness center and an outdoor recreation area with a pool and fire pits.
Margaritaville, a brand inspired by songwriter Jimmy Buffett, says it has 17 locations and 24 more projects in development, three gaming properties and more than 60 food and beverage venues.
A March 15 news release said the company worked with the Florida Fish and Wildlife Conservation Commission to create lit beachfront pedestrian areas to conserve sea turtle populations.
"We look forward to bringing Margaritaville's 'no worries' lifestyle to those visiting Jacksonville Beach, while providing a new spot for locals to kick back and relax," said Rick Cunningham, Margaritaville senior vice president of development.
MSB Hotels IV LLC is led by Manoj Bhoola of Ormond Beach. The name was registered with the state in October 2017 for the purpose to buy, own, operate and manage the property address.
Bhoola is president and chief operating officer of Elite Hospitality Inc.
The Florida Department of Environmental Protection issued a permit for construction of a stormwater management system for the 1.3-acre beachfront hotel at a site of a previous demolition.
MSB Hotels I LLC owns the Courtyard by Marriott at 605 Florida A1A Beach Boulevard in St. Augustine Beach.
MSB Hotels also owns other St. Augustine property.