Not that anybody is sympathizing with them, but several CEOs of Jacksonville area public companies took a pay cut last year.
A look at proxy statements and annual reports filed by companies headquartered in the Jacksonville area show six of the 14 CEOs who have been in place for more than a year made less in 2018 than they did in 2017.
That doesn't mean their pay packages were low.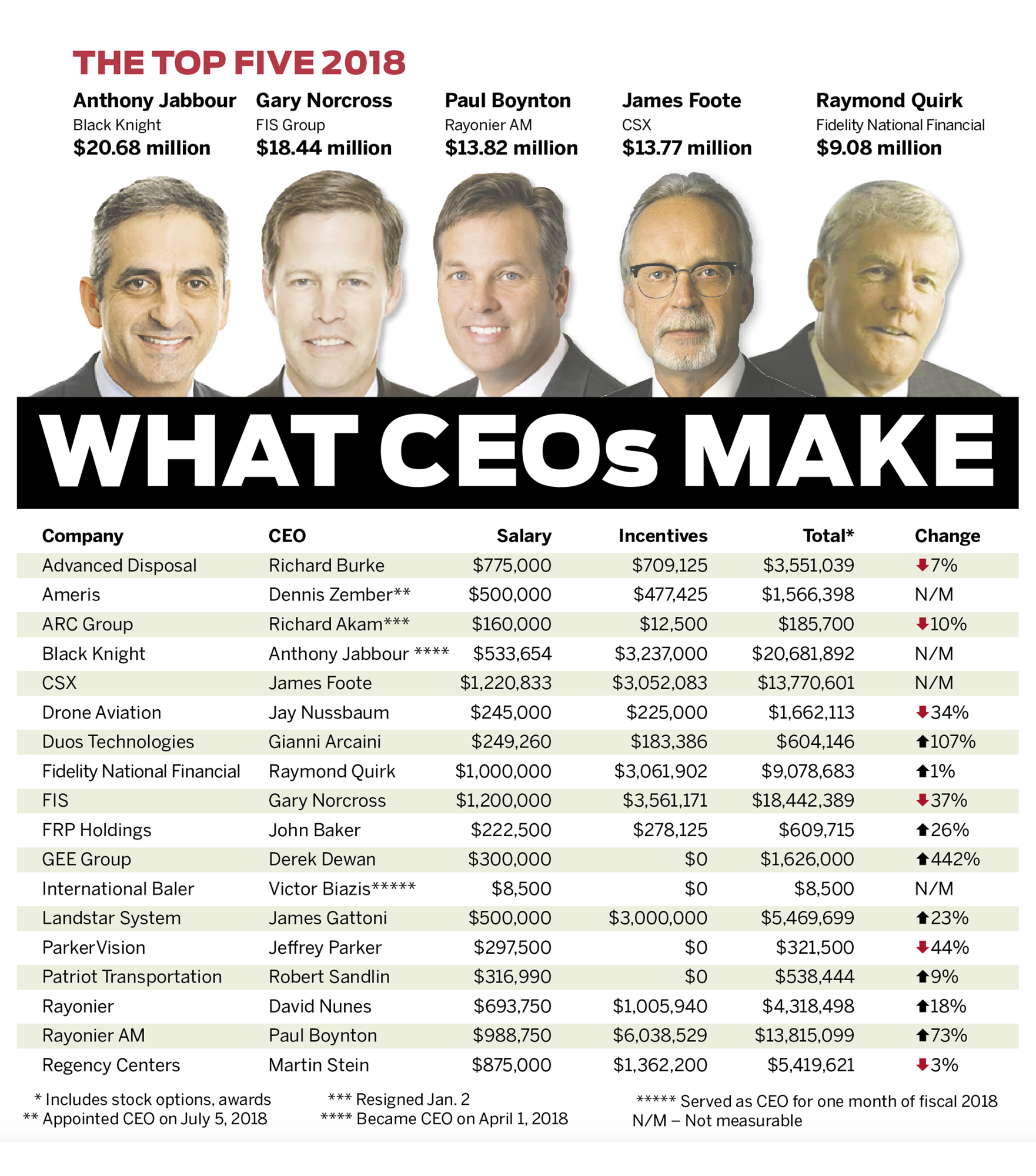 Gary Norcross of Fidelity National Information Services Inc., or FIS, made 37% less in 2018. But that still left him with a total compensation package of $18.4 million.
His pay package was much higher in 2017 because of bonuses awarded to FIS executives tied to the successful integration of SunGard Data Services Inc., a company acquired by FIS in 2015.
Norcross had the second-highest 2018 pay package among Jacksonville CEOs behind the chief executive of Black Knight Inc. that, like FIS, was spun off from Fidelity National Financial Inc.
Black Knight CEO Anthony Jabbour received a total compensation package of $20.7 million. 
Jabbour's package included an estimated $16.9 million in stock awards granted when he joined the company in April 2018.
The table of CEO pay shows the total value of each chief executive's compensation packages for fiscal 2018, which includes the estimated value of stock awards and stock options granted.
The value of stock compensation can change based on the market price of the company's stock, so public companies use complex formulas to come up with an estimated value that is reported on their annual proxy statements.
The chart also shows the base salary each CEO was paid last year and the total of cash incentive payments, which generally are tied to meeting performance targets.
The only Jacksonville-based public company not listed is Stein Mart Inc., which hasn't filed its proxy statement because its fiscal year ended Feb. 2, a month later than most companies.