Colliers International said in its first-quarter Northeast Florida industrial research and forecast report that about 1 million square feet of additional industrial space came online in the period and half of it was leased, which increased the vacancy rate to 3%, still lower than the national average of 4.9%.
Colliers said the increasing vacancy rate is not a concern.
 "The market's overall vacancy level has been abnormally low for 12-18 months," it said.
Landowner John J. "Jack" Allen of Allen Land Group Inc. recognizes that.
"We're riding a positive wave," he said.
Allen is strategizing development of his Westside property at Imeson and Pritchard roads.
Allen said the Westside is experiencing a tight supply of industrial and warehouse space, due in large part to the large fulfillment centers developed for Amazon.com and other users.
"We are buying more things with a click and the retailers have to be able to synchronize the delivery of their goods in regional and local locations, hence the need for these larger warehouses to accommodate their equipment and inventory," he said.
That, in turn, creates the need for industries that serve the warehouses.
"There's a plethora of trucking companies and trailer companies that are chasing and following the ever-growing fulfillment centers," Allen said.
Fulfillment centers are the "hosts," he said. As more large warehouses are developed in the marketplace, the smaller providers are following them into Jacksonville.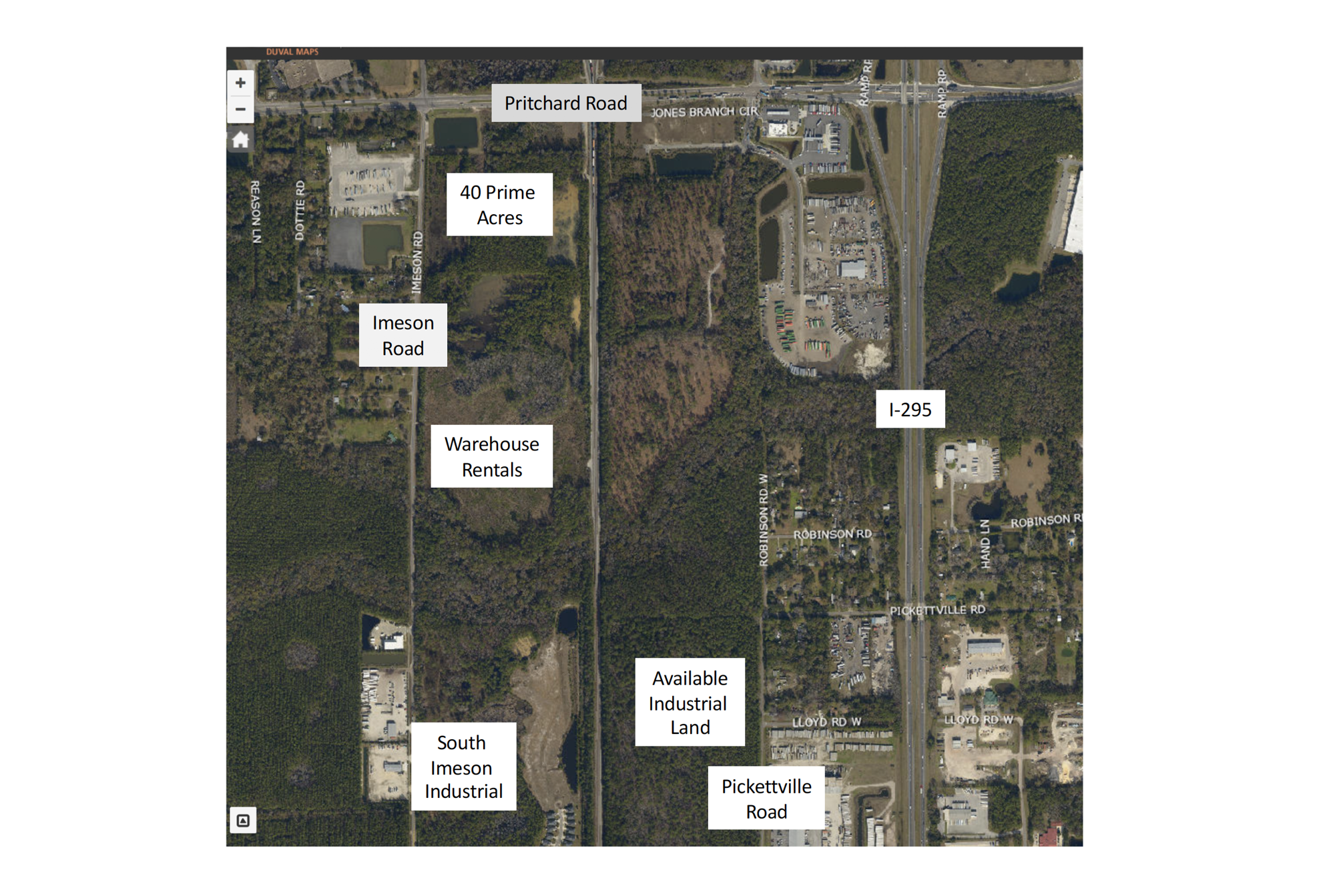 Allen said there's a need for 5- to 10-acre sites for the 2,500- to 10,000-square-foot buildings to serve those providers.
He is selling the majority of his property to developers while he and a partner plan to develop a small portion of it for smaller 2,500- to 5,000-square-foot users along Imeson Road and along Pickettville Road.
His 28-acre South Imeson Industrial Park along Imeson Road has just completed city permitting. The city also issued a concurrency reservation certificate for 63,000 square feet that will be constructed on the site.
The four lots range from 3.23 to 13.9 acres and can accommodate two 5,000-square-foot buildings, a 12,000-square-foot structure and one of 40,000 square feet, plans show. 
Allen said three of those projects will start soon. One site will be sold to a developer for an international industrial services company and two sites are for a moving and storage company and a national trucking company. 
On another tract owned by Allen's Imeson Holdings LLC, Warehouse Rentals has applied to the city to build two 189,063-square-foot warehouses at a construction cost of $5.75 million each, totaling $11.5 million.
No contractor is listed. Arrow Engineering & Construction Services LLC of Valdosta, Georgia, is the project agent and civil engineer.
In August, Brian Cooper, director of real estate for Valdosta-based Warehouse Rentals, said the company had a contract to buy the land, which is at southeast Imeson and Pritchard roads near Westside Industrial Park.
He said Warehouse Rentals would buy the land by early 2019 and break ground after the sale.
Cooper said the company plans to build speculative warehouse space for lease to tenants needing from 20,000 to more than 100,000 square feet of space.
The city issued a mobility fee calculation certificate for the project, which will be built on 50.1 acres.
The 50 acres are in the middle of a 134.63-acre property owned by Imeson Holdings.
He said the four projects including the Warehouse Rental speculative buildings will add 432,000 square feet of new industrial space in West Jacksonville.
He's not stopping there.
He is positioning about 60 acres of industrial land along Pickettville Road to accommodate small service companies and transportation-related operators.
And he calls the 40-acre site at southeast Pritchard and Imeson roads "the most prominent industrial location now available on the Westside of Jacksonville." He said that site can accommodate up to a 400,000-square-foot user.