As new housing communities sprout in St. Johns County, it looks like the county is having no problem attracting new residents to move in.
The latest population estimates from the U.S. Census Bureau released last month found St. Johns was one of America's fastest-growing counties in 2018, with most of the growth coming from people relocating from other U.S. cities.
St. Johns County's population grew by 4.2% from July 1, 2017, to July 1, 2018,  to 254,261, the ninth-fastest county growth rate in the country.
The county has consistently been a high growth area in the past decade, with the population growing by 33.8% since the last official census in 2010. That ranks 12th in the country for the eight-year period.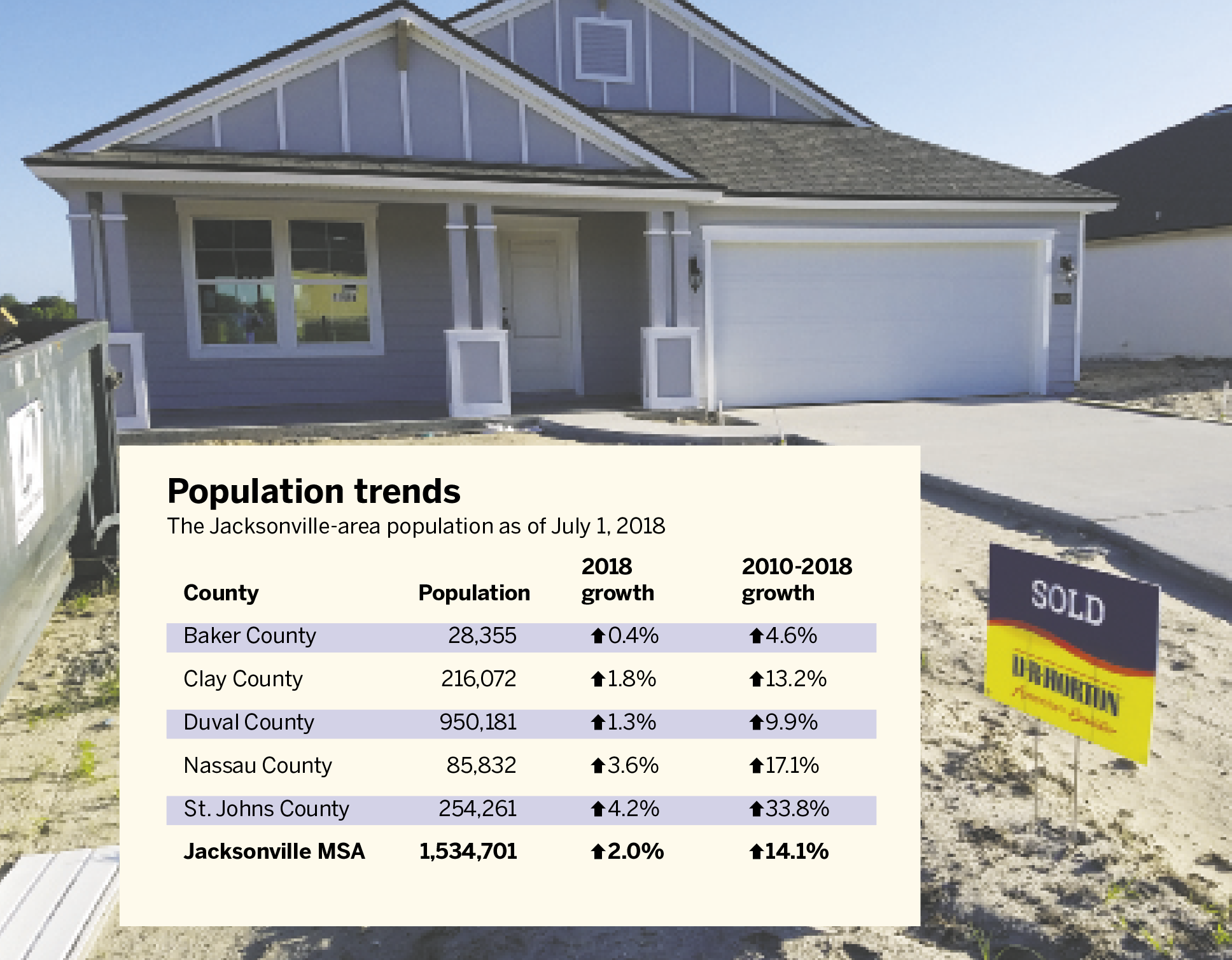 The growth is coming almost entirely from new residents. St. Johns' population growth of 10,333 last year included 9,834 people moving from other parts of the U.S.
St. Johns' natural population increase (births minus deaths) was only 105.
Duval County is growing at a slower rate than its neighbor to the south at 1.3%, and the growth is coming from more diverse sources.
Duval's natural population grew by 4,367 last year, while relocations from other U.S. cities was only 3,999.
Duval County is also drawing a big immigrant population, with the number of international relocations at 4,159. St. Johns County only drew 355 new residents from outside of U.S. states.
Although Puerto Rico is a U.S. territory, the Census Bureau's count of international migration includes residents relocating from Puerto Rico to U.S. states.
After Hurricane Maria devastated the island in 2017, all 78 municipalities in Puerto Rico lost population last year. While the Census data does not specify how many of those people relocated to Florida, it is likely that a large number of Puerto Ricans are now living in the state.
Florida gained 175,670 new residents from international locations (including Puerto Rico) last year, compared with 132,602 from other U.S. states.
The Jacksonville metropolitan area's total population grew by 2% last year to 1.53 million, and the area grew by 14.1% from 2010 to 2018.
The Jacksonville metro area (Duval, Baker, Clay, Nassau and St. Johns counties) ranked 40th in population among all U.S. metropolitan areas, and its growth rate ranked 29th last year.
Besides St. Johns, the only other county in the metro area which ranked among the top growing U.S. counties was Nassau.
Nassau County grew by 3.6% to 85,832 last year, ranking 25th in the country. Its growth rate of 17.1% since 2010 ranked it 94th.
The natural population of Nassau declined by 114 last year, the only county in the metro area to have more deaths than births.
Nassau County's growth, like St. Johns, was fueled by relocations from other U.S. cities with only a minimal number of new international residents. 
Domestic relocations of 3,033 were actually higher than Nassau County's total net population increase of 2,968.