In a ceremony Wednesday at the Bryan Simpson U.S. Courthouse, attorneys and judges of the U.S. District Court Middle District of Florida presented $5,500 to four high school students and their teachers for their writing being selected best in the court's 2019 High School Essay Contest.
Prize money is from the lawyers and judges in the federal court, through the Bench and Bar Fund.
Mark Mori, a student at Episcopal High School of Jacksonville, was awarded first place and received a check for $2,000.
In second place, Inez Anais Nieves Suarez, a student at Fleming Island High School, was presented $1,000.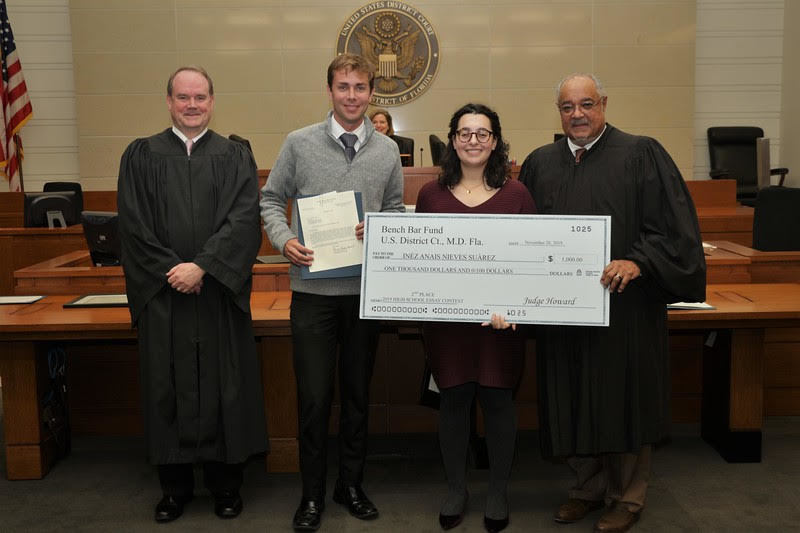 Two students tied for third place and received $500 each: Ella George of Episcopal High School of Jacksonville, and Marissa Ann Cochran Norton, a student at Paxon School for Advanced Studies.
In addition, the winners' teachers, Emily Farmer from Episcopal, Jason Poole from Fleming Island and Paxon teacher Mary Webster each were awarded $500 for their classrooms.
This year's essay prompt was to identify a current or historical event that exemplifies the concepts of separation of powers and checks and balances and how those concepts reflect on the three branches of government.
The second annual contest attracted 112 entries from 22 high schools and one home school in five of the 12 counties in the Middle District's Jacksonville Division: Baker, Clay, Duval, Nassau and St. Johns counties.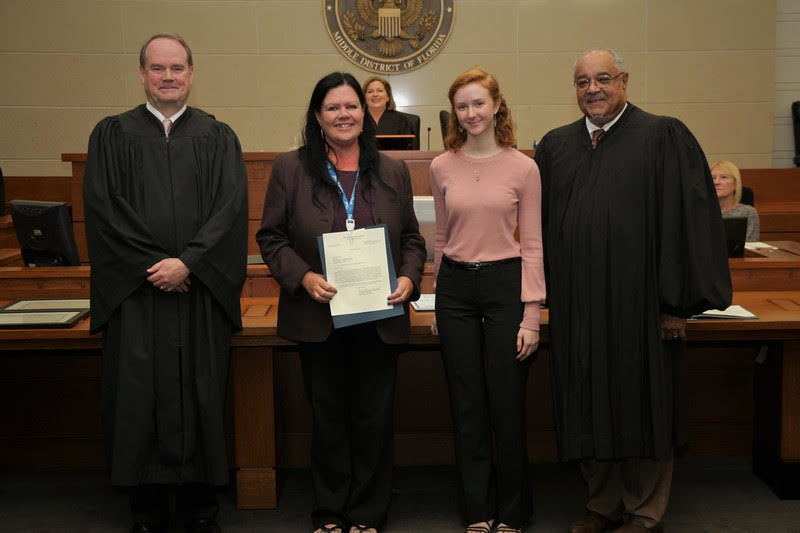 The essays were preliminarily judged by Jacksonville lawyers who presented the top 10 essays to the judges of the Jacksonville Division for selection of the winners.
The annual essay contest is part of the federal court's educational outreach initiative.
"Understanding the role of the court in our system of government is critical to maintaining the trust and confidence of the public," said U.S. District Judge Marcia Morales Howard in a news release.
The students also will be recognized Dec. 12 at the Jacksonville Chapter of the Federal Bar Associaton's annual Spirit of Giving holiday lunch at The River Club Downtown.