New owners are rebranding the 59-year-old Metro Square office park as San Marco East Plaza and investing $10 million into upgrades.
"By renaming the commercial anchor of the southern-most point of San Marco East, we are putting a stake in the ground," said Jud Pankey, founder and CEO of Dallas-based Prescott Group.
San Marco East is the mile-long corridor of Philips Highway from San Marco to Emerson Street that property owners want to revitalize. They formed the San Marco East Business Association.
San Marco East Plaza is at northeast Philips Highway and Emerson Street, off Interstate 95.
Prescott Group acquired the 38-acre property at 3563 Philips Highway early this year. It comprises 470,000 square feet of office and retail space among eight buildings.
It retained Meek Development Group Inc. as the property manager.
San Marco East Plaza is 86% leased to tenants that include Baptist Health, Wells Fargo, First American Title, The Edge Rock Gym, Excel Church and the Jacksonville Ice & Sportsplex.
By early 2020, the office park will be up to 94% leased with the addition of RF-Smart. The Jacksonville-based global software company signed a lease for 42,000 square feet to relocate its headquarters from the Southbank.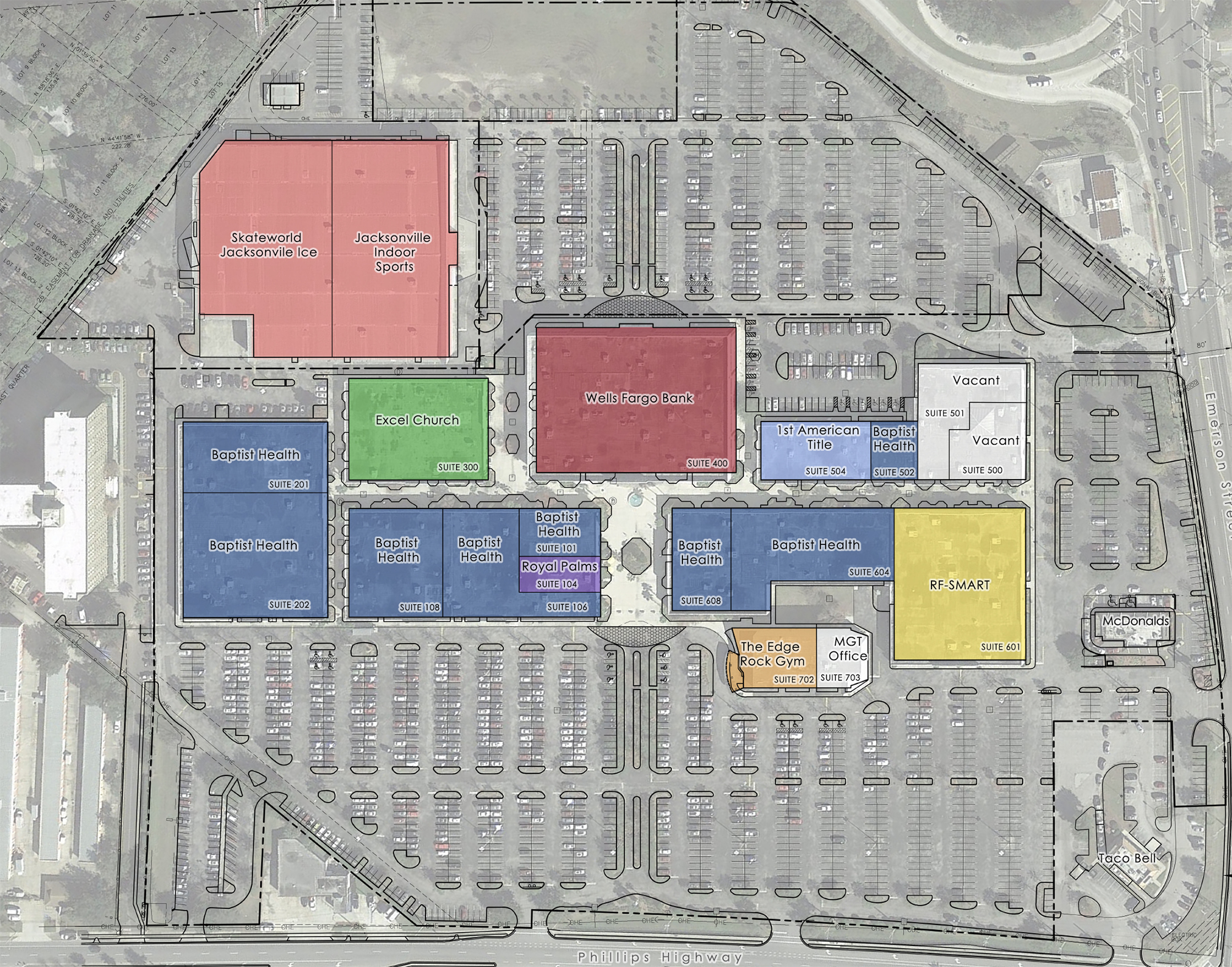 The city is reviewing a permit for a $1.1 million renovation of the space in Building F for RF-Smart.
That will leave about 24,000 square feet available for lease in San Marco East Plaza.
Prescott is a real estate investment, debt resolution and asset management firm that specializes in commercial development and redevelopment.
Prescott bought Metro Square this year in a foreclosure sale, bidding $5,800 and assuming the $57.9 million debt on the property. The certificate of title was transferred March 11.
"We understand urban infill, so Metro Square met all of the criteria and the transaction process led us to where we are today, owning it fee simple and looking at how to redevelop it," Pankey said.
Commonwealth Annuity and Life Insurance Co. issued a $27 million mortgage to Prescott on March 28.
Prescott has invested $4 million in renovations, with $2 million of that for roof replacements. 
"We're working on capital improvements that the lender was not able to do, rebranding it, repositioning it, working with all of the existing tenants making sure they are getting what they need out of it," Pankey said.
Prescott is upgrading security, retrofitting LED lighting, installing new fixtures and replacing landscaping and trees.
Over the next year it intends to upgrade the office park's central plaza area and the outdoor and common areas, add green space, designate areas for wellness and bring in food trucks, a farmer's market and more.
"We will create some tenant spaces where, when the weather is nice, you can congregate," Pankey said.
Prescott will put Wi-Fi throughout the area, and add outdoor furniture, umbrellas and shading, he said.
Opened in 1960 as the Philips Highway Plaza, the site has transitioned as a shopping center to Market Square Mall and then to office uses as 95 Central Business Center and Metro Square office park.
Pankey and Frank Cofer, managing director of asset management, said the property is an opportunity. 
"Prescott Group worked on underwriting Jacksonville and the Metro Square opportunity for two years," Pankey said.
NAI Hallmark is the leasing company. 
They said they didn't have an estimate of the workforce at the business park. A marketing flyer for a nearby property says Metro Square's tenants have 1,500 employees.
Pankey said Prescott joined the San Marco East Business Association. It includes Chance Partners, which is developing the apartments, along with Holmes Custom, Hugo's Interiors, The Meek Companies and others.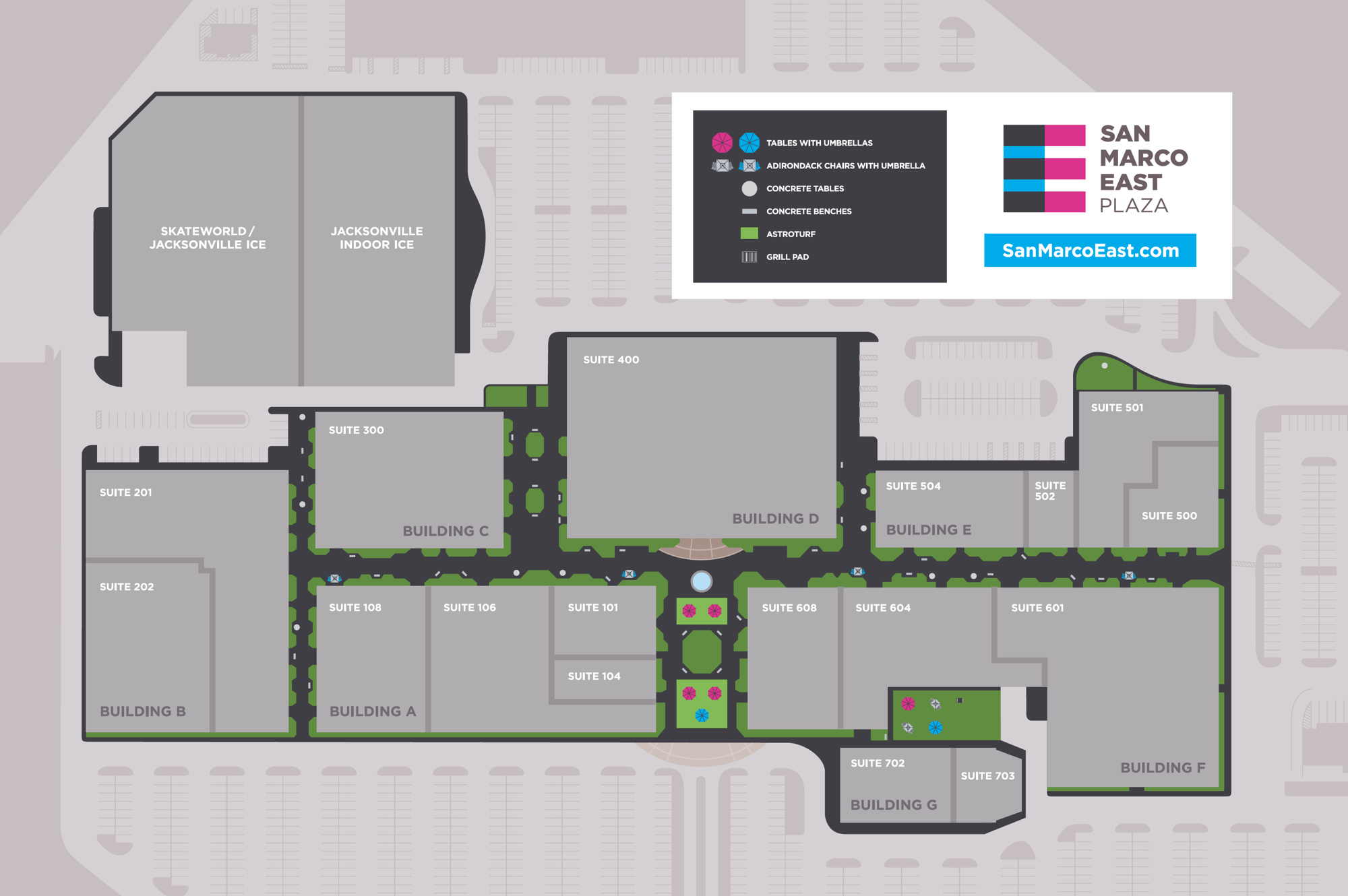 "They want to make it better," Pankey said. "We appreciate what people are doing trying to upgrade those land uses."
Pankey and Cofer also note that other corners at Philips and Emerson are being redeveloped.
The southeast corner was redeveloped with a Gate gas station and convenience store, Gate Express Carwash, Dunkin' Donuts, Wendy's and Dollar Tree.
On the northwest corner, Aldi proposes to develop the site of a closed Wells Fargo bank branch with a discount grocery store.
Prescott continues to look for properties to buy in the area, Pankey said. 
"We want to stay in this urban infill area," he said. "We are looking at other things in the neighborhood."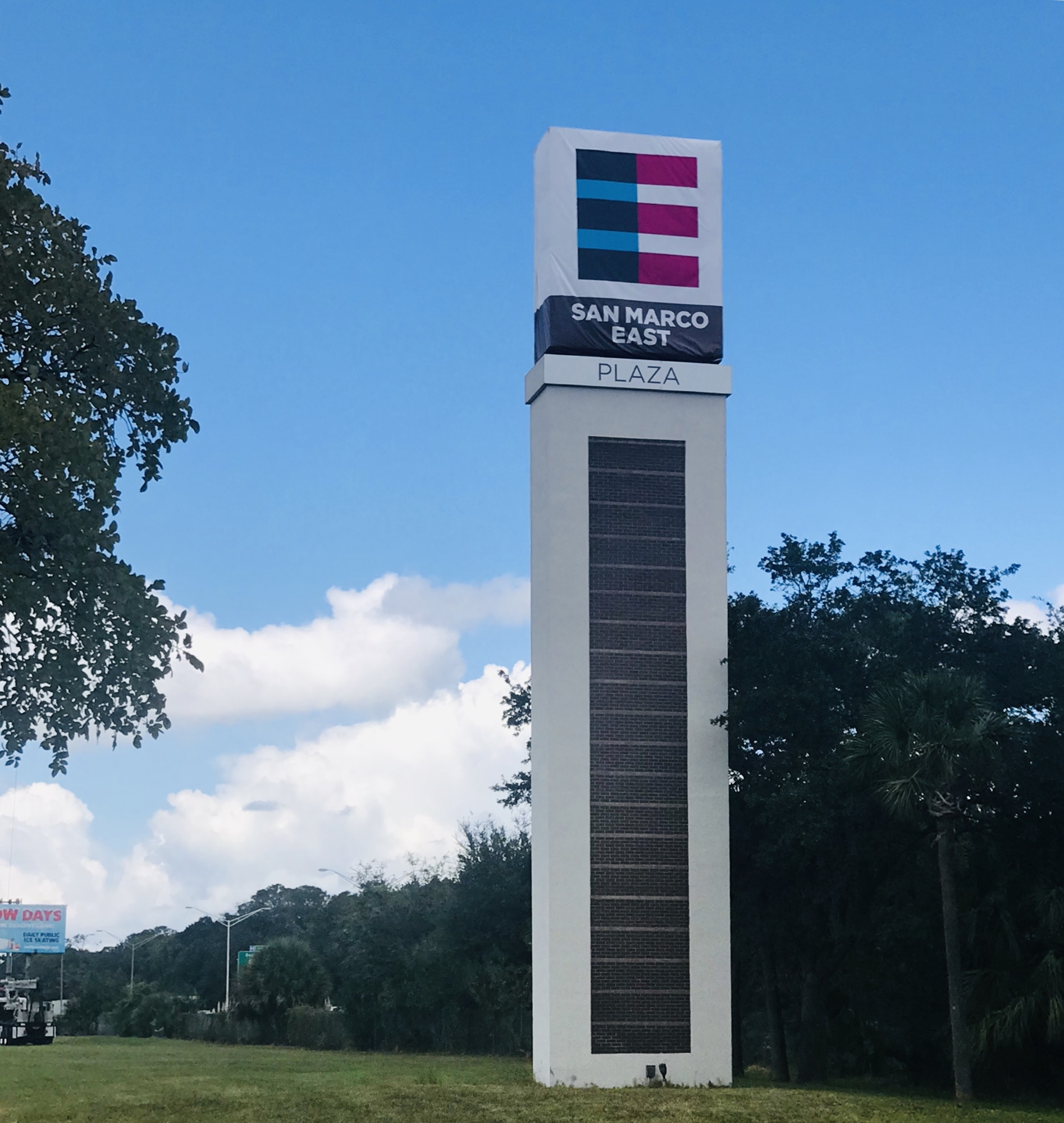 Pankey said the property also will be affected by proposed improvements of the I-95 and Emerson Street interchange, but does not know the timing.
Cofer said the existing ramp will be expanded and take some property at its border.
The Florida Department of Transportation said that the I-95 express lanes planned from Atlantic to Butler boulevards will impact property along the I-95 southbound exit ramp at Emerson Street. 
The Jacksonville Ice and Sportsplex is adjacent to I-95 at 3605 Phillips Highway. The required right-of-way will impact a grass buffer between the building and I-95. 
Pankey said Prescott likes the dynamics of Jacksonville. He said it was a health care and financial services center with a port, the Beaches and an NFL team whose owner wants to redevelop parts of Downtown.