The Clay County Chamber brought 121 Financial Credit Union and Challenge Enterprises together to custom-make face masks for health care workers in Clay County. 
The masks are made of recycled polypropylene fabric, equivalent to a level-3 clinical grade face mask. The material is used to wrap surgical equipment after it is cleaned and stored for its next use.
Orange Park Medical Center's parent company, HCA Healthcare, donated nearly 1,000 sterilization wraps that will be turned into face masks. 
Challenge Enterprises employs nearly 250 people with disabilities in Clay County. It has been manufacturing products ranging from trauma packs for bulletproof vests to landscaping bags since 1998. The company retooled its industrial sewing operation to make the masks.
The Clay County Chamber brought the businesses together to help pay for the project and 121 Financial Credit Union is covering the labor cost to make 500 masks.
Kessler Creative giving away yard signs
Starting April 16, Kessler Creative will give away up to 1,000 yard signs for people to put up thanking "our essential heroes." People can safely pick up the "Thank You to our Essential Heroes" signs from 10 a.m.-2 p.m. Thursdays at 12276 San Jose Blvd, Suite 111. "We knew we wanted to do something.
Our first responders, our nurses, doctors, our grocery front line workers, and countless other essential people are putting their health at risk every day for their community," said Keith Kessler, president of Kessler Creative, in a news release.
Amelia Toffee Company making reusable wipes
Amelia Toffee Company owner Anita Comisky developed Amelia Toffee Company's Alcohol Reusable Wipes, a combination of disinfecting alcohol and distilled vinegar, with lemon oil.
 Users can wash the wipes with hot, soapy water and replace them in the container with the all-natural sanitizing liquid.
"We figured out a way to take what we had in the kitchen and repurpose it into something useful in helping keep our homes cleaner," Comisky said.
The product does not claim to kill the coronavirus but can be used to fight household germs.
The reusable wipe kits are available at Amelia Island Soapery in Fernandina Beach, Amelia Toffee Company's store on Amelia Island and ameliatoffee.com.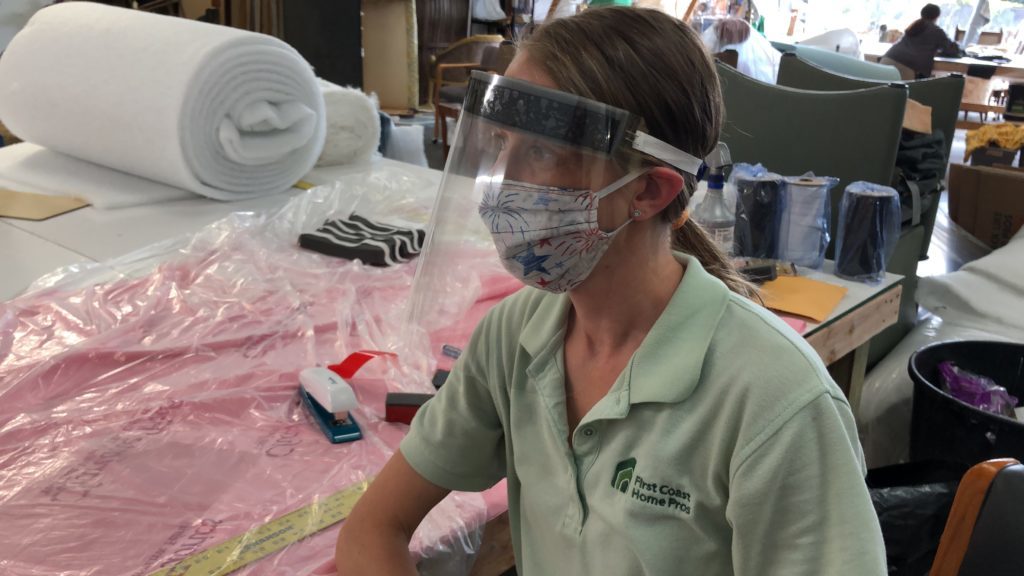 First Coast Home Pros making face shields for UF Health
First Coast Home Pros, a Jacksonville-based home services company, is making face shields to help health care workers.
It is donating the masks to UF Health Jacksonville. Josh Kennedy, president of First Coast Home Pros, said the company started making cotton masks for its customers, employees and others in need earlier in the COVID-19 pandemic and shifted to face shields when it heard health care workers were low on supply.
The company started in 2008 as a window cleaning company and added housekeeping, carpet cleaning, pressure washing, handyman services, painting and other home care services.