Florida Gov. Ron DeSantis announced limited reopening next week of retail stores and restaurants and resuming elective surgeries in phase one of his strategy to reopen the state's economy amid the coronavirus pandemic.
DeSantis said in an April 29 news conference his executive order lifting some restrictions will be effective May 4, but will exclude Broward, Miami-Dade and Palm Beach counties — the area of Florida hardest hit by COVID-19.
DeSantis said the framework of essential businesses will remain in place, but lifting restrictions on some businesses and medical facilities include: 
• Resuming inpatient and outpatient elective surgeries.
• Restaurants opening outdoor seating with 6 feet of space between tables
• Restaurants resuming indoor seating limited to 25% capacity
• Retail stores reopening at 25% indoor capacity
DeSantis said he reduced the 50% restaurant capacity recommended by his Re-Open Florida Task Force. The group of statewide business and government leaders held conference calls last week to provide DeSantis industry-level input.
Restrictions that remain in phase one include: 
• Bars, gyms and personal service businesses like hair salons and barbers will stay closed.
• Movie theaters will remain closed.
• Florida schools will continue distance learning.
• Visits to senior living facilities are prohibited. 
DeSantis said his order will recommend continued social distancing in public for phase one to protect vulnerable populations. 
He said Floridians should continue to avoid groups of more than 10 people in circumstances that do not allow for social distancing, and face masks are recommended for face-to-face interactions.
In Jacksonville, Mayor Lenny Curry said April 29 he will provide updates beginning April 30 to local COVID-19 policies. 
"Each step forward will require an evaluation to ensure we are continuing to mitigate the impact of the disease. But if we each continue to do our part, each step will lead to the next and the next after that," Curry said in a written statement following DeSantis's announcement.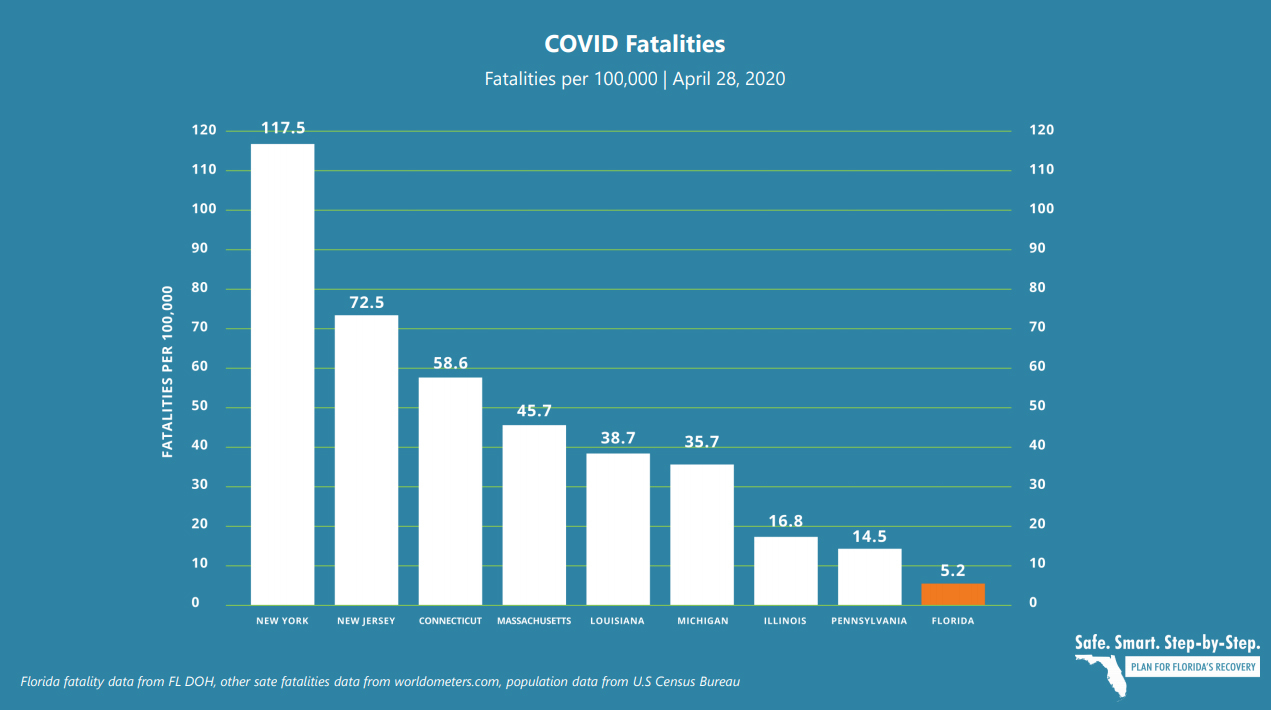 "Starting this evening, my administration will review the statewide guidance to ensure our local orders remain in sync with this plan," Curry said.
Curry extended beach exercise hours April 28 and repealed an executive order limiting who could stay in Duval County hotels. 
The mayor said during a news conference he was waiting to see DeSantis's guidance before issuing any additional local changes to COVID-19 business restrictions.
DeSantis urged city and local governments not to supersede his executive order by continuing economic restrictions. He said that with physicians at Cleveland Clinic, Orlando Health and Tampa General stating Florida coronavirus infections have peaked, he believes it would be counter to "personal freedoms" and the economic interests of city's to remain under lockdown.
DeSantis said his plan will use the White House Opening Up American Again plan as a blueprint for Florida. The governor teased his announcement in a White House meeting April 28 with President Donald Trump. 
The Florida Department of Health reported 47 new deaths April 29 related to COVID-19 and confirmed 33,193 cases in the state. 
While statewide confirmed cases continue to rise, DeSantis points to declining rates of positive COVID-19 tests in most Florida counties as a benchmark for reopening. 
DeSantis also showed a graph to reporters that compared Florida's 152.9 cases per 100,000 people to states like New York and New Jersey that have 1,517 and 1,283 cases per 100,000, respectively, as of April 28. 
Duval County has 6.4 people per 100,000 hospitalized related to coronavirus, according to state data.
Florida's hot spots like Miami-Dade and Broward counties have higher levels of cases. According to the Johns Hopkins University School of Medicine COVID-19 tracker, Miami-Dade County has 11,831 confirmed cases and Broward County has 4,847 cases.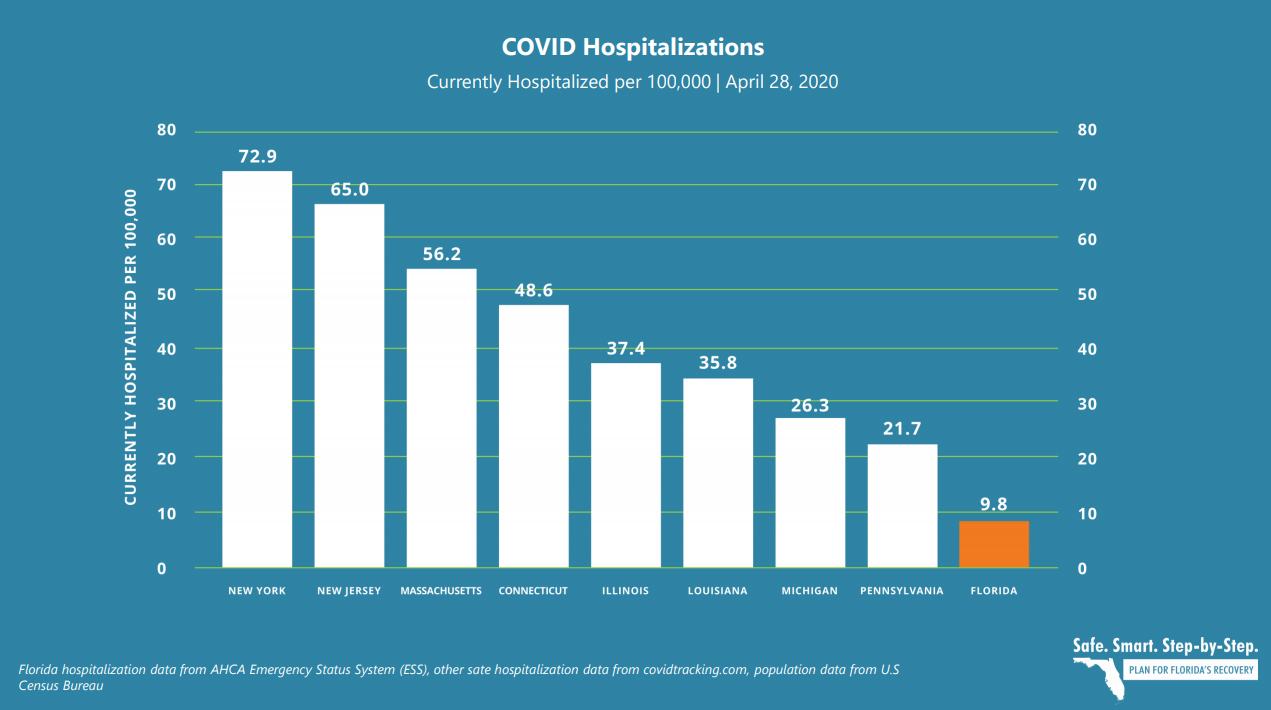 "We're going to treat Southeast Florida differently. I think they can get to phase one because I do think their (COVID-19 rates) are declining. But if you look at other major areas — Orlando, Jacksonville, Tampa — and look at those numbers compared to some of the other states throughout the country, they've done a really good job of having few hospitalizations per 100,000 (people) and having low fatality rates per 100,000."
DeSantis said Florida also is hitting the White House's hospital capacity benchmark to reopen. Florida had 37.55% of its total hospital beds available as of April 28, according to the Florida Department of Health. 
Federal guidelines state states and region must be able to treat all patients in traditional hospitals without the need for temporary critical care facilities. 
Locally, Duval County had 44.39% bed capacity in its hospitals. Miami-Dade County had 32.91% of its hospital beds open. 
DeSantis said that was evidence Florida hospitals can treat both COVID-19 and traditional patients while resuming elective surgeries.
COVID-19 testing also will increase in phase one, DeSantis said. The state will ramp up virus contact tracing and open more mobile testing labs. 
DeSantis said the Florida Department of Health will open more drive-thru testing sites in Broward, Lee, Escambia, Sarasota/Manatee and Miami-Dade counties, and continue to support existing sites including a location at TIAA Bank Field in Downtown Jacksonville.
During his April 29 news conference, he said that the White House task force and Dr. Deborah Birx, who advises the federal group, told him Florida is prepared for a phase one reopening based on the data.
"Phase One is a baby step," DeSantis said April 28 during a news conference at Tampa General Hospital, according to Daily Record news partners WJXT TV-4. "We are deliberately going to be very methodical, slow and data-driven on this because I think people want to have confidence things are going in a good direction."