Even with restrictions created by the COVID-19 shutdown, the work done at the Duval County Clerk of Courts Office has been deemed essential by the government.
In response, the office has taken steps to ensure its full range of services remains available to the public.
While many clerk personnel are not in the courthouse each day, every department, with the exception of passport service at the advice of the U.S. State Department, remains open and continues to perform its functions.
"Having to invent new processes on the fly is never easy, but each member of the clerk's office has stepped up to serve and roll with the punches," Clerk of Courts Ronnie Fussell said in an email.
The office implemented an online virtual marriage application system that allows couples to set appointments to apply for their marriage licenses via videoconferencing.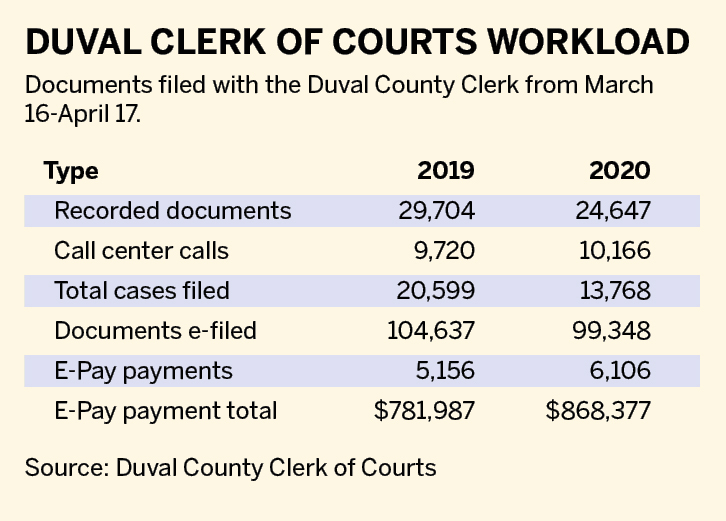 There's an online system that allows electronic payment for marriage licenses, as well as requests for copies of official records such as deeds and liens.
Criminal and traffic call-center services currently are performed off-site with a 5% increase in call volume.
All civil and criminal court proceedings, most of which are being conducted with videoconferencing for the first time in Duval County's history, are staffed by clerk's office personnel.
The office is working with customers to set up payment plans for criminal and traffic fines and fees to assist people with financial hardship brought on by unemployment or loss of income caused by the shutdown.
The clerk's office is accepting in-person applications at the courthouse for domestic violence injunctions and mental health petitions.
The office also is:
• Remaining current on processing documents for recording.
• Providing a drop box system in the courthouse lobby, which is checked several times each day, for customers that need to file a paper document or make a payment in person.
The public may monitor duvalclerk.com/status where updates to the clerk's operations are posted.
Legal assistant opening in federal court system
The Public Defender's Office in the U.S. District Court Middle District of Florida Jacksonville Division is seeking a full-time legal assistant to provide secretarial and clerical support services to the office's attorneys.
Duties include transcription, editing and proofreading of draft correspondence, motions and briefs using knowledge of legal terminology; maintaining client files, case history and case management; maintaining court, office main calendar and attorney calendars; scheduling meetings between attorneys and clients; and receiving and routing incoming and outgoing mail.
The legal assistant's responsibilities include receptionist duties, communicating with clients, electronic document filing, library/file room maintenance, photocopying, scanning and other related duties.
To qualify, applicants must be a high school graduate or equivalent with a minimum of two years of general secretarial experience and one year of specialized legal secretarial experience (criminal preferred). Education above high school level may be substituted for some experience.
Candidates should possess proficiency in word processing, the ability to type accurately at a minimum rate of 60 words per minute, knowledge of legal terminology, excellent communication skills and a professional demeanor.
Final candidates will take a typing and written skills test.
Bilingual Spanish is preferred but not required.
The annual salary range is $37,843 to $60,543.
Interviews for the position will begin on or after May 14. More than one position may be filled from the posting.
Applicants may send a cover letter, resume and names of three professional references in PDF format via email to  [email protected]