In the Duval County Judge Group 6 election, attorney Rhonda Peoples-Waters defeated incumbent County Judge Erin Perry with 58.1% of vote to Perry's 41.9%.
Peoples-Waters, 46, graduated from the University of Florida Levin College of Law. She was admitted to The Florida Bar in 1999, and then began her career as an assistant public defender.
President and owner of Rhonda Peoples-Waters P.A. since 2008, she practices criminal defense law, including armed robbery, domestic battery, DUI, manslaughter and first-degree murder.
Her personal injury law experience includes motor vehicle accidents and slip-and-fall cases.
Peoples-Waters was an applicant for seats on the Duval County and 4th Judicial Circuit courts 11 times and in 2012 unsuccessfully sought election for an open seat on the county bench.
Perry was appointed to the bench in January 2019 by Gov. Ron DeSantis. She and Peoples-Waters were two of six nominees selected for a vacancy on the county court that were presented to DeSantis in December 2018 by the 4th Circuit Judicial Nominating Commission.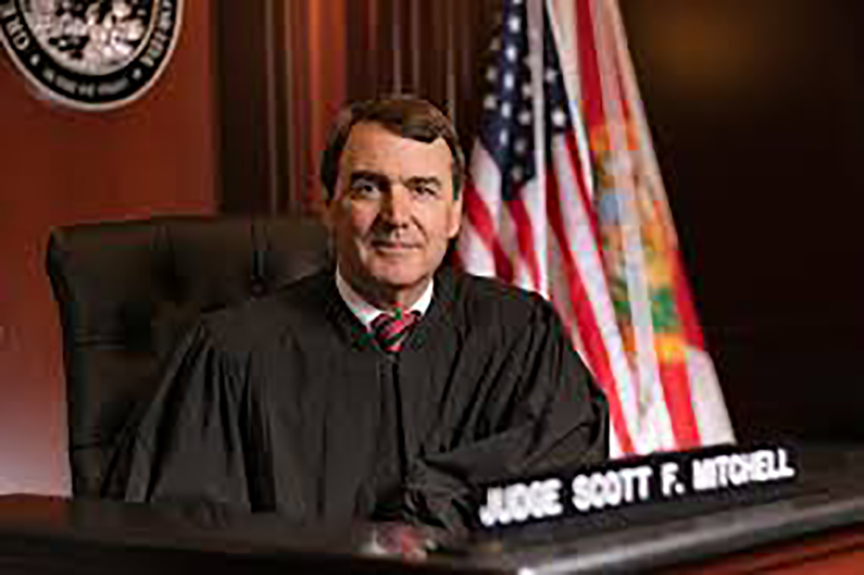 In her application for that vacancy, Peoples-Waters indicated she has taken more than 50 jury trials to a verdict.
In the other judicial contest on the ballot, incumbent Duval County Judge Scott Mitchell, with 58.6% of the vote, defeated attorney Isaac East to retain the Group 1 seat.
Federal court sponsors student essay contest
While the Bryan Simpson U.S. Courthouse is limiting in-person proceedings and events, the court's community outreach continues with the third annual High School Essay Contest.
It's open to students in grades 10-12 living in Baker, Bradford, Clay, Columbia, Duval, Flagler, Hamilton, Nassau, Putnam, St. Johns, Suwannee and Union Counties.
Students attending public, private, parochial and charter schools and home-schooled students of equivalent grade status may submit essays that respond to the prompt:
Voting is the most basic right of a citizen and vital to a functioning democracy. Women, however, were not always extended this fundamental right. The 19th Amendment, ratified 100 years ago, granted women the right to vote (suffrage). Identify and evaluate some of the methods proponents of the 19th Amendment (suffragists) used to influence and change opinions about voting rights for women. Referencing a specific example, what method do you think was most effective and why?
Student essays must be submitted by noon Sept. 25.
The essays will be judged by Jacksonville lawyers who will submit the top 10 to the judges of the Jacksonville Division for selection of the first-, second- and third-place winners, who will receive $2,000, $1,000 and $500, respectively. 
Cash prizes are made possible by the lawyers and judges through the Middle District Bench Bar Fund.
Winners and their teachers will be recognized Nov. 13 at a ceremony in the Bryan Simpson U.S. Courthouse. The top three winners also will be recognized  Dec. 11 at the Federal Bar Association meeting.
Visit flmd.uscourts.gov for more information and entry documents.
Assistant U.S. attorney sought in Jacksonville
The U.S. District Court Middle District of Florida is seeking to hire an assistant U.S. attorney for the Criminal Division in Jacksonville.
The applicant selected will represent the U.S. government on a range of cases. Responsibilities increase and assignments become more complex as training and experience progress.
Attorney appointments to the Department of Justice are made on a 14-month basis pending favorable adjudication of a background investigation.
The deadline to apply is Sept. 14. Visit usajobs.gov/GetJob/ViewDetails/576385500 for salary information and other details.
Nominations open for annual state pro bono awards
Nominations are open for The Florida Bar annual pro bono service awards, which honor lawyers, judges, law firms and associations that have contributed extraordinary pro bono service.
The nomination deadline for all categories is 5 p.m Oct. 22.
Each year, Florida Bar members report donating millions of hours and dollars to help Floridians who cannot afford a lawyer with civil legal matters.
Every year, in a ceremonial session of the state Supreme Court, more than 24 lawyers and judges are honored by the court and The Florida Bar for the free legal assistance they have provided.
The Florida Bar and the state Supreme Court Chief Justice Charles Canady invite nominations from legal aid groups, civic organizations, fellow lawyers and regular citizens who know of a lawyer, judge, law firm or voluntary Bar that has freely given of time and expertise in making legal services available to the poor.
Visit floridabar.org/public/probono/serviceawards/ for award categories and nomination forms.