Developer JWB Real Estate Capital filed civil engineering plans with the city Dec. 18 for review to redevelop the Federal Reserve Bank and Baptist Convention buildings at Hogan and Church streets.
Those plans include renovating the two historic structures Downtown and installing underground utilities, clearing, grading and hardscape construction.
Connelly & Wicker Inc. is the civil engineer. 
JWB filed plans with Downtown Development Review Board that show a restaurant, 24 studio and one-bedroom apartments and two retail suites in the Baptist Convention property at 218 W. Church St. JWB bought it for $675,000 Aug. 26. The five-story, 26,500-square-foot building was developed in 1924.
The Federal Reserve Bank Building redevelopment at 424 N. Hogan St. includes a restaurant and business and banquet space, along with an exterior courtyard for outdoor dining. JWB paid $1.75 million for the building Aug. 3. Property records show the three-story, 18,000-square-foot structure was built in 1922.
The board granted conceptual design approval Sept. 10.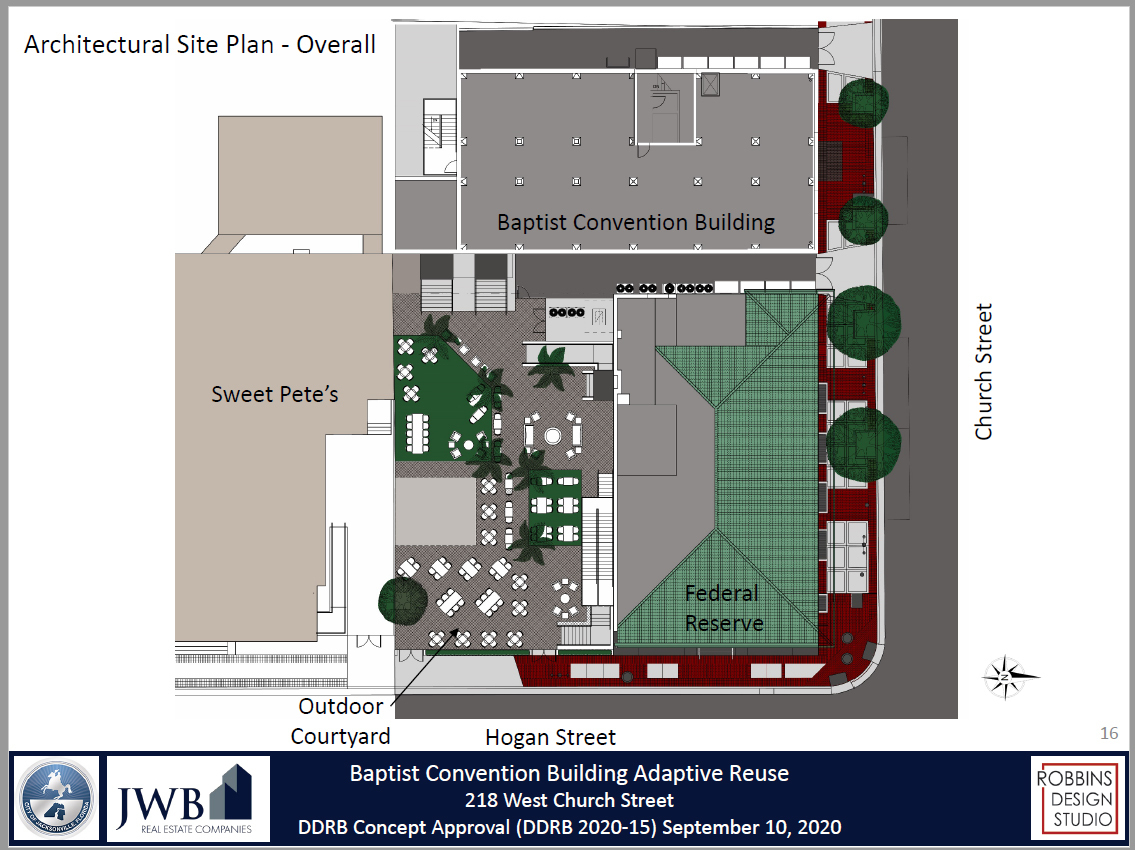 An aerial view shows the courtyard links the buildings and the Seminole Building at 400 N. Hogan St., which JWB  owns. The Sweet Pete's candy store anchors that historic structure.
Brooke Robbins of Robbins Design Studio is the principal architect on the Federal Reserve and Baptist Convention projects.
TLC Engineering Solutions will handle the fire, plumbing and electrical work on both projects. AES Atlantic Engineering is contracted for structural design; and Auld & White Constructors LLC is the project contractor.
Those two buildings and the Seminole Building, which comprise the block, were built from 1909-24.
JWB paid $1.7 million in January for the Seminole Building, built in 1909.
"We believe clustering development is important and we are going to tie the project together," JWB Real Estate Capital Alex Sifakis said previously.
JWB invested $4.125 million in the three buildings.
The Seminole and Federal Reserve Bank buildings are opposite City Hall.
The three buildings also are near the proposed Independent Life Building, Ambassador Hotel and Jones Bros. Furniture projects that include apartments, hotel rooms and retail space. 
And they are not far from the 1.5-acre Porter House Mansion block that JWB bought Aug. 20 through 510 N Julia LLC for $2.605 million. The house was built in 1902 and renovated. JWB plans to lease it for office space and later open a restaurant in the basement.