Gov. Ron DeSantis will authorize $3.6 million in grant money for financial technology workforce training programs in Northeast Florida.
DeSantis announced a partnership Feb. 12 of Florida State College at Jacksonville, St. Johns River State College and area fintech companies during a news conference at the FSCJ Advanced Technology Center.
The money for the Northeast Florida Fintech Initiative will be appropriated from the state's Job Growth Grant Fund. DeSantis said it will fill a shortage of qualified fintech workers in the state.
"Fintech coursework is something that is very dynamic and we need to have the private sector involved with that," DeSantis said.
DeSantis's announcement was a follow-up to his JAX Chamber visit in September where the governor first outlined his intent to create a public-private fintech workforce training partnership.
The fintech academies and labs will create a job-training pipeline to 16 partnering businesses and nonprofits in Northeast Florida and work with area public school districts, the city of Jacksonville and JAXUSA Partnership to deliver the curriculum to K-12 and college students, DeSantis said.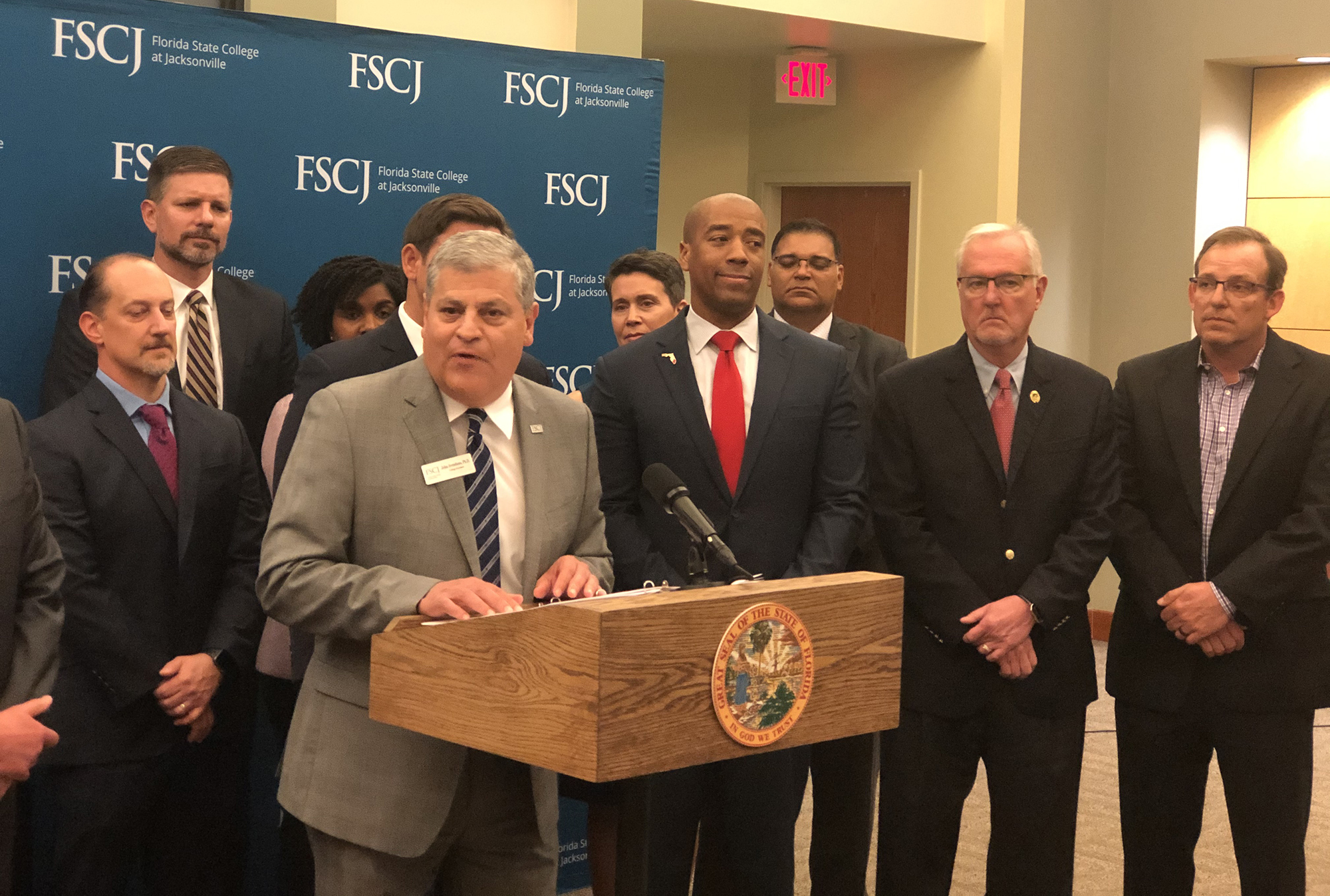 JAXUSA Partnership Aundra Wallace said the decision by Fidelity National Information Services Inc. to build its $145 million world headquarters Downtown accelerated the chamber's effort to coordinate conversation between both colleges and companies for the fintech job training programs.
"We said let's convene the businesses in a room with the educators from the colleges. Let's hear what the companies are talking about their needs from a growth perspective. What are they looking for in talent," Wallace said.
DeSantis was in Jacksonville on Nov. 1 to announce the FIS headquarters location with company President and CEO Gary Norcross.
The program's education component will be coupled with an updated "regulatory sandbox" for the fintech industry, DeSantis said. 
During the news conference, the governor said state regulations governing fintech products were designed more for "brick-and-mortar" banks and financial institutions.
According to a Sept. 16 statement by the governor's office, legislation introduced in the 2020 session would allow the state Office of Financial Regulation to waive certain licensure requirements for fintech companies. 
"What will happen is the more people that get into this sector, the more people have experience that helps businesses. They want to be in an area that's cultivating this talent because that makes it easier for them to know good people are going to be there," DeSantis said. 
In an interview after the announcement, FSCJ President John Avendano said cybersecurity, software and software engineering are areas of expertise that Northeast Florida's fintech workforce is lacking.
Avendano said the funding is a five-year grant and they hope to get the academies going as quickly as possible.
He said over the course of the grant, FSCJ and St. Johns River State College officials will track the increase in the number of graduates in fintech programs as a measure of the academies' success.
"Business and industry will look at the number of (job) openings over a period of one year, two years, five years and say they've been able to close that gap in the number of openings and the number of qualified people into their operations," Avendano said. 
One challenge, Avendano said, is ensuring the growth of the fintech program keeps pace with what state and local officials expect is continuing job demand in the sector.
Work with the Duval County Public Schools and other regional districts could begin at the middle-school level to retain students in the area as they make plans for post-graduation, Wallace said.
"(The fintech initiative) gives us an opportunity to build a culture and a talent pipeline that helps the businesses here expand, stay here, but more importantly, attract other businesses and allows creativity for new businesses to say, 'Here's a Jacksonville region that produces the talent for our business,'" Wallace said.
Avendano wants the fintech academies to provide college credit to K-12 students.
"Our hope is that we would do more in the areas of dual enrollment, potentially early college and potentially what I'm calling boot camps," he said. "So it's not just the high schools but people who maybe already have similar type of skill set and credentials who need a refresher."