A consulting engineering firm is moving toward reusing part of the closed State Farm Jacksonville Operations Center in Baymeadows.
The city is reviewing a permit application for Terracon Consultants Inc. to use 35,112 square feet at 8001 Baymeadows Way.
Holtsinger Construction Inc. is shown as the contractor for the estimated $909,362 build-out. David Haynes AIA Architect is the architect.
Corporate spokesperson Brenda Kramer said July 8 that Terracon likely will move in the fourth quarter and consolidate two Jacksonville office locations.
The move will result in slightly more space, she said. The company said it will have 90 employees.
She said Terracon expects to have one of the largest materials testing labs in the area at 7,100 square feet.  
It will include new combined lab space for Terracon and Environmental Services Inc., which Terracon acquired in 2019.
Insurer State Farm had 1,160 employees at the site in 2014 before starting to downsize. It closed the location in late 2019, relocating some functions to other facilities in the country.
Terracon would be just one tenant in the 302,440-square-foot building and it would sublease its space.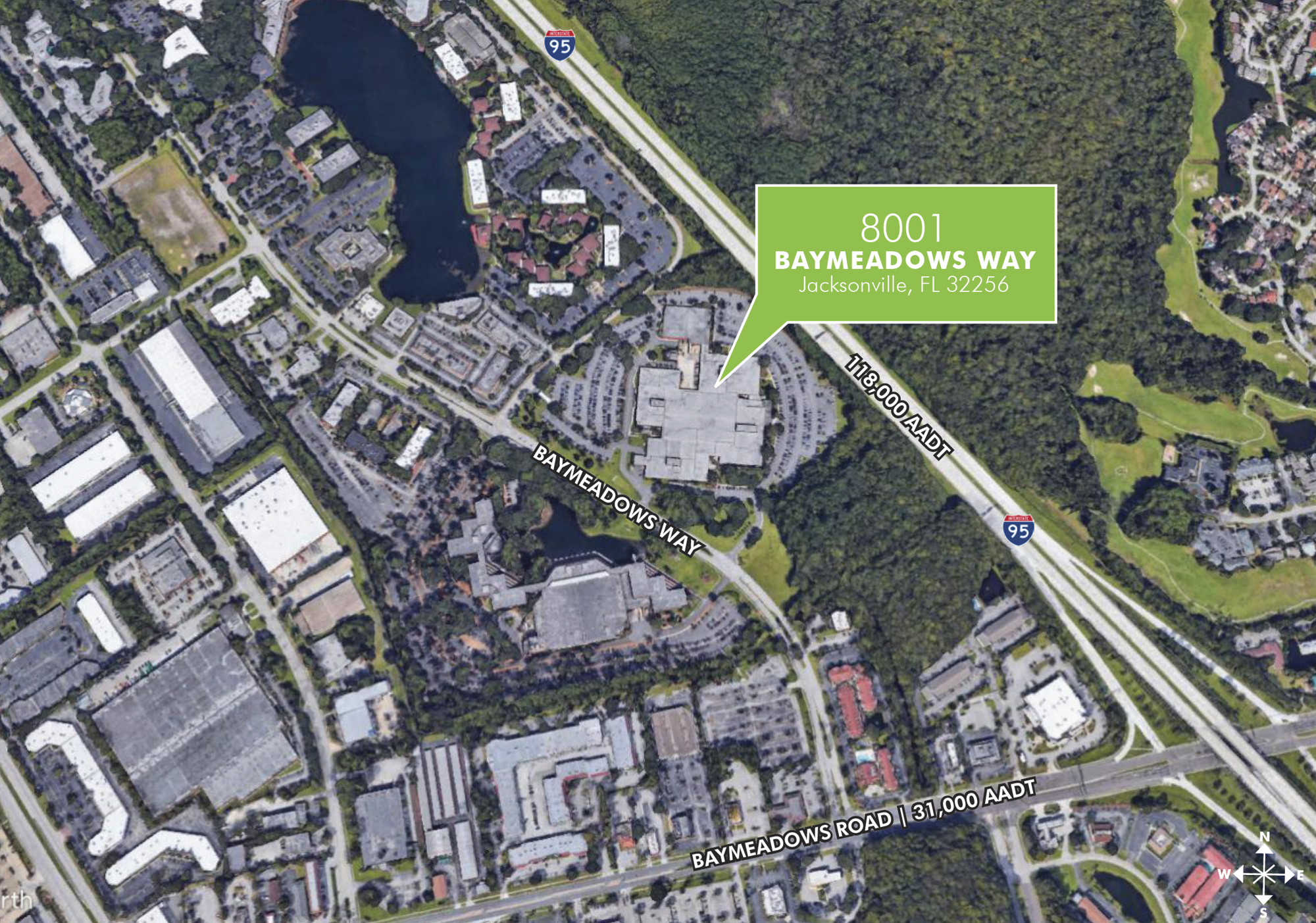 State Farm sold the building in November 2013 but continues to hold a master lease that expires in November 2028.
Michal Brower, the spokesperson for State Farm in Florida, referred questions about the sublease to Terracon.
"We can share that we have multiple tenants and we are committed to a multi-tenant sublease strategy for the remainder of our master lease at this time," Brower said July 9.
She said State Farm has more than 150,000 rentable square feet available for sublease at the building.
CBRE is the leasing agent. A brochure shows one space is leased and the remaining parts of the building can be subdivided into up to six more spaces.
GuideWell Connect uses more than 60,000 square feet there, according to signs on the property and the brochure indicating about that much space is leased.
The structure was built in 1976 and renovated in 1989.
Terracon says on its website it is a 100 percent employee-owned consulting engineering firm that has provided engineering services since 1965.  It says it has evolved into a multidiscipline firm specializing in environmental, facilities, geotechnical, and materials services for private and public sector clients. 
It is based in Olathe, Kansas, near Kansas City, and has more than 5,000 employees and more than 150 offices.
Kramer, who is senior communications specialist, said the two Jacksonville locations are Terracon at 9655 Florida Mining Blvd. and Environmental Services Inc., a Terracon company, at 7220 Financial Way, Suite 100.
Environmental Services provides environmental, and natural and cultural resource solutions.
The Terracon and ESI locations are a few miles from the State Farm site.
Terracon maintains an advanced geotechnical laboratory that it says is regularly evaluated, inspected, and validated by agencies such as the Florida Department of Transportation, the U.S. Army Corps of Engineers and the American Association of State Highway Transportation Officials.
It says the laboratory and drilling resources are complemented by a Jacksonville staff of more than 50 employees and 11 registered professional engineers.
State Farm Mutual Automobile Insurance Co., based in Bloomington, Illinois, sold its Jacksonville Operations Center in Baymeadows for almost $43.8 million. It is now owned by JDM Partners L.L.C. of Phoenix, Arizona.