Finalist, $15 million and up | 2019 Revenue: 34.3 million
With a desire to be the best homebuilder in St. Johns County, Chris Shee founded MasterCraft Builder Group in 2011.
Before that, the recession hit him twice. He was laid off in 2007 from a national homebuilder and again in 2009 from a resort developer in Palm Coast.
"If it wasn't for the recession causing me to be laid off, I'm not sure I would have ever explored entrepreneurship," Shee said.
With six months of cash and credit reserves, he "rolled the dice" to work for himself. 
Financial worries and the fear of self-employment concerned him, he said.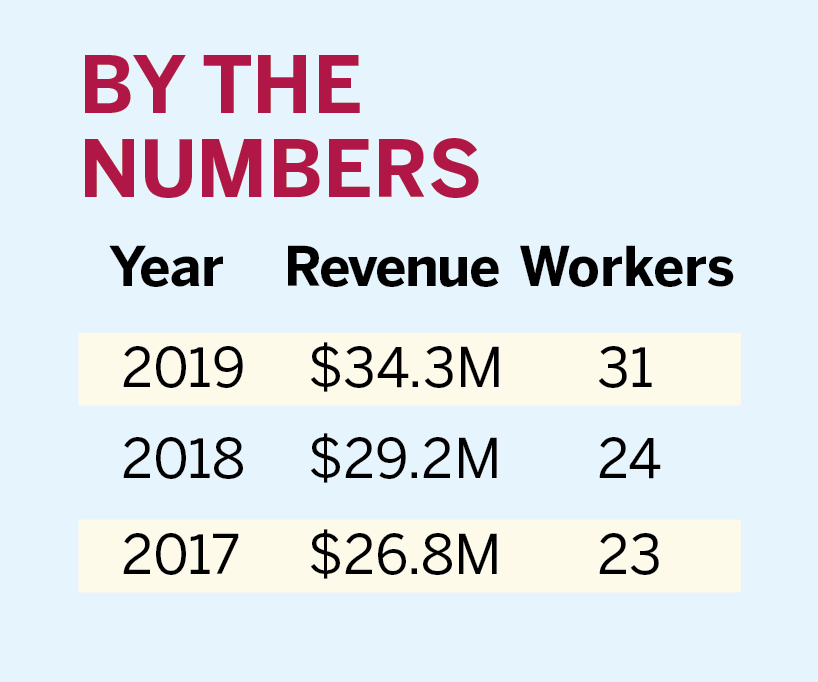 With discipline and determination, Shee did everything he could from converting a model-home sales office back into a garage; listing homes for sale; managing rental property; driving a base model car; and saving paper clips.
He found a break when a friend loaned him money to buy a bankrupt subdivision in St. Augustine and he sold lots to builders.
His relationship with bankers allowed him to consult in the management of foreclosed vacant properties.
In 2011, Shee established MasterCraft, a semicustom homebuilder, with two friends and they built a spec house. 
In the first full year, they built and closed 20 homes. He bought out his partners early on and closed his 400th home in January.
Shee, CEO, considers staying focused on customer service and quality as his biggest challenge as the company grows. His approach is to ensure his family of employees and trade partners all are accountable to "do the right thing always." 
Employee autonomy and accuracy are essential, he said.
Shee relies on feedback from customers to see what MasterCraft can do better and "keep a pulse on our overall product and service."
He reported 2019 revenue of $34.3 million with 31 employees. He said he does not have a five-year plan for revenue, intending to "grow as the right opportunities present themselves and we can maintain our quality and service."
Shee foresees that he will want to halt the company's volume to remain "a great homebuilder, community member and company overall."
Shee, 42, takes advantage of opportunities to form other companies, including SeaGlass Title; a pool-building company; Heritage Development Group; and the Tringali Barn at Heritage Farms, a 54-acre wedding and event venue. 
Bill Garrison, executive officer with the Northeast Florida Builders Association, said Shee's skill as an entrepreneur shows by the company's rapid growth and positive reviews from homebuyers.
He said Shee's expansion from building to development is "a huge jump for a local private builder."
Shee attributes MasterCraft's survival during the peak of the COVID-19 shutdown to continued construction; Paycheck Protection Program funds; his employees; and his homebuyers.
He believes in investing in St. Johns County, where he can make an impact.
Shee volunteers at Seamark Ranch; is a director of NEFBA's Builders Care and chairs NEFBA's charitable foundation; volunteered to build the next Home from the Heart, whose proceeds are donated to Builders Care; hosts Clays for a Cause; serves on the University of North Florida Construction Management Program advisory board; and mentors students.
"One of my guiding business strategies is to keep my head down, try to make the best decisions, take care of my people and community and work hard, never making money the priority," he said.